Bypass FRP Protection Galaxy S8 Plus, S8 edge, Nougat 7.0, Android-N
Easiest method to bypass FRP Protectiony on Galaxy S8 Plus and S8 edge, as well on Nougat 7.0 and Android-N, you have to download some software and ADB File in your computer, and then simply flash your device through Odin Software, all details step by step you can read below.
Remember: This method will work with only G-955F-G950FXXU1AQDA
This method is only for Device owner, not for Thief person.
Let's Begin to Bypass FRP Protection:
Step 1: Download Below Software and files in your Computer Desktop/Laptop.
⇒FRP Remove ADB File [DOWNLOAD]
Once downloading finish of all above 3 software and file, drag all software on your PC Desktop.
Let's enter in Download Mode of Galaxy S8 Plus:
Step 2: Press Power key + Volume Down Key + Bixby Key together for few second till "Blue Screen" appear on your android screen, there you will have message of "WARNING", so press "Volume UP" key from there to go into Downloading Mode of your galaxy S8 plus and S8 edge.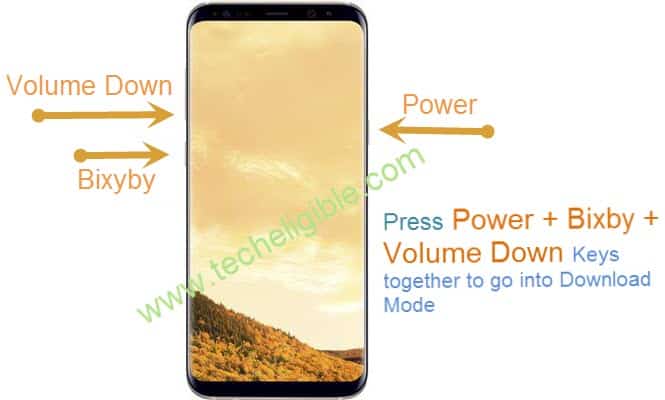 Connect Your Device with Computer / Laptop:
Step 3: Extract, install and open "Odin software" to bypass FRP Protection, and after connect your S8 Plus and S8 Edge android device with your PC or Laptop, to make sure its connection is ok, just see inside "ODIN Software", there will be one "O:[COM6]" on the left top side of Odin, same as in below image:
Now inside "ODIN Software", click on "AP" button, and then give the file location of  "ADB ENABLED.tar", this the file which we have downloaded already before, so give this name file location into Odin software, and then click "START" button from odin, and wait till this process finish, on finishing this process, you will have "PASS" green color message on your ODIN top left BOX, and also your android device will restart automatically on the completion of Odin process, now wait and let your device turn on properly.
Step 4: Once your device turned on properly, now go back to your pc, and right click and extract "FRP Remove ADB File" software on your desktop, remember this software we have downloaded before from top of this post. once extraction finish, go inside extracted folder, and from there
While pressing "Shift key" press "Right Mouse Button" together.
and then you will have right click menu on your computer screen as shown in below image.

After that, from right click menu, you have click on "Open command window here", so you will have a cmd window on your computer screen, now make sure, your mobile is connected to fastboot, for that we have to type in cmd window this below code.
adb devices
after pasting above adb devices code in cmd, you must get your android device detail there, which will make sure that your device is connected to fastboot.
Step 5: Copy below code 1, and past into your command prompt cmd, and then press enter key from your keyboard, once implementation of this finish, again do same thing with Code 2, and then with Code 3.
adb shell content insert –uri content://settings/secure –bind name:s:user_setup_complete –bind value:s:1
adb shell am start -n com.google.android.gsf.login/
adb shell am start -n com.google.android.gsf.login.LoginActivity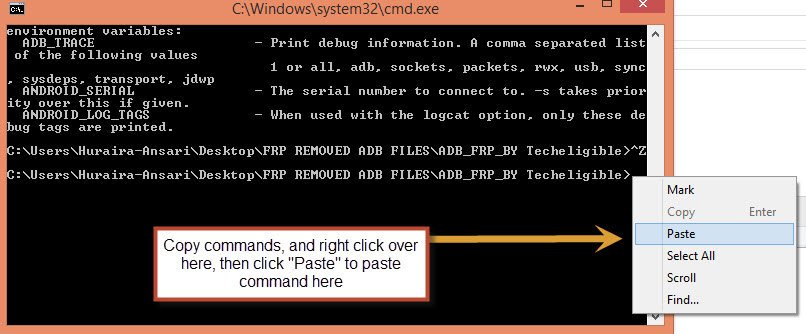 Final Step: Restart your device, after completing above 3 code process, and then you will have initial setup on your S8 Plus and S8 Edge android device, just complete that initial setup, and you are done to bypass FRP Protection from your Galaxy S8 PLUS, Galaxy S8 Edge, Android 7.0, and Android-N.
Thanks for visiting us. Make comment below, if you have any trouble while following this method.
Get assistance here to resolve your Android issues, regarding FRP lock, Bypass Google Account, Updating Firmware, and technology updates, education motivational articles
Latest posts by Admin Techeligible (see all)
Please follow and like us: