How to Remove Galaxy J5 FRP J500F Google Account Sidesync Method
Question is how to remove galaxy J5 FRP or J500F, in simple we could say how to bypass google account Samsung Galaxy J5 or j500F, that's not a big deal now to remove frp account for Galaxy J5, we would show you simple and easiest method to get rid of FRP lock as quick as possible, and we will hope this method would work with each and every person who is facing this issue with his device.
To Successfully Remove Galaxy J5 FRP or J500F, You need below things:
-Laptop/Computer
-USB Cable (to connect mobile to your desktop)
-Donwload and Install "Sidesync Software" on your Desktop
-Wifi Connection
Let's start to Remove Galaxy J5 FRP Lock:
Step 1:  Switch on your device to remove galaxy J5 FRP, and select your desire language, and then connect WIFI to your mobile, once it connected, click to NEXT > again click NEXT> Click to Agree, now wait for several minutes, after that you will see there "Verify Your Account".
If you don't know your google account, it is very easy to bypass from here, you need to download sIdsync software on your PC from listed below link, and install this software in your PC.
Step 2: Download and Install "Sidesync", and open in your computer, then connect your mobile with "USB Cable" to remove galaxy J5 FRP, or to bypass google verify account, then you will get some options on your mobile screen to select from one of them from there, you must select "GOOGLE CHROME" from there, make sure, your wifi is connected and internet is working fine, now tap on "ACCEPT and Continue" from google chrome, then tap you will be taken on "Setup Chrome", from there tap on from bottom left corner "NO, THANK YOU",


Now you will redirected to "app.samsung.com" website, but you will get an pop up in different language, just tap "Translate that message into English from bottom" of your mobile screen, which you will surely be asked to translate that message.
Now our work has done till here to access google chrome, and we have to search there and download an application to bypass google account of galaxy J5 or J500F.
Step 3: Type there "Download FRP Tools" on your google chrome, and then tap to 1st search result, as shown in below image,
after that download from there "Bypass any Samsung Google Account " apk application.

You can also download "Bypass any Samsung Google Account" file by clicking below, but you will have to open this same website page on your mobile chrome browser.
⇒Bypass Any Samsung Google Account [DOWNLOAD]
Step 4: Once downloading finish, tap on "Back", if nothing happened tap one more time to go back, then you will be shown one "POP UP" message there, tap on "OK" from there, and then you will be redirected to "Terms and conditions" page, from there tap to "AGREE", now tap on "Search", because we will not install sidesync application there, we will tap on "SEARCH", type there "ES FILE EXPLORER", you will get a list of  few file explorers, select from them "ES FILE EXPLORER, tap to download on es file explorer.
Step 5: Now you would need a samsung account to sign in there, if you have samsung account already then tap to "SIGN IN" to download "ES FILE EXPLORER", otherwise tap on "Create Account".
Once you created samsung account, and signed in there, then tap on "ACCEPT AND DOWNLOAD" to start downloading of "ES FILE EXPLORER", then tap to open file explorer, and do not update this file, if you are asked, tap to "CANCEL" to bypass updating option on file explorer.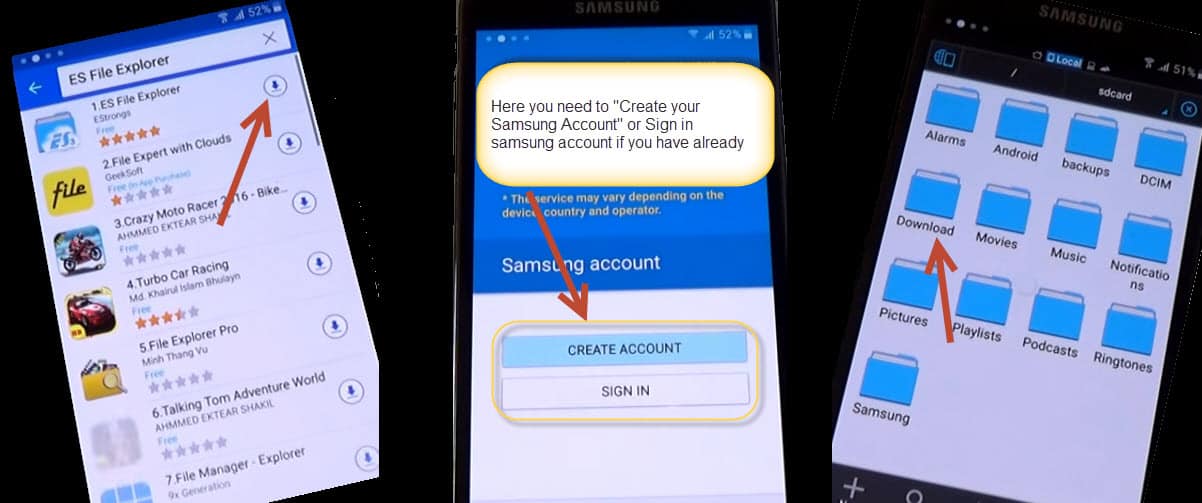 Why we are downloading "ES FILE EXPLORER"?:
We are downloading this es file explorer, so that we could open the "Bypass Google Account" file in our samsung J5 or J500F device to Bypass Google Account Samsung Galaxy J5 or J500F.
Step 6: Tap on "Download" folder from file explorer to see your downloaded file, which we downloaded before, tap on "Bypass Google Account" file to install in your device.
Remember:  If you get "Installation blocked" pop up while installing, don't worry, tap on "Settings" from that pop up message, and then enable from there "Unknown Sources" option. then go back and tap on that file to install, and this time you won't get any error like that.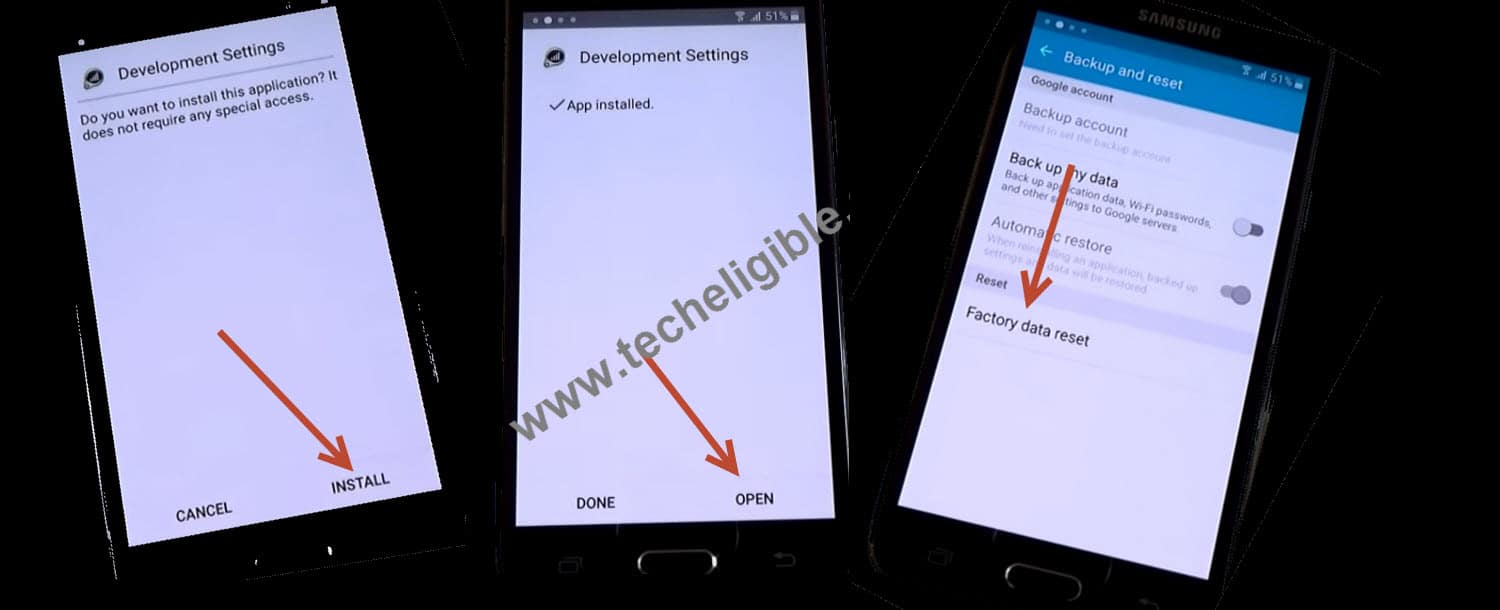 Step 7: After installation done, tap top "OPEN", that app, and then you will be taken to "Settings" of your device, scroll down, tap on "Backup and reset", from there.
Then the final step is to tap "Factory data reset > Reset Device > Erase Everything". and now it will erase everything from your mobile, whether it is pattern, or google account. you will have to add there new gmail account, and everything from starting.
Summary:
-Set desire language, connect your device to wifi connection.
-Download and install "Sidesync Software" in your computer, connect your mobile to computer via USB Cable.
-Open "Google Chrome" in your mobile, type there "Download FRP Tools", and download this file.
-Go to back, from "sidesync" installation page, tap to "Search" on top right corner, and search there "ES FILE EXPLORER"
-Use Samsung account to accomplish downloading of "ES FILE EXPLORER", open "DOWNLOAD" folder from es file explorer.
-Now open "Downloaded file" which downloaded before, tap to "settings" from installation block pop up, and enable "UNKNOWN SOURCES".
-Install and open app, which we downloaded with name "bypass google account", and tap on "BACKUP AND RESET".
-Tap on "Factory data reset > Reset Device > Erase Everything".
Thanks for visiting us, if you found this post helpful for you, don't forget to comment below.