Downgrade LG Aristo MS210 Latest Security Patch to Bypass FRP
(Last Updated On: August 16, 2023)
How to Downgrade LG Aristo MS210 Latest Security Patch?, this is the question and most of the users are unable to bypass google verification and frp lock from most latest security patch level LG Aristo MS210 device, most of them have Sept-2017 security patch level, so this method would help you to Downgrade LG Aristo MS210 Latest Security Patch first, after that from below of this method, there is link to remove frp lock easily.
But you have to downgrade your security patch level in case of removing frp lock and bypass google verification, that is the reason, i published this article to help those people, those are suffering to bypass google account from LG ARISTO MS210 Sept security patch level.
Note: If your security patch level is already 1st-January-2017, or March 2017, so don't try this method, and directly bypass frp lock, this method is for those devices, those security patch after march 2017. Because this method would downgrade their patch from latest one to 1st Jan 2017.
Let's Start to Downgrade LG Aristo MS210 Latest Security Patch:
-Click below link to download tools to downgrade security patch level.
⇒ LG MS210 Downgrade Tools [DOWNLOAD].
-Once downloading finish, Extract "LG Aristo MS210 Stock Rom".
-After that you will have there 4 LG Aristo Downgrade Tools.
1. LG Aristo MS 210 Stock Rom (Extract this file).
2. LGUP Store.
3. LGUitedMobile Driver (LG Driver).
4. UPPERCUT.
-Install "LGUnitedMobile Driver" in your computer.
-After that, install also "LGUP_Store" tool.
Boot LG Aristo Device into Download Mode:
-Switch off LG Aristo.
-Now insert Micro USB Cable in LG Aristo device port.
-After that, while pressing "Volume UP" key, insert other end of USB Cable into Computer.
-By doing this, your device will boot into download mode.
-Wait until driver installation finished.
-Open "UPPERCUT" software, this would run "LGUP" in your computer.
-Now select "UPGRADE" option, and also you will be able to see your device detail "MS21010g".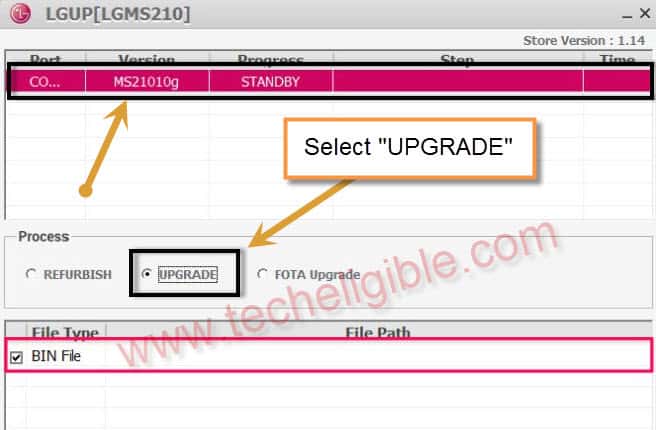 -Now click on "3 Dots".
-Give path of "MS21010g.kdz" file.
-After that, Click on "START" button. (See below image).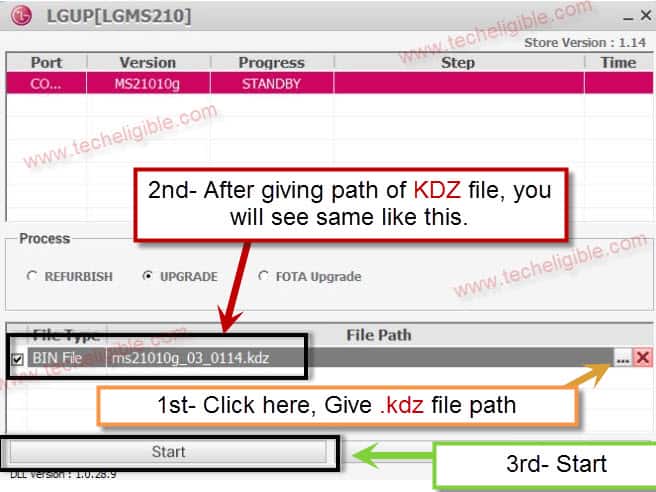 Warning!: Do not unplug or disconnect device while its on upgrading process.
-Once upgrading process finish, you will have "100%" on your LGUP Software screen, as well on your LG Aristo device screen.
-Now wait for few more minutes for safe side, after that disconnect your device.
-Congrats, you have successfully finished this method to Downgrade LG Aristo MS210 Security Patch.
-Now click here to bypass frp lock from LG Aristo MS210 Easily.
-Now your device is ready to be bypassed frp lock, and google verification. Because you don't have Sept security patch level anymore, now your security patch level has downgraded to 1st January 2017.