Bypass FRP Samsung Galaxy A52 – Remove Google Account
Connect WiFi in your device, and then through a software, we will open chrome browser, through this way we can easily Bypass FRP Samsung Galaxy A52 Android 11, follow complete method, and we hope you will get your device back with new frp protection.
In some cases, people just add any random Gmail account, and after that, they just forget their adding Gmail account, they regret after they hard reset their device, because the device will get frp lock, and you can get through the google sign in screen until you enter previously added Google Account in Samsung Galaxy A52.
Note: This Method is only for Device Owner, and for educational purpose only, if you don't own of this phone, you don't need to apply to method to access this phone, otherwise we are not responsible for this act.
Tools Requirement:
Note: Download and Install below 1st and 2nd no tools in your PC.
1st: Latest Samsung USB Driver [DOWNLOAD]
2nd: Easy Samsung FRP Tools [DOWNLOAD]
3rd: PC or Laptop
4th: Any other Android Samsung Phone.
5th: OTG.
How to Bypass FRP Samsung Galaxy A52:
-Start the process by connecting WiFi in your phone first.
-You need to Get back to first "Welcome".
-Connect your Phone with PC using USB Cable.
-Install & Launch "Easy Samsung FRP Tool" in PC, and click on > Bypass FRP > OK.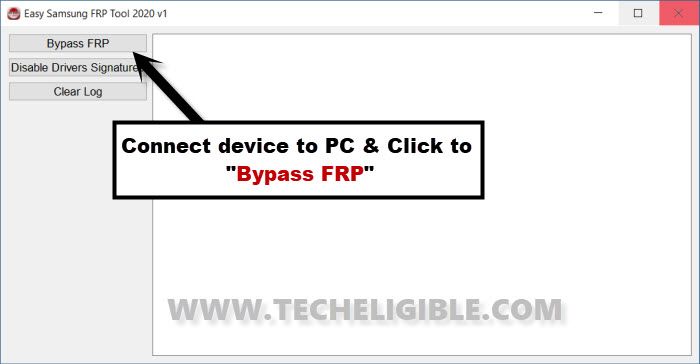 Note: if you find trouble in connecting the device with PC, first try few times on your own by connecting and disconnecting device, or also by restart the PC or Laptop, and do make sure you have latest Samsung drivers installed, even then if are unsuccessful in all your tries,  you can use this alternate tool (Samfirm a.i.o v1.4.3) Just install and open this software, and click on (MTP Bypass FRP New) button.
-You will see easy firmware popup box on Galaxy Phone screen, just Tap on "View" to Bypass FRP Samsung Galaxy A52.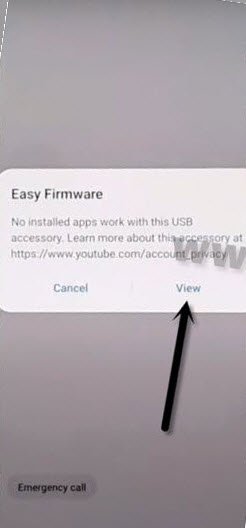 -From chrome window, just hit on > Accept & Continue > Next > No Thanks.
Go to Settings in Galaxy A52:
-You have to Search in chrome browser "Download Samsung FRP Tools", go to same searched result as shown in below image to access Samsung frp tools page.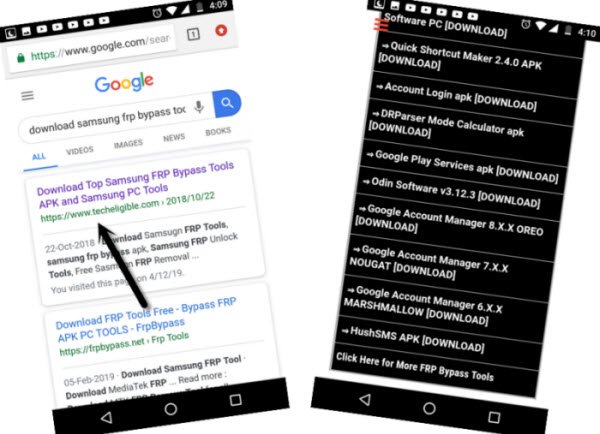 -Hit on "Open Samsung Settings", this will get you in your device Settings.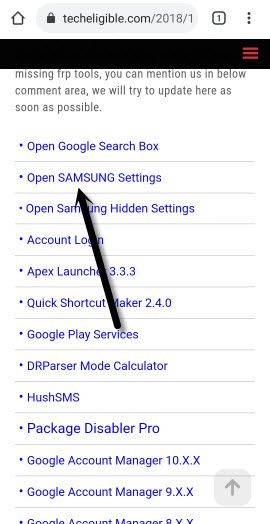 -From there, you need to tap on > Accounts & Backup > Bring Data from old device > Download.
-You should wait there until this downloading process completes, this will show you (Welcome to Smart Switch) screen, hit on > AGREE.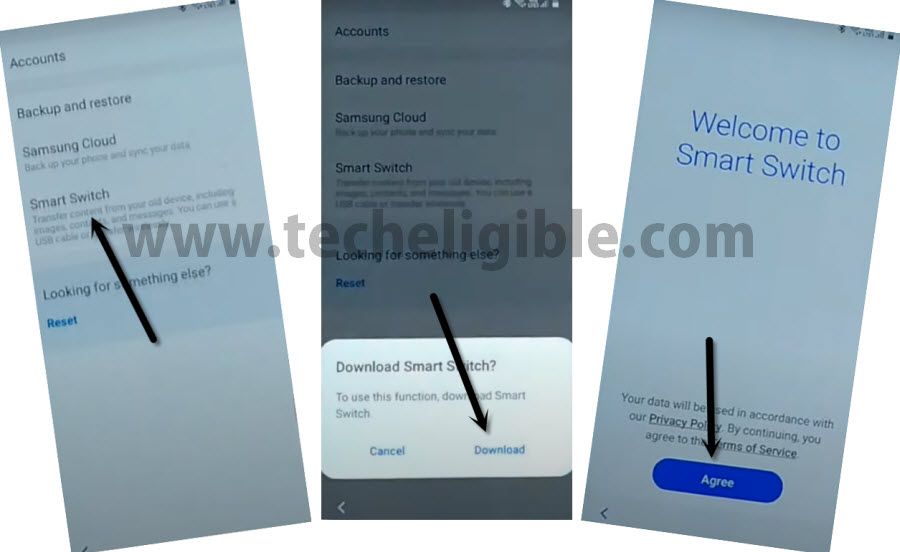 -Now go further by tapping at > Allow > Receive Data > Cable.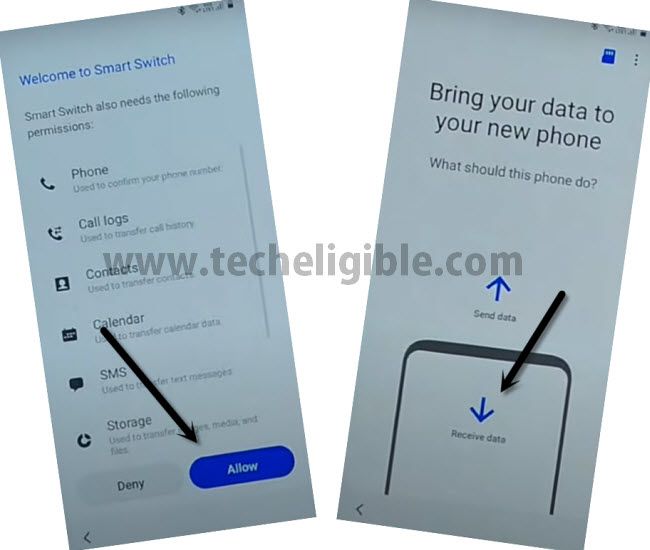 Open Smart Switch in Other Samsung Device:
-What is Smart switch app?, this is the only app of Samsung Galaxy phone, which will allow you to share and transfer data between two Samsung Android Devices, so for connecting 2 android galaxy phones together, we use OTG and USB Cable, through this way, we can easily transfer already signed in Gmail Account from other Galaxy phone to our frp locked Galaxy A52.
-In other Android device, just Open "Galaxy Store", download & open "Smart Switch" app from there, and tap on > Send Data > Cable.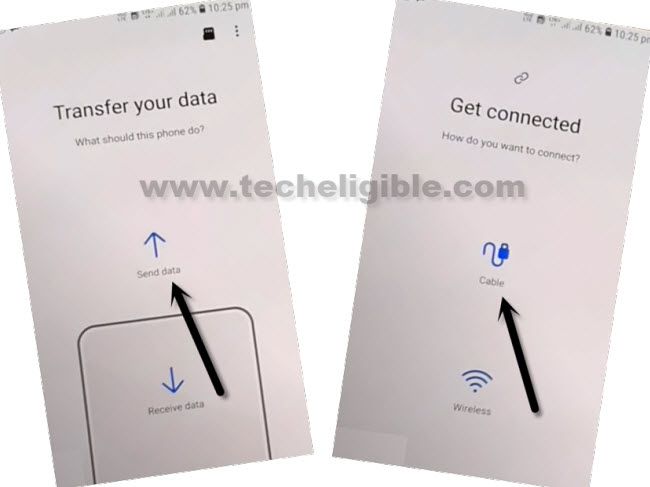 -We are going to Use OTG to transfer and receiving data, OTG should be connect to your "FRP Locked Samusng Android 11" device, and normal USB end will be inserted to other Samsung Phone to Bypass FRP Samsung Galaxy A52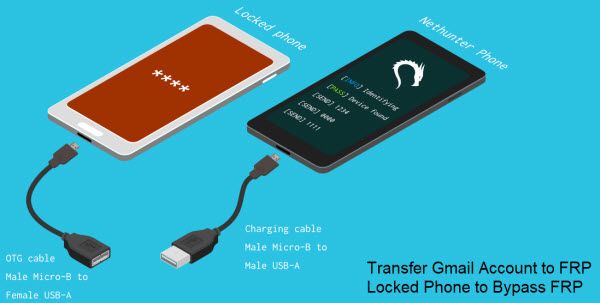 -On both of your device screen, you have to tap on "Allow", both phone will start connecting each other, so wait for that process to be done.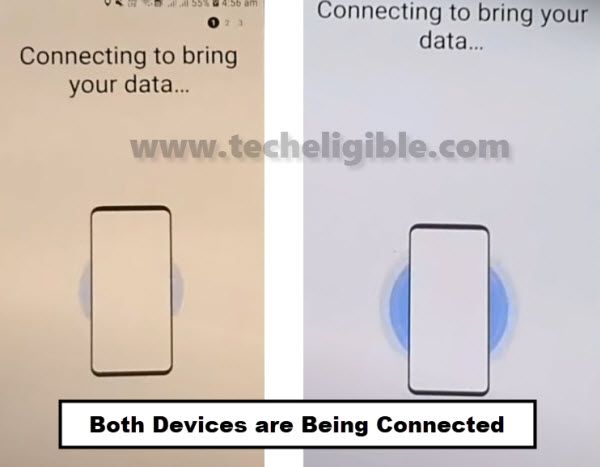 Final Step to Bypass FRP Galaxy A52:
-De-select all, and select only (Accounts & Settings), after that tap on "Transfer" option.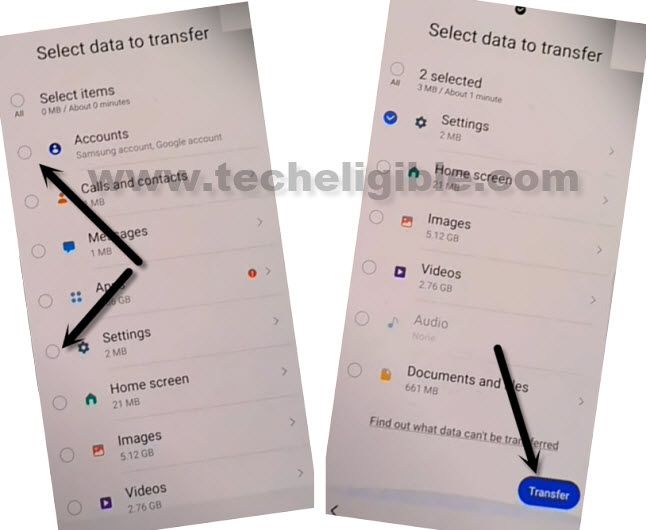 -Now you need to tap on "COPY" from other Samsung Android Device.
-Select also in both device (Keep Screen on) option.
-Once the transferring data process done, that means you have successfully transferred Old Phone Gmail account to your Frp locked Galaxy A52.
-Tap on "Go to the HOME Screen" from frp locked device.
-Now, disconnect both phone and go for completing initial setup wizard in Galaxy A52, you are all done from bypass frp Galaxy A52.
Read More: