How to Remove FRP SAMSUNG Note 10 Lite Android 11
Remove FRP Samsung Note 10 lite by connecting the device to another android device through a smartswitch app, You can transfer an already added/signed in gmail account from any other connected device to your frp locked Samsung Note 10 lite.
We will transfer gmail account with the help of below steps, whatever you steps you are gonna follow are totally free, you are required some below list of tools/apps in order to finish this method
Warning: This process is only for device owner and for educational purpose only, through this process, your device will remain safe, no damage will be done.
Required Tools List ?:
1/ Latest Samsung USB Driver [Download in PC]
2/ Easy Samsung FRP Tools [Download in PC]
3/ Other Android Phone / Galaxy Device
4/ OTG + USB Cable.
Lets Start to Remove FRP Samsung Note 10 Lite:
-Let's open already downloaded "Easy Samsung FRP Tools" in your PC, and install (USB Drivers) also, so that your device could easily be detected by the tool.
-Using USB Cable, connect Samsung Note 10 lite to the PC, after device is detected by software successfully, hit on > Bypass FRP > OK.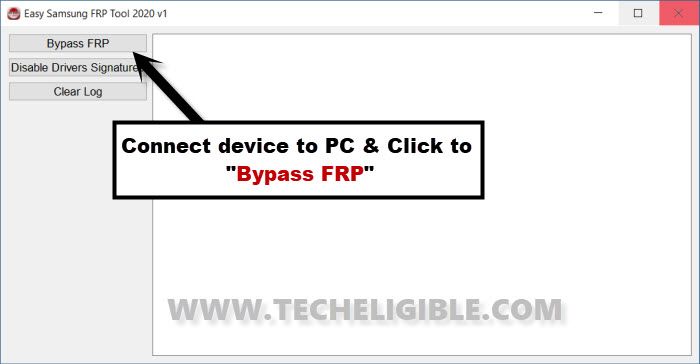 -Right after hitting on a (Bypass FRP) button, this will send a popup message to the Device screen, so hit on a "View" option to open google chrome browser.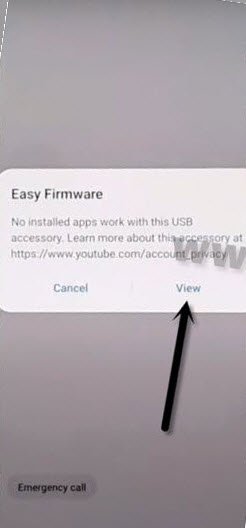 -Tap to > Accept & Continue > Next > No Thanks.
Go to Samsung Note 10 Lite Settings:
-Its time to access the device settings through a easy and shortcut link, once we accessed there, we will download and open a Samsung app (SmartSwitch).
-Type in chrome search area "Download Samsung FRP Tools", and go to our website searched result.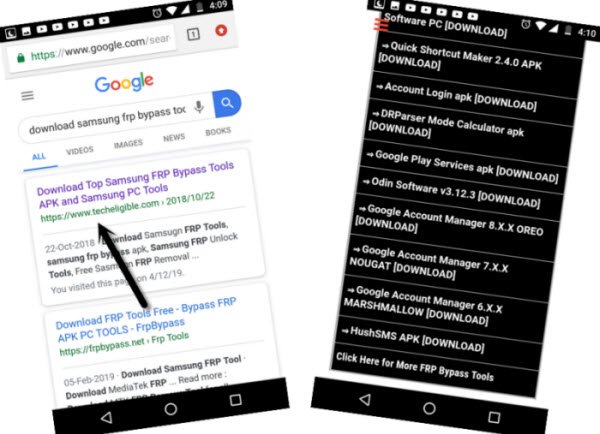 -Tap on "Open Samsung Settings".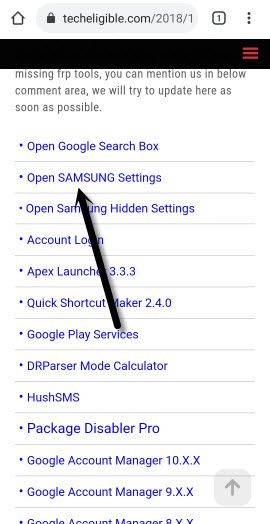 -Go to > Accounts & Backup > Bring Data from old device > Download.
-Tap to "Agree" from (Welcome to Smart Switch) screen to Remove FRP Samsung Note 10 lite.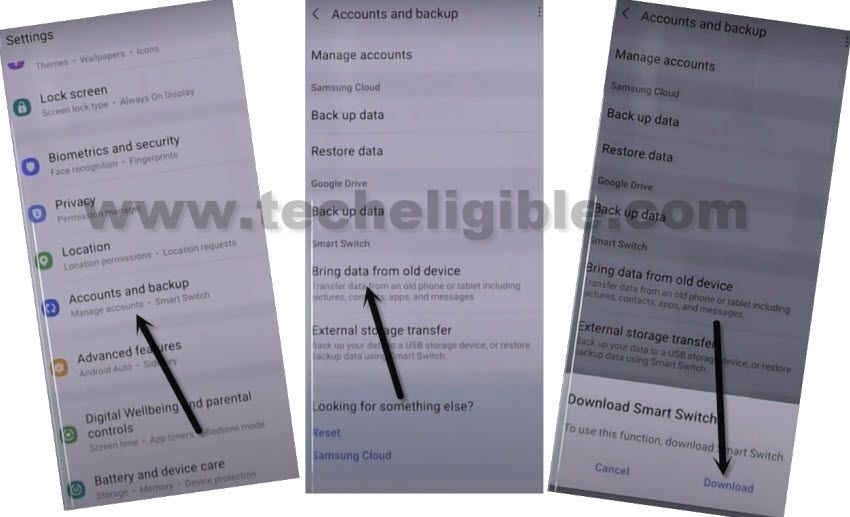 -Tap to > Allow > Receive Data > Galaxy > Cable.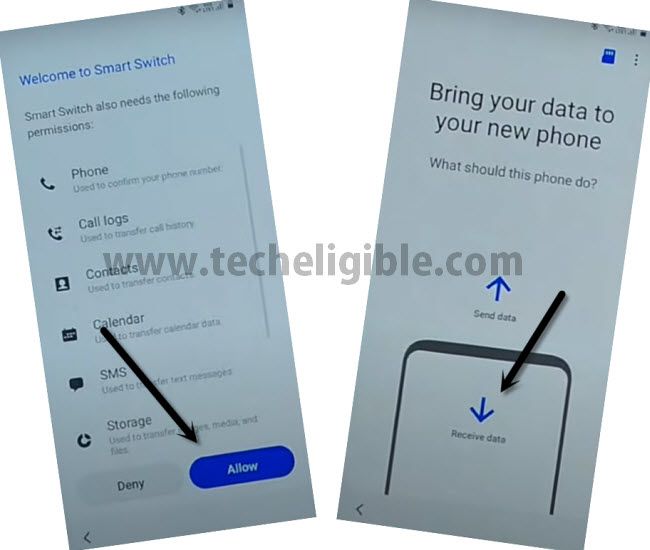 In Other Android Device:
-Now we are going to use another android phone to install and open (Smartswitch) app in that android device as well, so that we could connect both devices each other for transferring a google account from one android to frp locked phone (Samsung Not 10 lite).
-Open "Google Play Store", and search there (Samsung Smart Switch), and then, install and open "Smart Switch App".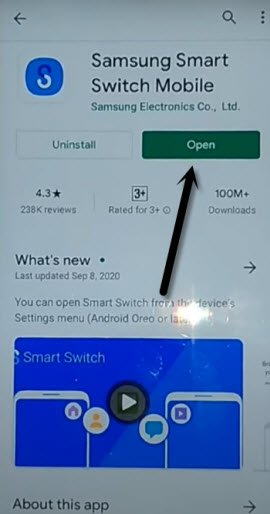 -In Smart Switch App, tap to > Send Data > Cable.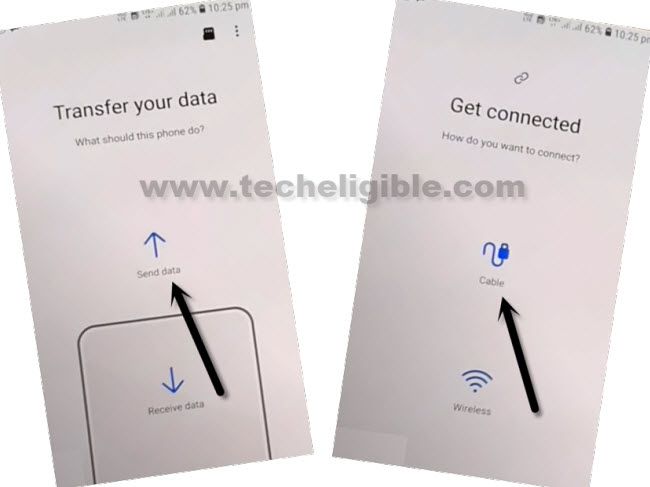 Connect OTG with USB Cable:
-We will transfer already added Gmail ID from non frp lock android device to frp locked Galaxy Note 10 Lite, so your both device will use same Gmail ID, you can delete that later once you successfully Remove FRP Samsung Note 10 Lite.
-Connect OTG to transfer and receiving data, OTG should be connected to your "Galaxy Note 10 Lite" device, and normal USB end will be inserted to other android device.
-Tap on  "Allow" on both smartphones.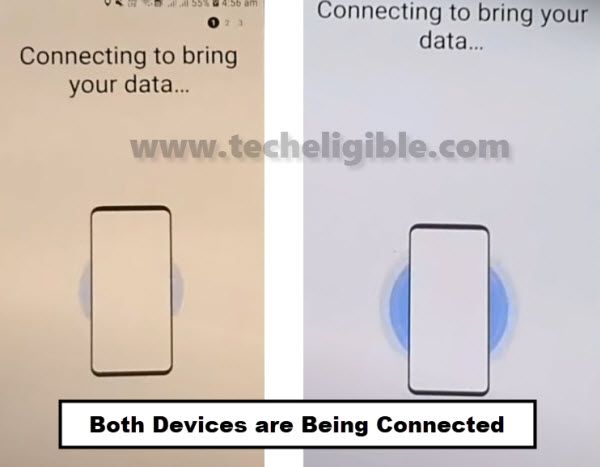 -Select only (Accounts & Settings) in other android device, and tap to "Transfer" button.
-Tap to "COPY".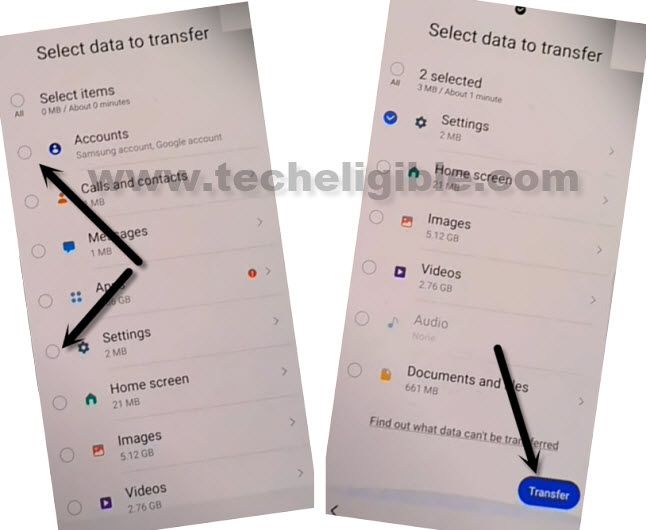 Note: You will be asked to verify your identity by giving a password of already added Gmail Account, so you must know your other android device google account password, and this google account will be used in frp locked device.
-Tap on "GO TO THE HOMESCREEN" button from Galaxy Note 10 Lite.
-After signed in successfully with your Gmail Account, you can get back to (homescreen) by tapping on back arrow multiple times and complete setup wizard to access the device normally without having any old gmail account in Samsung note 10 lite.
Read More:
How to remove frp Galaxy Note 10/ Note 10 Plus