Download All Octopus Software 1.7.4, 1.6.5, 1.9.4 Versions with Loader
Last Updated on July 3rd, 2021 at 5:27 pm
Download Octopus Software with loader tool now available in 1.7.4 , and Octopus 1.6.5, both software can be downloaded from below, to download older version 1.6.5 go down of this post.
Octopus tool is helpful for Samsung device and can be fixed multiple issues from Samsung device such as, unlocking frp protection and bypass google verification from Samsung device, writing firmware, update firmware, flash Samsung devices, writing and reading NVM, so multiple task can be done from this helpful Octopus Software with loader.
Note: Octopus Box Samsung V1.9.4 Available Click Here to Download
Warning: After using this tool, don't forget to scan your PC or Laptop with Antivirus software.
Download Octopus Software 1.7.4 with loader:
You have to download "Octopus Software" and "Samsung Drivers", these all are important to run Octopus Software with loader, so download all below software from given links.
The Loader Password is: techeligible.com
Let's Run Octopus Software:
-Extract "Samsung USB Driver & Samsung MCCI Driver" from winrar archive file.
-Go to extracted folder, and install both drivers in your computer.
-Turn off any "Active Antivirus Software" to avoid any type interruption while cracking software.
Note: If you did not "Turnoff antivirus Software, it will surely remove "Octopus Loader 1.7.4.exe" file.
-Extract Octopus Setup & Loader.
Note: while extracting loader file, you will be asked for password, so give password (techeligible.com).
-Go to setup folder, and install "Octopus Setup 1.7.4", and the password is already included in the setup folder.
-Copy "Octopus 1.7.4 Loader", and past this loader into your installation folder of "Octopus 1.7.4"., the installation folder normally is in C: Drive (Program File).
-After that click on Octopus Loader 1.7.4 "Run as administrator".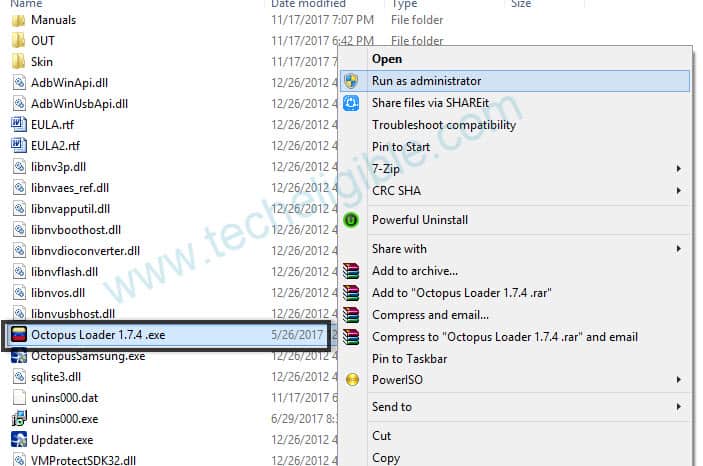 -Now wait for few second, it will take time in starting.
Congrats, you have successfully downloaded and installed and run "Octopus Crack 1.7.4″, now you can accomplish multiple task with octopus.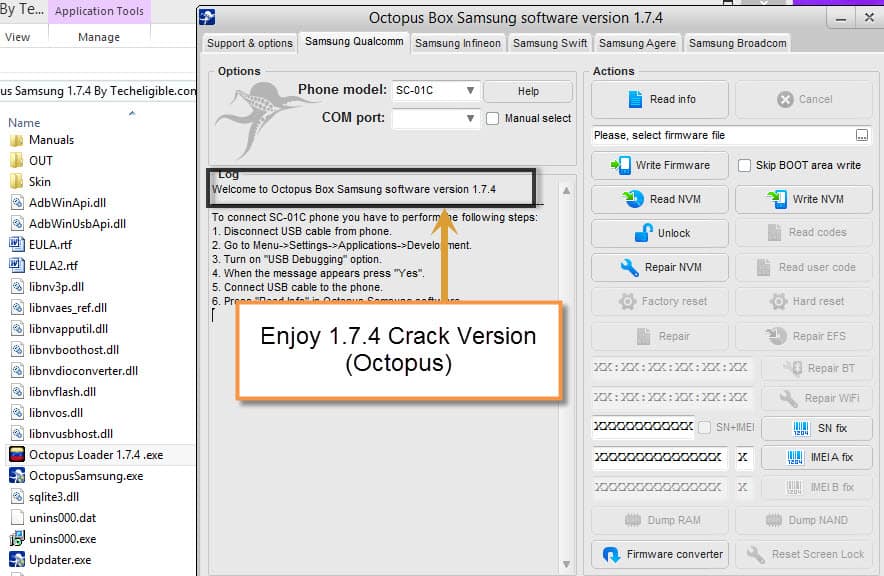 Warning! Whenever you need to run octopus software, just turn off antivirus software, and then extract from archive and run as administrator.
---
Download Octopus Software 1.6.5 With Loader:
If you wanna download older version, so older version is also available here with single click.
⇒ Octopus Samsung 1.6.5 with Loader [DOWNLOAD]
Password: techeligible.com
• Turn off your antivirus software.
• Once downloading finish, extract both file from winrar archive.
• Install "Octopus Samsung 1.6.5 Setup".
• Right click on "Octopus Logo" from desktop, and go to its properties and then "Open File Location / Find Target" this will take you to the installation folder of your octopus software (Usually Program File in C Drive).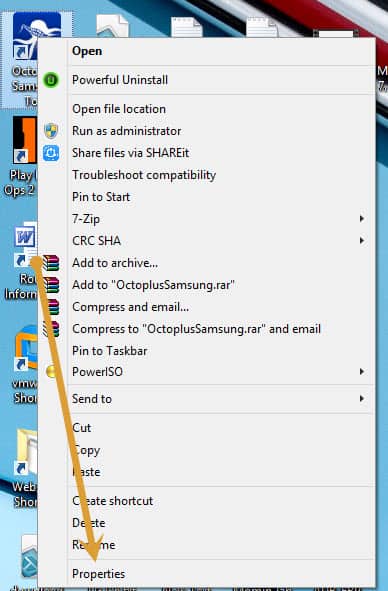 • Now copy "Octopus Samsung Loader.exe", and paste it there in "Octopus Installation folder.
• Now right click on "Octopus Samsung Loader.exe" and click on "Run as administrator".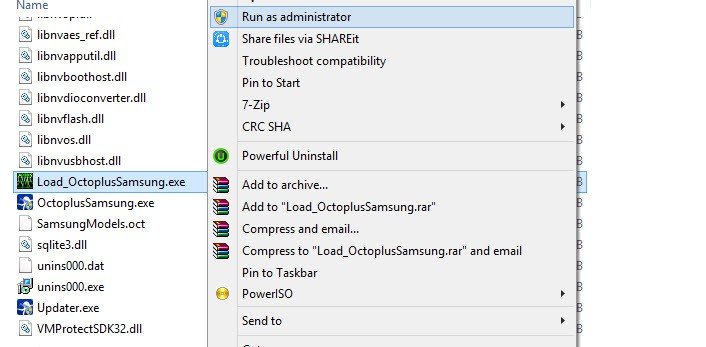 Thanks for visiting us, if you liked this post and octopus Samsung tool, do share this post on your social network, and comment in below box.