Download Samfirm Tool V1.6.4 With Latest Feature (QLM)
Good news, and other latest version of samfirm tool has been released now, you can Download SamFirm Tool v1.6.4 from below easily, and this tool supports QLM (EMMC,UFS) with single click/
There are lots of use of this tool such as downloading Samsung firmware, Removing frp, and Wipe complete cache and data, and downloading frp apps and flasher tools, so you can say this is all in one tool in frp removal market.
Download SamFirm Tool v1.6.4:
-Download this tool by clicking on download button.
⇒ SamFirm A.i.O v1.6.4 [DOWNLOAD]
-After downloading finish, extract the tool from winrar, and then go to extracted folder to install this software.
-Double click on (SamFirm Tool A.I.O V1.6.4 installer).
-From the popup window, click to > Start > Exit.

-Boom, you are new version SamFirm v1.6.4 tool has been launched successfully.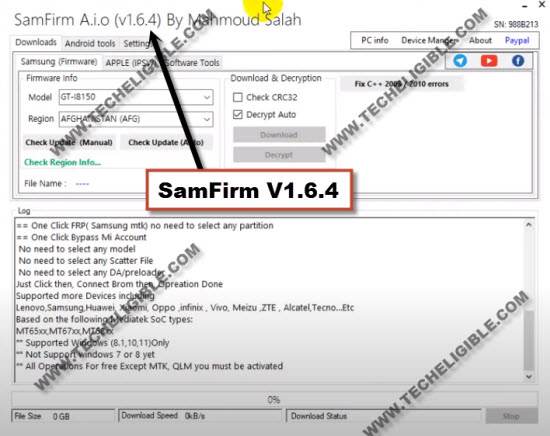 New Features of SamFirm Tool v1.6.4:
♦ Samsung Firmware
With single click, you can download many of the latest Samsung android devices firmware, instead of going to website and search the firmware, just choose your model number from the list, and then click to (Download) button, this will start downloading for you, and then speed depends on your internet connection.
♦ Drivers & Flash Tools
There is a (Download) tab at the top of the software, from there you can download multiple tools, such as (FRP Apk Apps), and other flasher tools like (Odin) etc, and also USB Drivers, which helps an android devices to be connected to PC.
♦ Services Option
There are below services available in the (Services) tab, from the top of the software, just tap to (Services), and you can avail with below services options, so only you have to connected device to PC, and then tap to your desire option to work with.
-Read Device Info.
-Enter Download Mode.
-Exit Download Mode.
-Factory Reset/ Reset Screen Lock/ Reset FRP.
-Enable Arabic Language.
♦ BYPASS FRP Option
Folk are thinking, this tool actually bypass frp completely, but in reality, this does not bypass frp, this tool actually helps opening (Chrome Browser, Youtube, Galaxy Store) and other most helpful apps directly with single click, because you do require these options to bypass frp lock.
♦ MTK Option: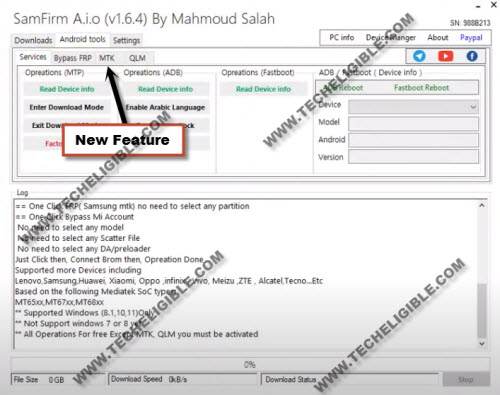 This is the latest feature of this tool which has been added in released SamFirm A.i.O v1.6.4, and from the (MTK) tab, you can perform various task such as
-Reset frp Samsung / Rest Mi Account / Disable Mi Account.
-Wipe Userdata / Cache / NV_Data / Full Wipe.
♦ New QLM Option: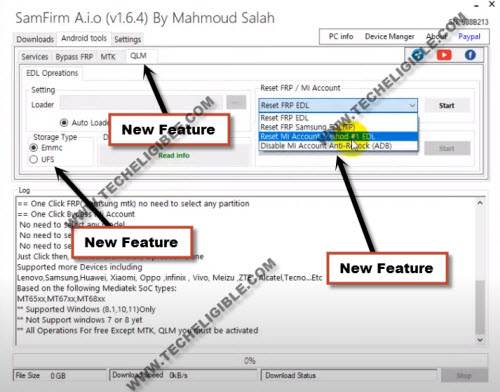 In this (QLM) tab, you will see more interesting features, with QLM tab, we can perform Reset frp in EDL Mode, and also there is Storage type option available (Emmc & UFS).
Read More: