How to Hard Reset Sony Xperia models and solve many problems easily
(Last Updated On: August 4, 2020)
In Sony Xperia series, there are many kinds of issues is being seen as per time passing, and most common issue is about it's slow performance and also hard reset is applied, when you've forgotten your mobile pattern, so hard reset is the best way in these type of issues, but even then if there are some other reason like frozen issue, or blinking screen or home buttons or back buttons not working, so in this i would not prefer you to go for hard reset, in this i would prefer you to save your all mobile data and contacts, and then look for wipe data partition.
Let's look for HARD RESET:
1/ Start By Turning Off your phone
2/ Download and Install "Sony Xperia Companions" by Clicking Here
3/ First Install and launch Sony Pc Companion software on your Computer/Laptop.
4/ Click on the "Start Button" from Support Zone in SONY PC COMPANION Software.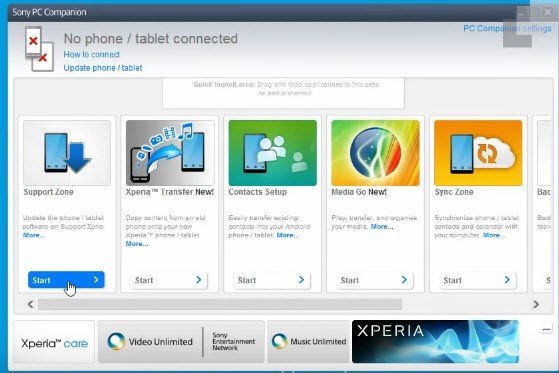 5/ Click on the "Start Button" under the "Phone Tablet Software Update" then click on "Repair my Phone/Tablet
6/ Choose your model and click "Next"
7/ In next window, click to "Continue" and "Next" (Remember recover your data before hard resetting your handset" and followed on the instructions.
8/ You will see in the screen some instructions
-Make sure you have more than 50% battery life
-Press and hold the "VOLUME DOWN BUTTON" while plugin in the "USB CABLE" means at same time you have to do this both actions keep holding volume down button and same time connect usb cable.
9/ Keep holding this volume down button until your pc tells you "Release it"
10/ Wait until updating finish.
11/ Once it has finished updating, congratulation your Sony Xperia hard reset has completed and, now you can unplug USB cable and turn on your mobile phone
, and start a phone after Hard Reset may take some minutes, once turned on, then follow the instructions on your device.