How to Fix Slow Charging and Fast Charging Issue in Samsung Mobiles
(Last Updated On: August 4, 2020)
In many Samsung phones, there are problems about slow charging, and i have galaxy s6, in which i am having this slow charging issue, and i am gonna mention here couple of things, that you can do with your mobile to fix this issue, which basically problem is that, when i plug in my charger, it does not charge fast enough, and i lose my battery in stead of charging, so let's start how to resolve this issue.
Let's Fix Slow Charging Issue Samsung:
1/ Power Off your Device
2/ Hold Volume Up + Home Button
Now wait till what phone says, till you see your mobile name, in my case i got my mobile name galaxy S6 active, and keep holding your volume up + home button till also "Android Logo" comes up. so now you will see there "Installing system update", but that does not do actually, and you just wait for it to load up some options in your mobile, and you don't need internet for this.
Once "Installing system update" finish, it will show "MENU" where you will several options, now there you do this action below.
3/ Go to "Wipe Cache Partition" by using Volume down button, and then press "power button" to select wipe cache partition.
4/ After "Wipe cache partition" finished, then reboot your cell phone.
5/ Once phone turned on, go to your mobile "Phone App" where usually we dial number, then type this number " *#9900# ", and then it will get you to some menu, and scroll down and ignore rest all options except this one "LOW BATTERY DUMP: OFF", so tap on it, and make it turn on.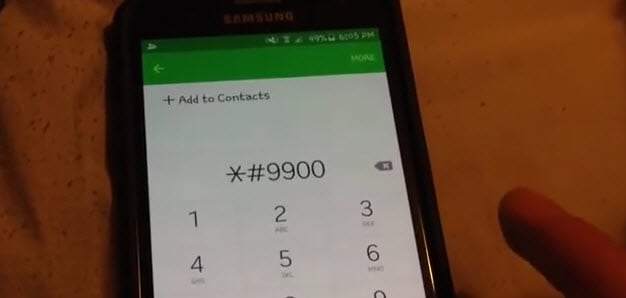 6/ Scroll down to "EXIT" option tap to exit.
7/ Restart your Handset to take it effect, and give your mobile quality charger, the more thicker wire of the charger the more in performance it is, and don't use third party charger.
Fast Charging Issue:
There is also one more problem in Samsung models, that many of them or few of them are not working with fast charging charger, that is because if you see inside the connector, the connector end which is for mobile port side, check that connector end of your charger cable, and verify that it has 5 gold pins inside or 4 ?, if there are 4, that is not fast charging data cable, you need 5 gold pins connector, and the more thicker is , the good charging is, and charger cable is thin, so it wont give you fast charging, that is also trick to use third party cable and and also match your charger Ampere, if less ampere, charging time slow, if more ampere like 1 Ampere or 2 Ampere then it will give you good charging, but i would prefer always use original charger for your handset.