Faster and Outstanding Performance AMD's Radeon RX 500-series Graphics Cards
(Last Updated On: August 4, 2020)
Great news! it has been revealed a fresh lineup of graphics cards on Tuesday by AMD, and the Radeon RX 500-series is an outstanding graphics cards series and perfect complement to the company's new Ryzen 5 processors. What they aren't, however, are AMD's hotly anticipated Vega GPUs.

Instead, the Radeon RX 500 series are based on the same Polaris graphics processors as the Radeon RX 400 series launched last year, with the exception of a new low-end GPU focused over all on e-sports and home theater PCs. "Polaris refined and evolved," as AMD calls it.
Yep, they're tweaked refreshes, with one notable exception.
While the term "refresh" typically sends shudders of apathy down enthusiasts' spines, the improvements AMD made moving from the RX 400 series to the RX 500 series are still notable—mostly because they combat issues present in the original cards.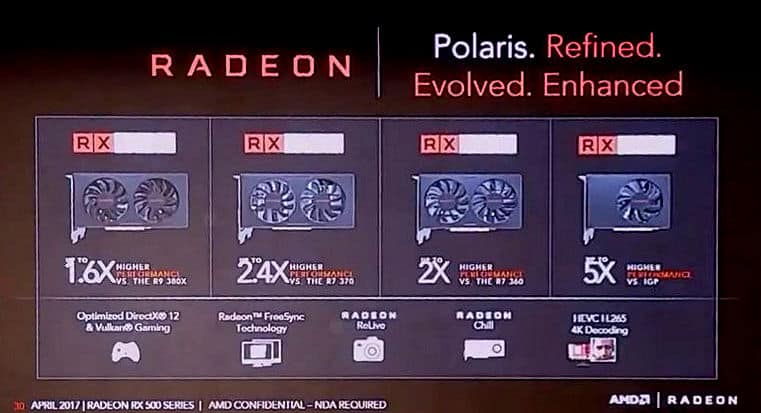 Radeon RX 480, as awesome as it was, but this card actually did not provide much overclocking headroom above its 1,266MHz maximum boost speed. (Even factory-overclocked custom cards tapped out at a mere 40MHz to 50MHz boost.) A power-draw controversy struck the card at launch as well, though to its credit, AMD pushed out a rapid fix for the issue of this card.
The Radeon 550 shows us another solid reason for the existence of the Radeon RX 500 series. AMD's marketing materials don't compare the graphics cards against the RX 400 series, because frankly, that's not an upgrade worth spending your money on. Instead, AMD emphasizes how the RX 500 cards add a solid performance boost and worthwhile ecosystem features—like support for FreeSync and modern, 4K-capable media codecs—over the Radeon 300-series cards, and even older models. (For what it's worth, that was the same major hook the RX 460 offered.
Have a Look at Radeon RX 500-Series  Cards:
-The Radeon RX 550 is a completely new model designed to appeal to e-sports gamers and home theater PC aficionados looking for more than what integrated graphics alone can provide.It's actually half of an RX 560 (or a third of an RX 570) with a mere 8 compute units clocked at a 1,183MHz boost speed. AMD didn't actually reveal a base speed.
It has got 2GB of memory over a 128-bit bus, though a limited number of models will offer 4GB capacity. It won't need a supplemental power connector, drawing all needed power through your motherboard.
-The Radeon RX 560 provides a decent bump over the RX 460's 1,090MHz base/1,200MHz boost speeds, cranking things to 1,175MHz/1,275MHz, respectively. More notably, this is the full-fledged version of the Polaris 11 GPU. Whereas the RX 460 only packed 14 compute units (potentially to keep it under 75W, which is necessary for cards that don't require extra power pins), the RX 560 rocks the full 16. That combined with the clock-speed boosts means the RX 560 could offer decently more performance than the RX 460—albeit at a higher power draw that will likely demand a 6-pin connector. Alas, AMD denied to share more details about this card.
-The Radeon RX 570 has a 1,168MHz base and 1,244MHz boost clock. While that's a mild increase from the Radeon RX 470's 1,206MHz maximum clock, it's a significant jump in base clocks, which was a mere 926MHz before. Again, that extra oomph isn't free, as the TDP increases from 120W to 150W.
-There is 1,256MHz base of Radeon RX 580, and 1,366MHz boost clock, as mentioned. Cranking those clocks brings the rated TDP up from 150W to 185W.
so overall Radeon RX 500-series is outstanding series for the gammers with great updates.