BYPASS HTC Desire 10 Lifestyle GOOGLE Account and Unlock FRP Easily
To bypass HTC Desire 10 google account is very simple and easy, in previous post, we got a trick of How to Bypass Huawei P10 FRP, now we will focus on HTC Desire 10 lifestyle, just follow some instructions below to achieve bypassing target of HTC Desire.
Let's Begin to BYPASS HTC Desire 10:
-Tap on "Email or Phone", then type there any alphabets, in my my case you can see "FFFF" there, and then long press on these English letters, you will get some options like, "Copy, Cut, select all", but you have to select "3 dots as shown like this :" from there, then tap on "Assist", after that you will redirect to the "Google Assistant", from there tap on bottom left corner "No Thanks".

-Now you will be taken on "Search Bar", in search bar type there "Chrome", you will see google chrome will be appeared in bottom list, select on "Chrome" icon, then this app will be opened, then tap on "Accept & Continue", then tap on "No thanks", now your chrome have been opened, so to Bypass HTC Desire 10, go on google search bar, just type there below URL
techeligible.com/j210-frp-unlock-without-otg-computer
and then scroll down till you find this "Quick Shortcut Maker Download link", you can also see below image for more help.
Now Download Google Account manager 6.0.0, and Quick Shortcut Maker as show in below image:
-Once you downloaded "Quick shortcut maker", then also download "Google Account Manager 6.0.0" as well.
-After downloading done, you will get an option to "OPEN", tap to open, then install "Google Account Manager", if you get "Installation Blocked" error, don't worry, from from that pop up, tap on "Settings", and then make enable "Unknown Sources", then go back till you reach on "Downloads" files, then again tap to install "Google Account MANAGER 6.X.X", after finishing installation, tap on "Done", then install now "Quick Shortcut Maker", and once installation finish, tap on "OPEN", to open quick shortcut maker.

-Inside quick short maker search bar, type there "Google Account Manager", then tap on "Google Account Manager" to extend it.
-After that you will see many google accounts managers there, choose one of them, that is with "type email and password".
-After that tap on "TRY", see below image for more help to Bypass HTC Desire 10.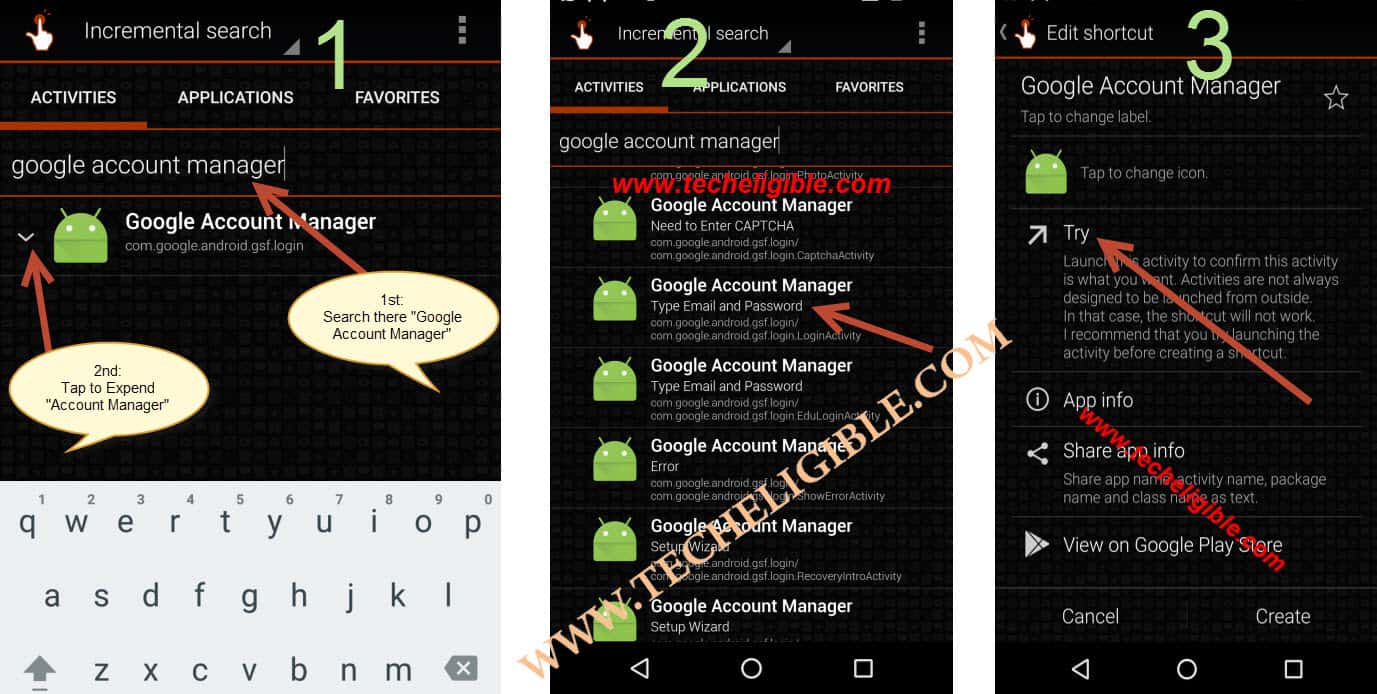 -You will be asked to "Retype Password" to bypass HTC 10, simple ignore it, and tap on "TOP RIGHT SIDE CORNER 3 Dots", then tap on "Browser Sign-in", by doing this, you'll taken to google chrome browser sign-in page, on that page, give any valid gmail id and password to login.
-Just restart your mobile to accomplish bypass HTC Desire 10.
Summary:
-Go to Google Chrome
-Download "Quick Shortcut Maker"
-Download "Google Account Manager 6.x.x".
-Install both of them
-Add Valid Gmail Account
-Restart to Bypass HTC Desire 10.
Please follow and like us: