How to Bypass All HTC Desire Google Account Verification and FRP lock
Oh no!, i have forgotten my HTC Desire google account, and i want to Bypass HTC Desire, and now unable to get access to my mobile, it's keep on asking me about entering email and password.
I used one of the easy and best to method to get fully access to my  mobile, and this method is for all HTC Desire series mobile like,
HTC Desire 816
HTC Desire 626
HTC Desire 628
HTC Desire 650
HTC Desire 530
HTC Desire 510
Let's start how to Bypass HTC Desire?
-First of All you have to download some files in your computer/laptop for successfully bypassing frp lock.
Disable your antivirus for a while.
(1st Install Winrar in your computer)
(Install and Open Mobomarket, and 2 windows of MOBOMARKET will be opened, 1 is green, and 1 is blue, so close "BLUE Mobo window" and minimize "Green mobomarket window".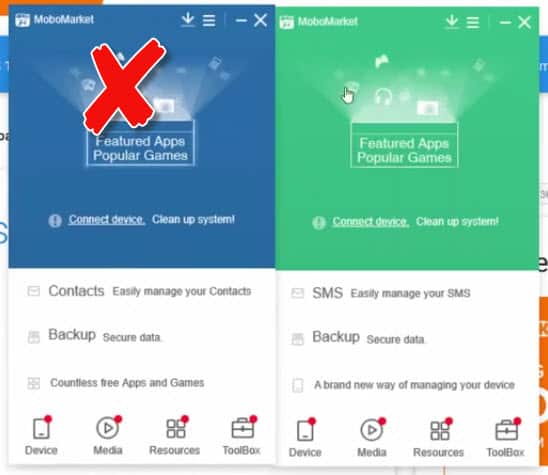 ⇒XTC CLIP 1.17 [DOWNLOAD]
(2nd Extract XTC Clip by right clicking on it and install this software in your PC).
If you get message about updating your xtc software, simply click "NO", do not update this software.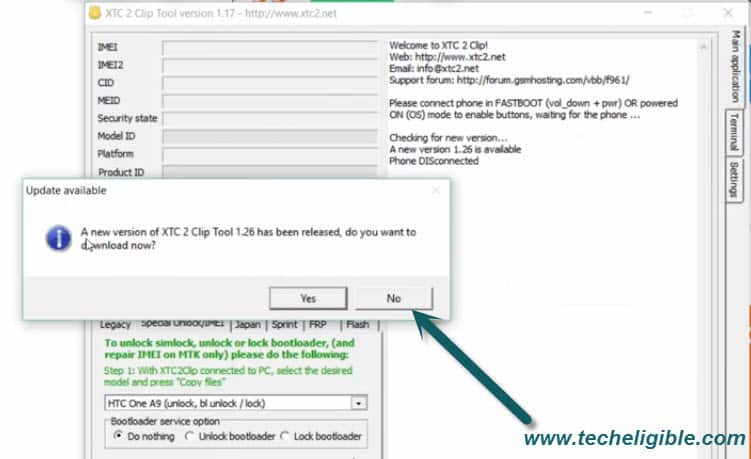 Once you downloaded all given links, and installed winrar, xtc, and mobomarket, and have opened both XTC and Mobomarket Green Window, so it's time to connect your HTC Desire device through USB Cable with your computer.
Remember:
If you are unable to connect your HTC Desire via USB cable, try to change your USB Port from Computer/laptop side, or try multiple times to disconnect and connect again, i got pop-up in 6th try and then started  Bypass HTC Desire method, as seen in below image,
once you got pop-up in your mobile, then check to "Always allow from this computer" and then tap to "OK", and you don't need to disconnect your mobile.

Now you will get pop-up message to accept, so tap to "Accept" and then you will see another pop-up, which says "Installation Blocked" so tap to "expand message" as shown in below image,
and then tap to "verify Anyway", then wait till you see "MoboDaemon" on your mobile screen, and then you will be on "Wifi Connection" tab, from there tap to "Back" and then tap on "I SEE", after that tap on "Back" again from your mobile, and then wait because "Mobomarket" is now being installed in your mobile background, after that you will see "Mobomarket" has been installed and it will auto open in your mobile, and you will see on your mobile screen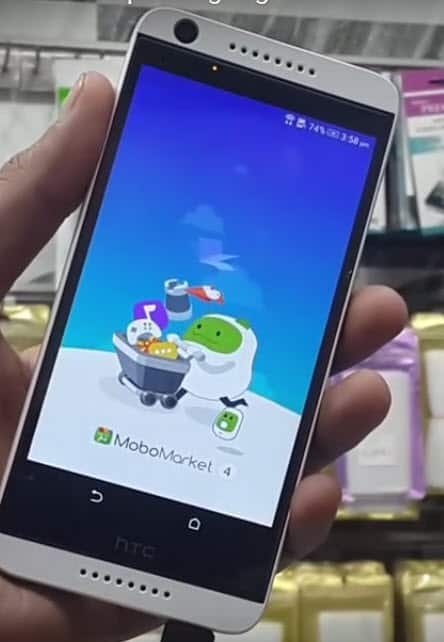 some apps are checked, so simple "uncheck" all checked apps, and then tap to "NEXT STEP", then on next screen, you will see again some apps, so "uncheck them all" and let one app as "CHECKED" with name of "MotoGP" as shown in below image,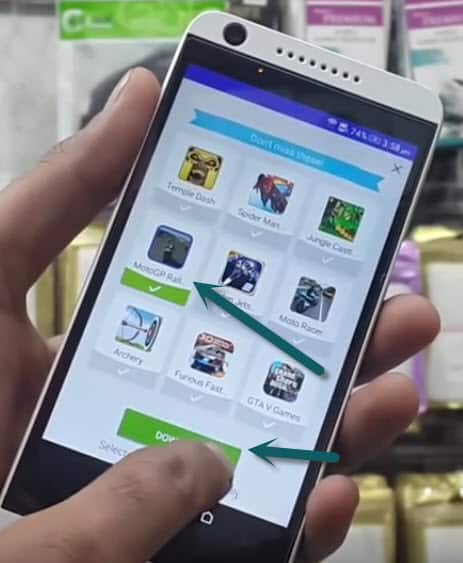 Now tap to "Download", next screen will be of "Installing", do not tap to install, but tap on "x" cross sign from top right side corner to close that screen, and then tap on search bar to search bar from top side and type that "Chrome Browser" and you will get "Chrome Browser" icon downside of your search, simple tap on that, and then "Update",
once updating finished, you will get pop-up about "Non-click Installation" so just tap on "Later" to bypass through, and then you will see message like "Installation blocked" from there tap on "Settings" and now you are in "Security"
from there scroll up to find out "Unknown sources" and tap on it to "check" this option, and now again "GO BACK" and you will be on same page again about "Google chrome update", so simply tap on "Update' and then tap to "INSTALL", once installation of chrome finished, tap to "OPEN" > "Accept" > "No Thank", after that you are in chrome browser app, now search on your browser "Bypass HTC Desire Google Account Techeligible.com", and after that you will see "Techeligible" website, tap on it to open this website, and then scroll up till find "Google Account Manager 6.X.X".
Download Files:
and tap on that to download this file, and open with "CHROME", and now one more pop-up will be opened of "DOWNLOAD MANAGER" so from there tap to back till you reach to "Techeligble.com website", and from there download "Google Account Manager 5.X.X" and then again do same thing and come back to "Techeligible.com" website by using same process, and download "Account Login" and now wait till these 3 files downloading finish.
Once downloading done, now install both "Google Account Manager", you will get "Parse Error" any one of them, so ignore that and look for 2nd, that up to your mobile version, which suites for it, and wait till it's installation finish, tap to "DONE", and now you will be redirected to "Download Manager" again, from there tap to "Account Login file"
which you downloaded and install this app in your mobile, once finished installation, tap to "OPEN" and now tap on "3 Dots from top right side corner", and now tap to "Browser Sign-in" and now enter your any valid gmail account.
Once Sign-in finish, just restart your device, and now your mobile wont ask you to connect wifi, just follow some steps on your mobile screen by clicking "NEXT" and where it ask you to put email or something simply tap to "Skip" and after that on "Mobomarket" it will show to download some files, so uncheck them all and go ahead.
You are done to Bypass HTC Desire and free to access all apps in your mobile.
Please follow and like us: