How to Bypass FRP HUAWEI ASCEND XT2 By Latest Method
(Last Updated On: February 15, 2021)
How you can easily Bypass FRP HUAWEI ASCEND XT2 H1711 Android 7?, this method can also be applied on other Huawei Android 7 phones, but as this method has been applied on Huawei Ascend model, so you should know this will work fine on this model number phone, if you have same model, you can happily try this latest method.
Note: This method has successfully been applied on HUAWEI ASCEND XT2 H1711 ANDROID 7.0.
Summary: We are going to prepare you describe you, what we are gonna do in below steps, so you know very well, what you are required before applying below method on your Phone practically. We will just connect WiFi, and will open Samsung internet browser through a talkback feature.
Once we accessed to the browser from there we will simply download an app, which is (Quick Shortcut Maker), and then we will just add new Google Account, and will enable developer option, and then will just soft reset the device from settings. Let's Follow below method step by step.
Let's Start to Bypass FRP HUAWEI ASCEND XT2:
-Turn on Huawei Phone & Connect WiFi in your phone, and the and get back to 1st "Welcome" homepage.
-Turn on talkback by > Vision Settings > Talkback > Turn on Talkback from there.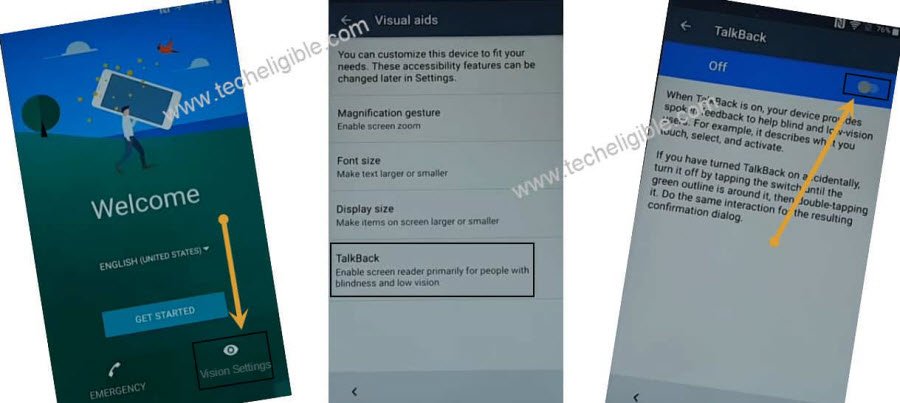 -You have to draw a "L" gesture by swiping down to right, and then Double Tap on "Talkback Settings".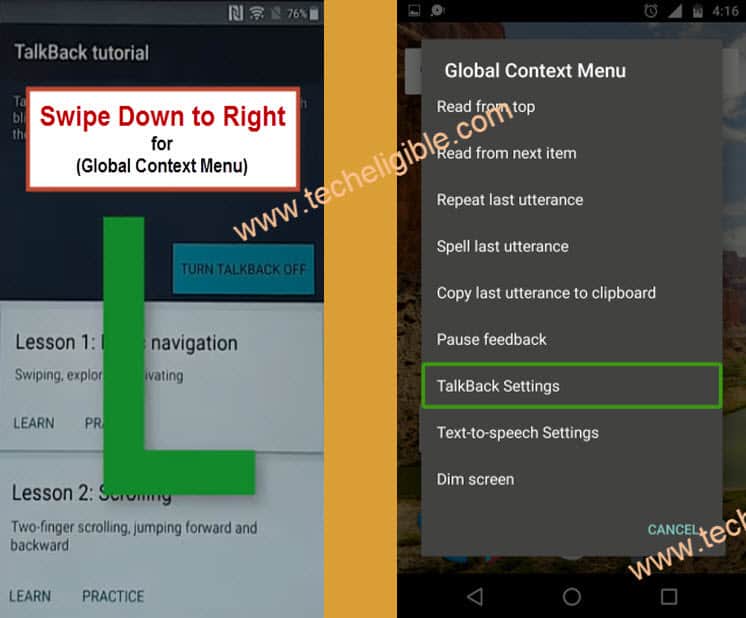 -Draw "L" gesture again, and double hit on > Pause Talkback > OK.
-Go down, and then tap on "Help & feedback".
-Hit on > About Switch Access for Android > Play Youtube Video.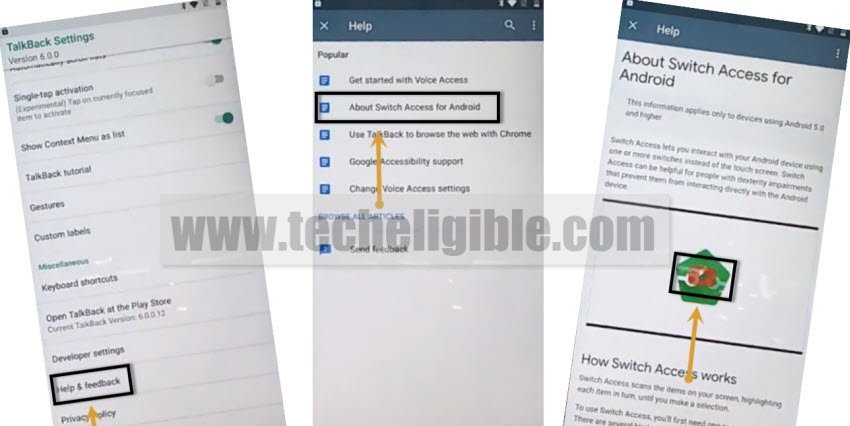 -In the youtube video, you will have a title there (Switch Access for Android), just tap on that title from the video.
-You will be redirected to the Chrome browser.
Download Huawei FRP Apps:
-Type in google search bar "Download FRP Tools Techeligible".
-Go to our website site searched result, and then download from there "Quick Shortcut Maker 2.4.0".
-Once downloading finish, popup will appear bottom of your screen, just tap on "OPEN".
Note: If you do not have a popup window there, you can manually access to your device downloaded folder by just go to top of the page, and then hit on "3 dots" from top right corner, after that tap on "Downloads", this will show you your downloaded quick shortcut maker app.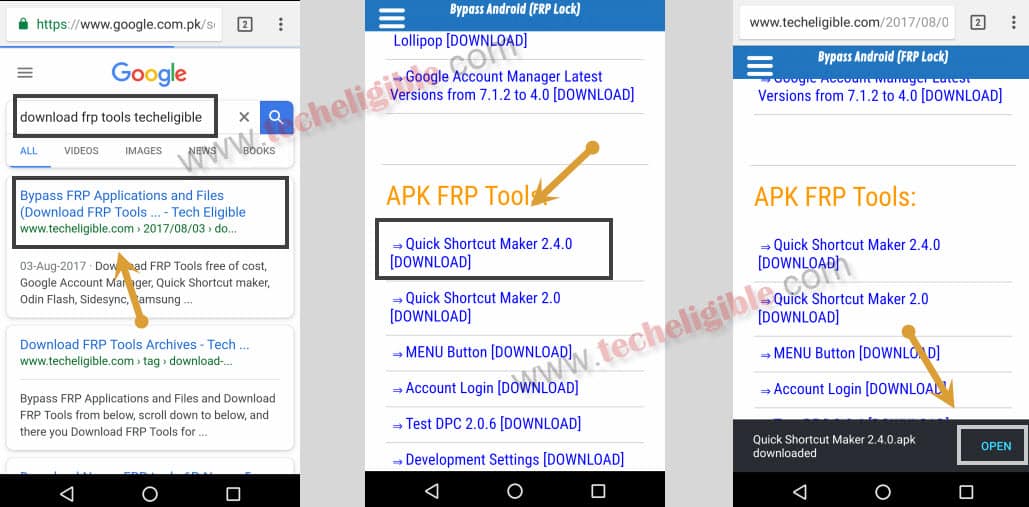 -If you see an (Installation Blocked) popup message before installing the app, just hit on "Settings", and enable "Unknown Sources" option.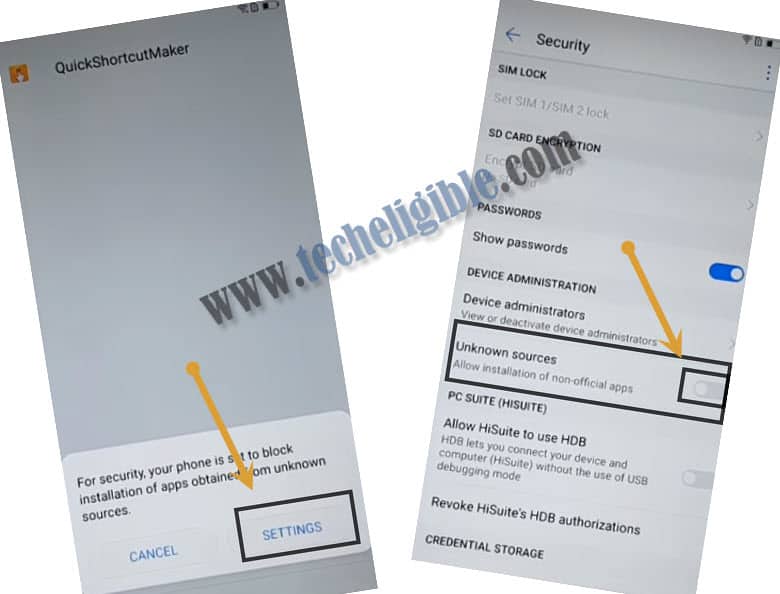 Install & Open (Quick Shortcut Maker 2.4.0):
-Tap on "Install", after that tap on "OPEN".
-Search "HOME" there, from the searched result, tap on "Huawei Home" to expand it.
-Tap on 1st "Huawei Home" from the list, and then hit on "TRY".
Enable OEM Unlocking in Huawei Phone:
-Go to > Settings > About Phone > Tap 7 times quickly on "Build Number", this will show you popup window of (You are now a developer).
-Go back to > Settings > Developer Options > Turn on (OEM Unlocking).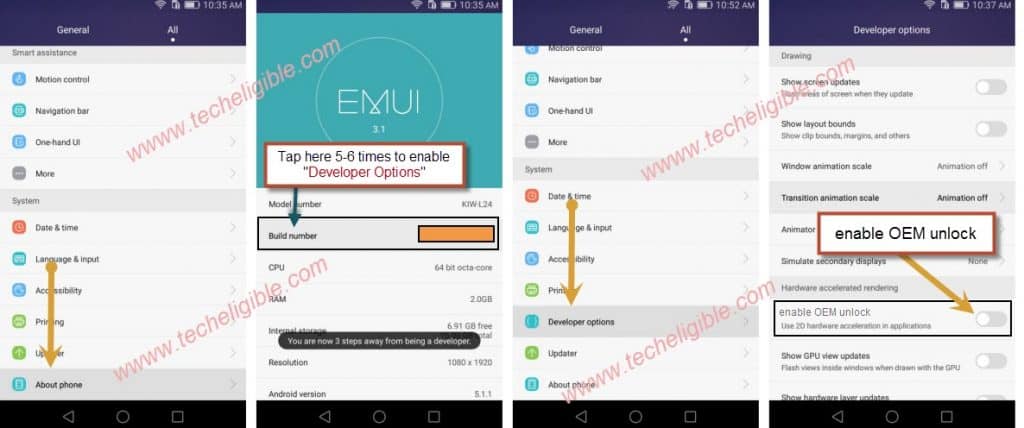 .
-Once you enabled OEM Unlocking, just get back to > Settings > Backup & Reset > Factory Data Reset > Reset Phone > Reset Phone to bypass frp Huawei Ascend XT2.
-The device will restart, and after that, access to your phone just by finishing up setup wizard