Unlock FRP Samsung Galaxy By Bluetooth Keyboard (Old Samsung Models)
(Last Updated On: December 10, 2020)
You can easily Unlock FRP Samsung Galaxy Bluetooth Keyboard, you just need bluetooth keyboard for completing this method, no need computer, or OTG cable in this method, only we have to connect Wi-Fi our device first, and just stat following below all steps carefully to successfully Unlock FRP Samsung Galaxy Bluetooth Keyboard.
1: 1 Phone which is on "HOTSPOT" on, and your FRP Locked mobile is connected to that WIFI.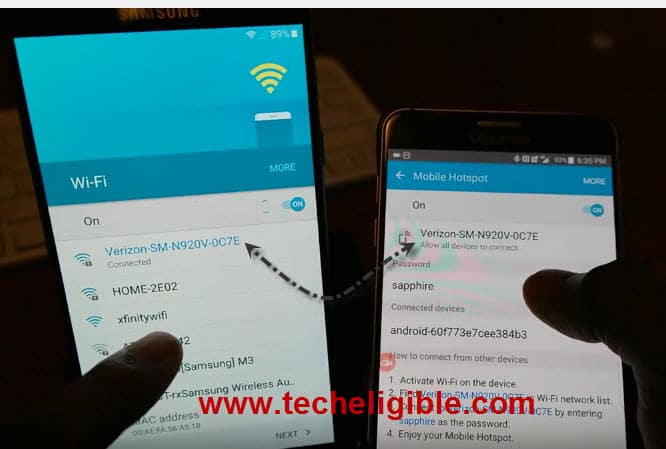 2: 2nd thing is you need one "BLUETOOTH KEYBOARD", but remember not all Bluetooth keyboard is gonna work, i tested with SAMSUNG BLUETOOTH Keyboard, which worked perfectly for me, and two keyword for me worked fine and those are these:
Samsung Bluetooth Keyboard – Click here
Logitech Pro Keyboard – Click here
Let's start how to Unlock FRP Samsung Galaxy Bluetooth Keyboard:
1: Connect your mobile to WiFi, or sim card internet
2: HIT "NEXT" , after taping on "Next" from WiFi option you will be on "Terms and conditions" , where from you have to select one option which is "CONSENT TO PROVIDE DIAGNOSTIC AND USAGE DATA" and now again tap on "NEXT"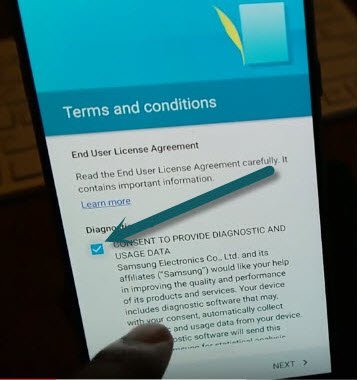 3: Now it will "Checking Connection" so now "TURN OFF YOUR HOTSPOT WIFI" from other mobile then it will stop checking connection, and will give you message like "Couldn't sign in".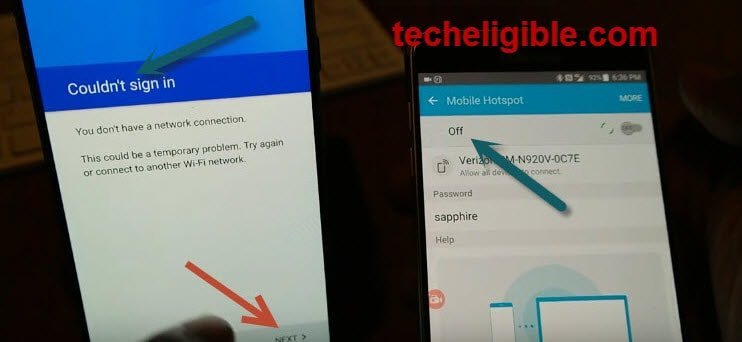 4: It will take you to "Date and time" just bypass that also by tapping on "NEXT"
5: Now you are on "NAME" option, skip that as well by taping on "NEXT".
6: You will be taken to "Protect your phone" option where from you have select "No, thanks" option and tap on "SKIP", after that you will be on "GOOGLE SERVICES" page, after reaching to this page, turn on your other mobile "HOTSPOT" so that your mobile could WiFi connection back and then TAP ON "Google Privacy Policy" and then scroll down on privacy policy page, and just "LONG PRESS ANY WORD" and then tap to "SHARE" and on bottom side you will get option like "Samsung Wizard" hold that till you get "Application info" "Samsung Setup-wizard" from there tap on "Force Stop" setup wizard, after doing that you can at least pull down your notifications, before it was not working.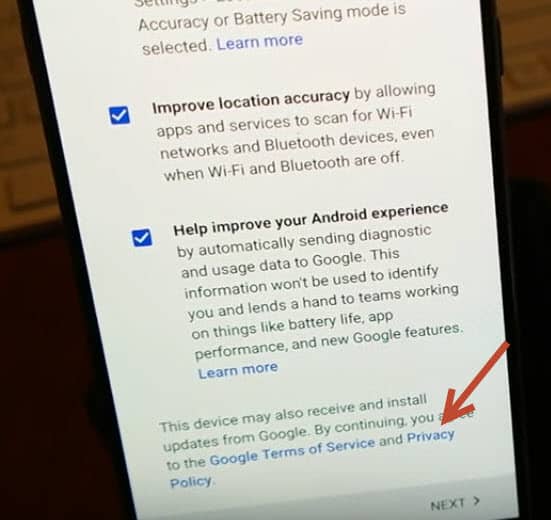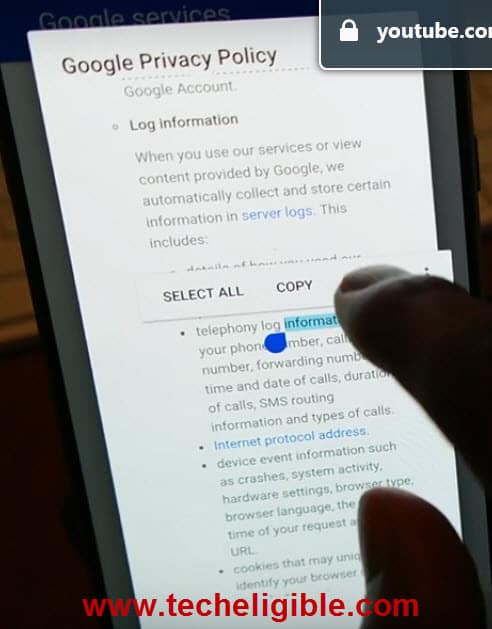 7: Turn on "Bluetooth" and connect your Bluetooth keyboard to your mobile, once it is connected, then hit "Microphone button" from your mobile, then speak "Open Chrome" in chrome address bar type "ROOTJUNKYSDL.COM" after that tap on "Apps" and then scroll down and search from there this file to download "com.sik.android.quickshortcut" download this file from there.
Now again hit "Microphone button" from your keyboard and say "Open Galaxy apps", after opening this app, tap on "AGREE" and then tap on "SEARCH" on search bar type "ES FILE EXPLORER" this is very important option, and download this file, but it will take you "Samsung account" page, there you will have to insert your gmail account, once downloading finished, then open that "ES FILE EXPLORER" and now go to "Download" folder, you will find in your "ES FILE EXPLORER", and from there you will see your one downloaded file which you downloaded from "ROOTJUNKYSDL.COM", and tap "com.sika52.4.android" file which you downloaded and install that one., click to install> package install> settings> turn on "unknown sources", and then installation will begin.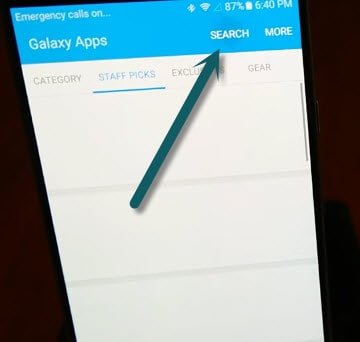 Once installation finished tap to open> scroll down from "activities" till you get "google account manager" > there you will see lists of "google account manager" chose any  one of them which is with "type email and password description"> TRY> hit "MENU" which is usually 3 dots in column from up right corner> Browser sign in> ok> Enter your e-mail and password> once you entered google account there, now go back, and keep hitting back button till you reach back to your "GOOGLE SERVICES" page and from there tap "NEXT", now it will take you to "welcome!" page where it show message like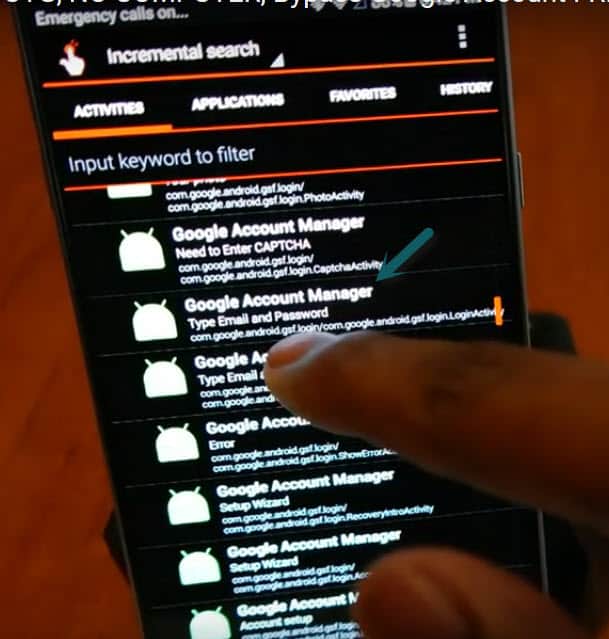 "preparing your device for first-time use. This may take 3 or 4 minutes."
Now finally you will get page of "Account added" from there hit "NEXT" > wait on "JUST A SEC…" page, till it finish,
After that you will get "DATE & TIME" page from there hit "NEXT" > it will lead you to "ADD ANOTHER ACCOUNT", hit "Not now", > Protect your phone, hit "No, thanks"> skip anyway> Get your apps & Data page, from this page hit on "Restore from this backup"> select "Setup as New Device" > Next > Next> Exit> Finish.
After that's all, you will "Setup phone" popup, which will continuously keep popping up, so simply restart your phone and now you are in your phone. I tried this method with my Galaxy note 5, and this method is for all Samsung devices, and can be for all android devices, and make sure use keyboard with your Samsung mobile those i mentioned you above.
This article is for those, who has forgotten their  google account, not for stolen mobile.