How to Upgrade and Downgrade Firmware Samsung Galaxy J3
(Last Updated On: August 12, 2020)
The easiest and clean method is available for your galaxy j3 to downgrade or upgrade firmware, firmware Samsung galaxy j3 can be downloaded on Samsung official website, i will describe you each and every step regarding this firmware upgrade or downgrade method.
Why Should i Upgrade or Downgrade Firmware Samsung Galaxy J3 ?:
If you are having serious issue with your galaxy j3 device, e,g you are unable to TURN ON your galaxy j3, or it keeps on freezing or having restarting issue, or something like you installed an unknown app, and bugs effected your mobile performance, so after applying all your methods to get rid of this kind of  problems, and even then you have been unsuccessful to resolve your issues by anyway, then i would recommend you to upgrade or downgrade your device firmware Samsung Galaxy J3, because upgrade firmware Samsung galaxy j3 would verily refresh your device, sounds like it brandnew.
1- Desktop/Laptop
2- Data Cable to connect your Galaxy J3 with Computer/Laptop
3- Samsung Galaxy J3 Firmware
4- Odin Software
Don't worry, in this method we will help you to download firmware, odin software and everything what you need to complete this method.
Let's Begin to Upgrade or Downgrade Firmware Samsung Galaxy J3:
Step 1: we have to download galaxy j3 firmware, before downloading, check what is your galaxy J3 model number is, to do that,
-Go to Galaxy J3 Settings > About Phone > Model Number

-In my case, i have model number "

SM-J320F

".

-Create your Account on Samsung Official website if you don't have.

-Login to Samsung Official website, click on "

FIRMWARE

" from top of the MENU, type there your "

Galaxy J3 Model Number

".
-Now you will have list of FIRMWARE, now select your country and download firmware from there via "

REGULAR DOWNLOAD

".
Alright, so now you have downloaded galaxy j3 firmware, place your firmware on your DESKTOP, so that you may not confuse while giving its location in ODIN software.
Download ODIN V3.12.0 Software:
Step 2: Go to your google.com, and search there "Bypass FRP Applications and Files For Computer/Android Devices", click on 1st search result from there, and download ODIN Software from there.

OK, now you have downloaded both Odin software as well as Firmware  Samsung Galaxy J3, keep both files on your Desktop.
Upgrade or Downgrade Firmware Galaxy J3:
-Extract Odin software and FIRMWARE Samsung Galaxy J3.
-Reboot Phone in Download Mode by pressing and hold  "Home + Power + Volume Down buttons", and then once you entered in download mode, press volume up key to successfully having DOWNLOAD Mode, if it ask you to press volume up key same as in below image.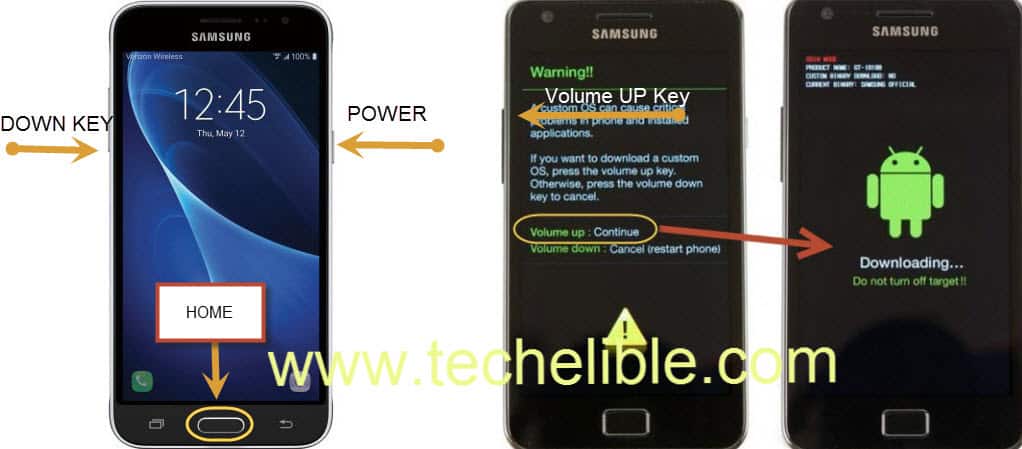 -Open Odin in your Computer
-Connect your Galaxy J3 device using DATA Cable
-Wait until you see "BLUE Sign" in Odin as shown in below image.
-Now click on "AP" button inside Odin, and then give your downloaded galaxy j3 "FIRMWARE" location.
-Make sure you have un-ticked the re-partition option from ODIN.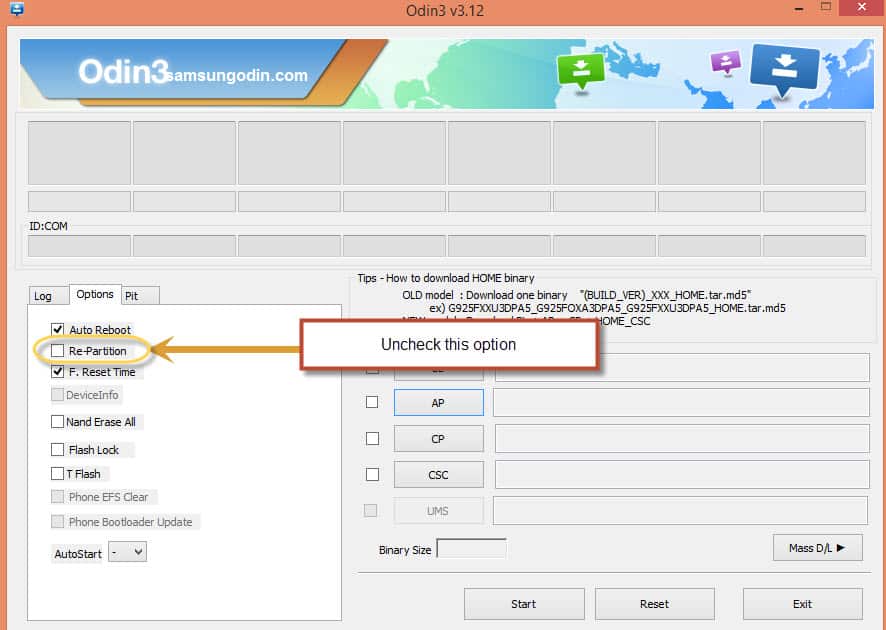 -Now click on "START" button from Odin to start upgrade or downgrading your firmware samsung galaxy j3, and wait few minutes until it finish and you get sign of "PASS" in Odin software, and your mobile will auto restart on its completion.
Warning: Do not disconnect your galaxy j3 from desktop/laptop while it's on upgrading with ODIN.
-Once you got the sign in your Odin software of "PASS!", then disconnect your phone and your phone will automatically restart, and now do factory data reset to your phone once.
Remember: Before doing factory data reset, take backup of your contacts and your applications on your GMAIL Account. to know about that how to export contact to gmail account click here.
Factory Data Reset Galaxy J3:
Go to galaxy j3 > Settings > Backup and Reset > Factory Data Reset > Reset Device > Erase Everything.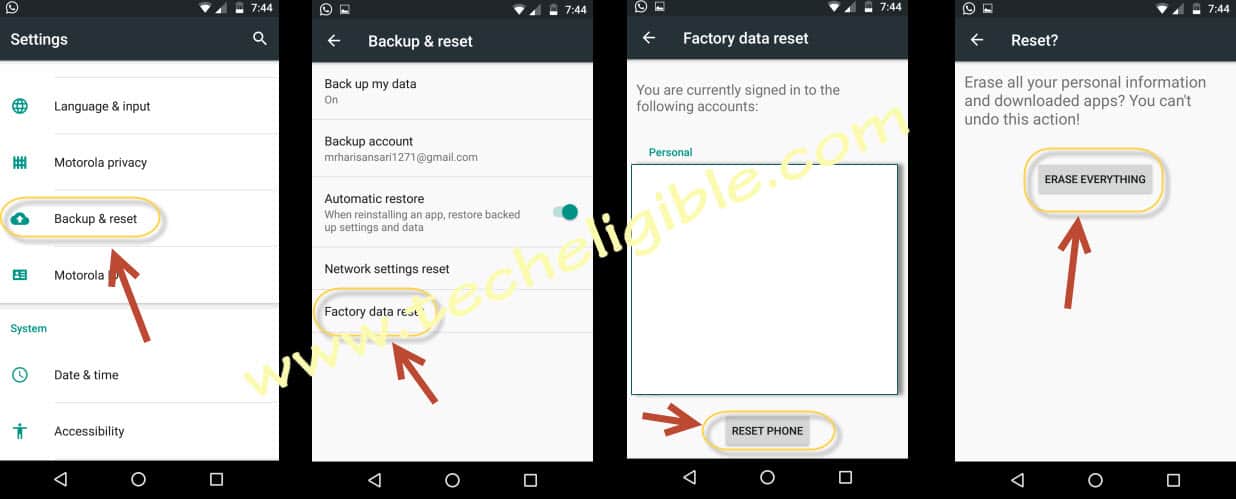 Note: You can also Bypass frp any Samsung Galaxy J3 Models by [Click Here]