Moto G4 PLUS FRP Bypass All Patch with Script Code [Latest Method]
(Last Updated On: September 7, 2021)
Latest and easy method of Moto G4 PLUS FRP Bypass. This method is working perfectly with all latest security patch level, get rid of frp lock and try this latest Nov-2017 method with crack frp tool for Moto G4 PLUS FRP Bypass.
Bypass Google Verification from Moto G4 Plus device in just few steps, follow below steps and unlock Moto G4 Plus.
Let's Start  Moto G4 PLUS FRP Bypass:
Step-1:
-Click Below to Download frp tools.
⇒ Moto G4 PLUS FRP Tool [DOWNLOAD]

-Once downloading finish, extract downloaded file.
-Go to extracted folder, and then open  "Motoroloa_FRP" as administrator.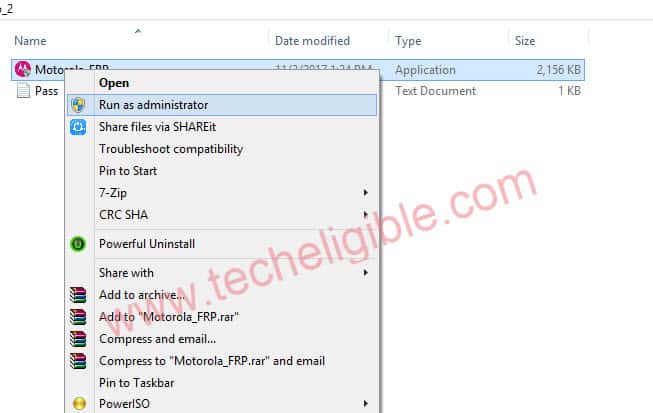 -Open "PASS.TXT" file, and copy password.
-Paste "Password" in "Motorola FRP Command Prompt" window, and then press "ENTER" key.

Reboot Moto G4 Plus to Recovery Mode:
To successfully Moto G4 PLUS FRP Bypass, you have to enter in "Recovery Mode" from your Moto G4 Plus device, and then connect to computer. Follow below step-2 to understand in detail.
Step-2:
-Press & Hold "Power + Volume Key" together until you see "Recovery Mode" window.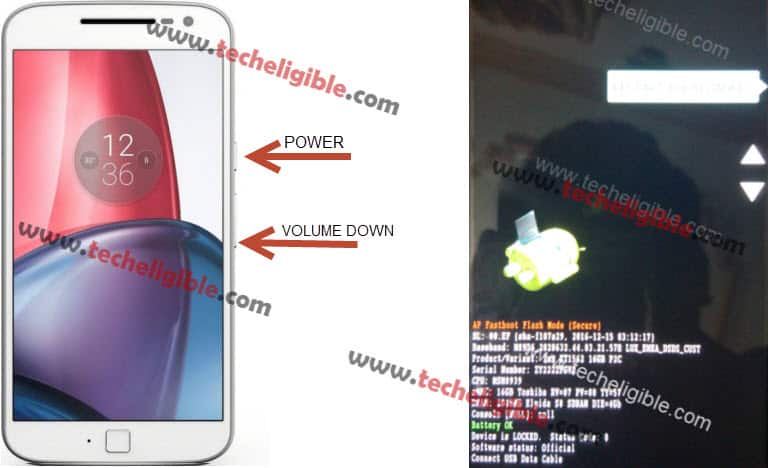 -Connect Moto G4 Plus to computer / laptop via micro usb cable.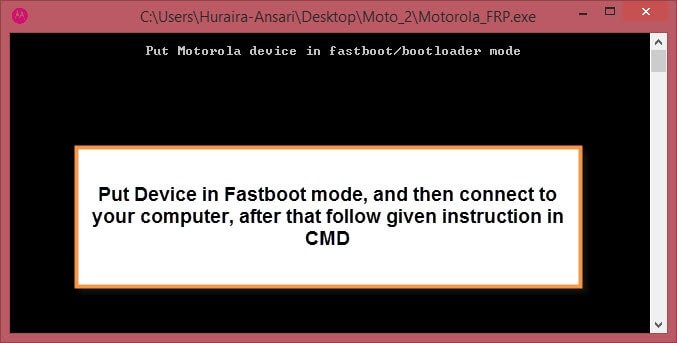 -Once you successfully connected to computer, then you will start getting messages in cmd window like:
♦ Waiting for device…
♦ found!
♦ sending payload…
Note: You have to allow "USB Debugging" when you get usb debugging screen on your device to continue frp bypass process.
-At last, you will get message in cmd "DONE!!!". That means you have successfully bypassed google account from Moto G4 Plus.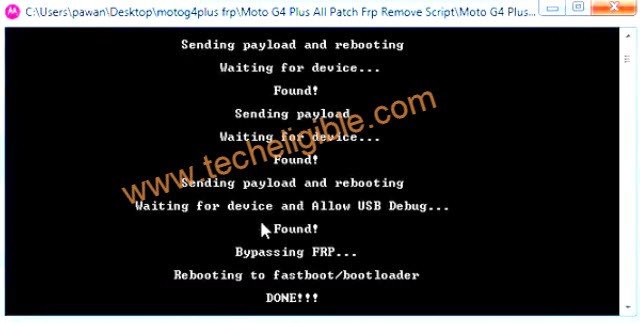 Summary:
• Download "MOTO FRP Tool"
• Extract file, and open folder.
• Run "Motorola_FRP" exe file as administrator.
• Open "PASS" txt file and copy password, and then past into "Command Prompt" window.
• Reboot "MOTO G4 PLUS" device into recovery mode.
• Take Micro USB Cable, and connect to moto g device to computer.
• Enable "USB Debugging" and wait until you get message in cmd of "DONE!!!".
Note: You can now easily Bypass frp Moto G6 & G6 Play Android 8 by [Click Here]