How to Download Z3X 28.2 with Loader, Remove FRP All Galaxy Devices
(Last Updated On: April 5, 2021)
You can easily Download Z3X 28.2 with Loader from here with just one click, and learn from this post how to bypass frp lock from Samsung Galaxy Devices with the help of Z3X tool. Using this method you can remove frp of too many devices including (Galaxy S6 Edge, S6, J7, J5, J3, J1, A7, A5, A3) in this Z3X version, some new devices are not listed, so i would recommend you to try with 29 version z3x instead of this one.
Good thing is that, you will not get any "Retry, Card not found" error in this version, just download and install, and then run as administrator.
If you have latest Samsung Galaxy devices including Galaxy S8+, Galaxy S8, Galaxy Note 8, Galaxy S7 Edge, Galaxy S7 Edge+, J7 PRO, J7 Prime, J7 Nxt, so this Z3X 28.2 Samsung Tool Pro Version is not for all these devices, because these all devices are not listed, i don't want to misguide any user from this post, you can try other frp solution by clicking on your device from below.
Note: Unlock Network Issue, FRP Lock on All Samsung Galaxy Latest Devices Until Galaxy S8+ by Z3X 29.5 Samsung Tool Pro Software
Let's Download Z3X 28.2 with Loader:
-Turn off Antivirus Software to avoid .exe file deleting.
-After you Download Z3X 28.2 with Loader, extract software from winrar archive.
-Install Z3X 28.2 Software.
-There "Password.txt" file in winrar file, just use that password to finish installation of Z3X 28.2 Samsung Tool Pro Software.
-Right click on "Z3X 28.2 Icon" and run as administrator.
-You will get "CMD Prompt" window, just click on that cmd window, and then press any key to continue.
-After that, you will get popup of "Loader", just click on "TRY".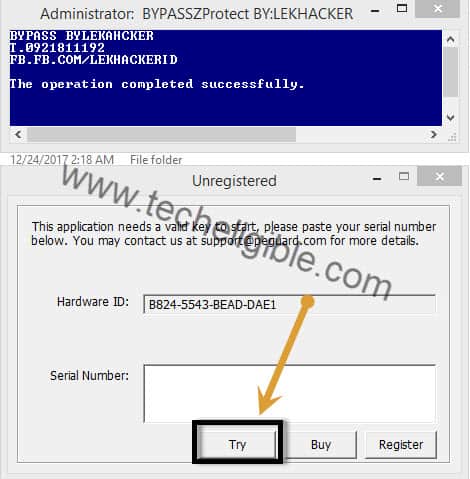 -Congrats, you've successfully installed and opened Z3X 28.2 Samsung tool.
Remove FRP Lock Samsung Galaxy Devices Via Z3X 28.2:
-Switch Off Samsung Galaxy Device.
-Put device in "Download Mode", Press & Hold (Volume Down + Bixby + Power Key), once you get "Warning Window", just press "Volume UP" key to continue.
Note: If your device does not have "Bixby" key, then Press & Hold (Volume Down + HOME + Power) together.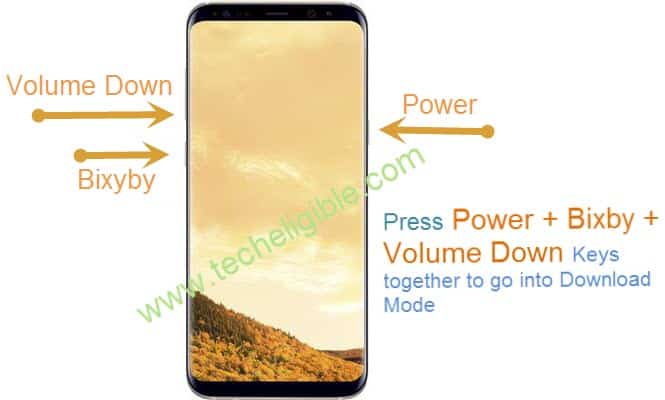 -Connect Samsung galaxy device to computer via micro USB Cable.
-To make sure, device has connected successfully, right click on "My Computer" icon, then click on "Manage", after that click on "Device Manager".
-There you can see your device port, or device detail.
-Go to "Z3X Samsung Tool Pro" Software, then type your device model in search box, and then click on "Select Button".
-Now click on "Unlock" tab.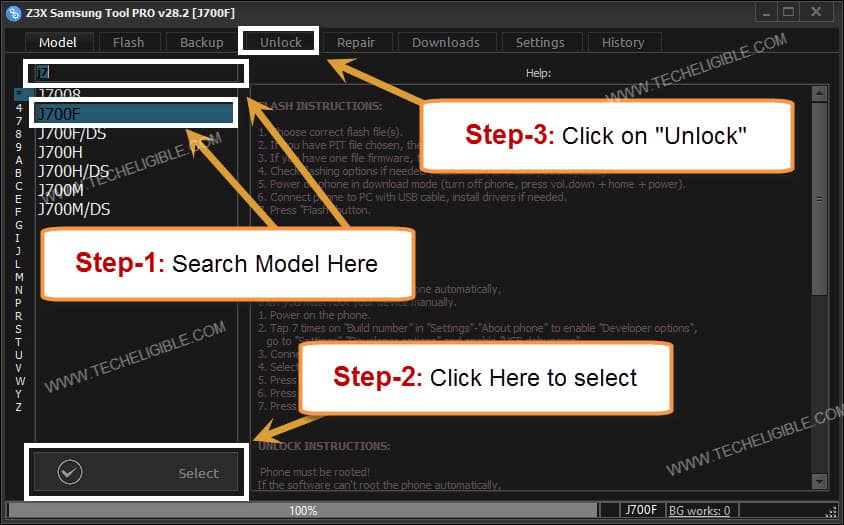 -Once device connected successfully to computer, it will appear in "ADB" box.
-Click on "Reset FRP/React/EE" Button.
Note: If device is unable to connected to computer, that means you need to enable "ADB Mode", for that click below link and follow some steps from there until "ADB Mode" enabled.
⇒ Click here to enable ADB MODE
-Once frp unlocking process finish, you will get successful, or done notification in your Z3X Software.
-After that disconnect your device, and complete initial setup.
Related Post:
Downlaod Z3X Samsung Tool Pro all available version with loader.