Fix Xiaomi Bootloop in All Xiaomi Devices [Fix Stuck On Boot Start Screen]
(Last Updated On: August 4, 2020)
This method is for all Xiaomi devices, if your device has got bootloop after flashing with firmware, or while removing frp lock, so you fix your this issue by following our some easy and authentic steps, only you need to flash your device one more time using Xiaomi Official Flash tool to fix any bootloop xiaomi device, but make sure do follow all steps properly to get rid of Fix Xiaomi Bootloop.
Let's Start to Fix Xiaomi Bootloop:
-First of all we need to download flashing tool + Xiaomi firmware from Xiaomi Official website.
-Click below to download tool and firmware in your PC, also get help from below images to understand more.
⇒ Xiaomi MiFlash 2014 [DOWNLOAD]
-Make sure you are downloading correct firmware according to your device model.
-After downloading flash tool and firmware, now extract both downloaded files.
-Install "MiFlash_2014" flashing tool in your PC.
-Open "MiFlash 2014", and click on "Browse" to give firmware path (See Below Image).
-Now give only "IMAGE" folder file path from your downloaded firmware (See Below Image).
-Afterwards, click on "Down Arrow" that is near to "Browse", and then select "Advance…" option (See Below Image).
-Now click on "Browse" to give flash_all.bat file path.
-Give file path of "Flash_All.bat" from the downloaded firmware.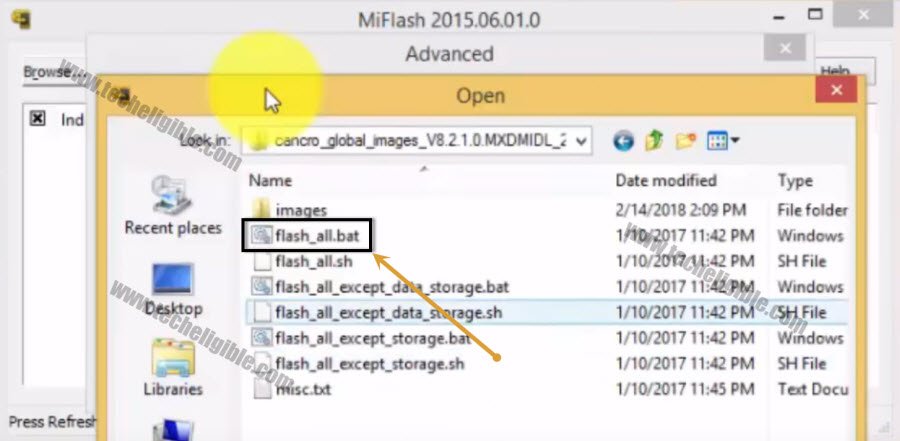 -Now you we are ready to Fix Xiaomi Bootloop issue.
Put Device into Fastboot Mode & Connect to PC:
-Just switch off Xiaomi Mi device.
-Press & hold both (Volume Down + Power key) together until you see "Fastboot" screen.
-After that release keys & Connect device to computer via micro USB cable to Fix Stuck On Boot Start Screen error.
-Now click on "Refresh" button from Mi Flash Tool.
-After that you will see your device in your Xiaomi Flash tool same as shown in below image.
-That means, your device has successfully been detected by Xiaomi Flash too, and its ready to be flashed.
Note: If you don't see anything in Xiaomi Flash tool, disconnect device, and reconnect it, try this multiple times and also change USB port, so that your computer and flash tool both detect your Xioami Device.
-Now click on "START" button to Fix Xiaomi Bootloop (See below image).
-Wait few minute until flashing process.
-Once the flashing process, you will see "The Operation Completed Successfully".
-Congrats, now you are done to Fix Xiaomi Bootloop.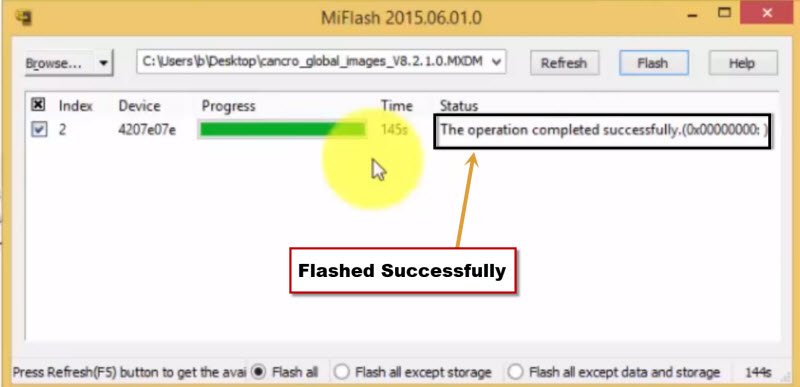 Thanks for visiting us, if you've any question regarding this method, you can ask us in below comment area.