Download D&G Unlocker Tools 2021 Free Remove FRP All Phones Easily
(Last Updated On: September 25, 2021)
This is an European tool, You can Download D&G Unlocker Tools 2021 from below, we also have described some best features of this tool, with the help of this tool, you can remove frp (Samsung, Huawei, Xiaomi, Motorola, HTC, Lenovo), you can also download firmware, and read info, unlock and lock bootloder with this tool, some brand devices work in edl / fastboot mode, and some in normal mode, everything has already been mentioned in this tool, but the language is European, so you can use any translator tool to understand this.
By the way, we also have described some basic information about how you can Download D&G Unlocker Tools and use this tool to remove frp, if this tool does not work on your android device, so you can also try our manual frp methods.
Download D&G Unlocker Tools 2021:
-Click below download link to start downloading this tool.
⇒ D&G Unlocker Tools [DOWNLOAD]
-Once downloading finish, just extract this tool, and double click on setup file to install it.
-For the installation, just tap to > NEXT > NEXT  > NEXT.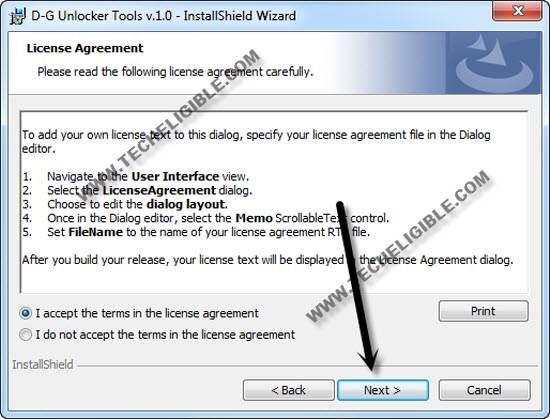 -Give your any name, and then hit on > NEXT > NEXT.
-Finally hit on "Install" button, and wait until this installation process completes successfully, afterwards, click to "Finish" button.
-The shortcut icon of D&G Unlocker tools will be placed on Desktop automatically, just run this tool from there.
-You can choose your desire tab from the top of this tool according to your android device brand.
-After download D&G Unlocker tool, lets have a look on its features.
Features of D&G Unlocker Tools:
SAMSUNG: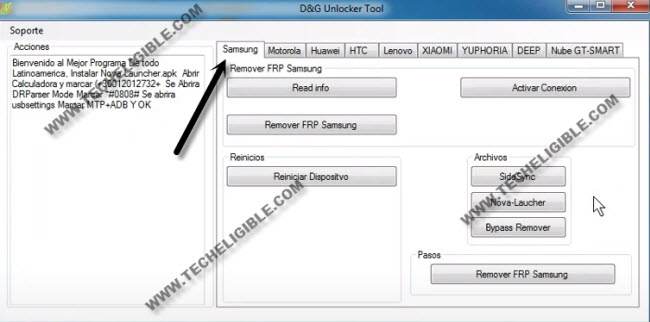 1/ Read Info: Through this feature, you can read your device information, such as model number, android version, and much more which is usually required to download firmware and remove frp lock to unlock bootloader.
2/ Remover FRP Samsung: With this option, we can remove frp from our samsung model easily, just install required USB Drivers in your PC or Laptop, after that, connect the device with PC, and click to "Remover FRP Samsung" button. But this option will work only if you could enable (MTP + ADB) mode.
3/ You can install directly (Nova Launcher, Sidesync, Bypass FRP Remover) App into your Samsung device.
MOTOROLA: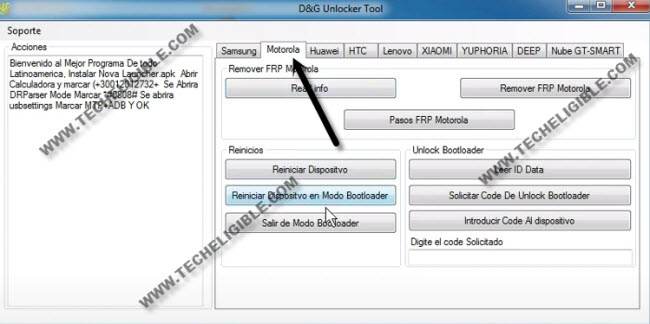 Same options available in Moto tab, such as (Read info), (Remove FRP Motorola), the extra new feature is, you can also lock and unlock bootlaoder of Motorola devices.
HUAWEI: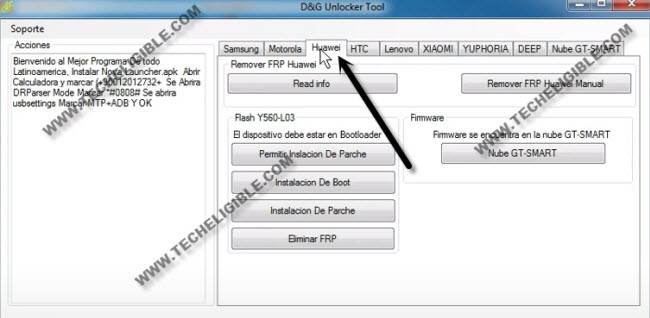 You can read info of your huawei device, and also by clicking on (Remover FRP Huawei Manual), you can manually remove frp.
You can also Download huawei firmware easily by clicking on a button of (Nube GT-SMART).
Repair dead boot, and lock and unlock bootloader. all these options available in this D&G Unlocker tools 2021.
HTC & LENOVO & XIAOMI:
In all these tab, there is only one single button, and which (Remover FRP), so you put your device into Edl Mode / Fastboot Mode.
Note: if you don't know how enter into fastboot mode, so you can google it easily with this keyboard (How to enter into Fastboot Mode / EDL   (Your Model Number), and , and then follow the instructions, once entered into fastboot mode, just connect device with pc and click to "Remover FRP Button" from the D&G Unlocker tool.