Download UMT Latest Setup V7.4 With New Features Updated
UMT is one of the best and popular tool, you can easily Download UMT Latest Setup V7.4 (The Ultimate Multi Tool QcFire) from below with one click, this the QcFire tool, which is mostly used to fix up lots of issues from Android devices such as Bypass Google Account FRP, Remove Pattern Lock or Password, Read and Write Pattern and lots of features available in this UMT Latest Setup tool, we have mentioned the list of supported features of this tool below, this tool can easily be used for Qualcomm CPU devices such as Redmi, OPPO, VIVO, Micromax, Samsung.
Note: This tool UMT Latest Setup can only be used with Card or Dongle, that's not a free tool, only you can Download UMT Latest Setup from below.
Download UMT Latest Setup V7.4 (Other All Setup Below):
We have a list of all available UMT Qcfire Setup below, so you can download any one, which you are required for with one click.
How to Install & Run UMT Tool:
-After downloading UMT Tool V7.4, just extract the file form WinRAR.
-Double click to (Setup File), and check mark option "I accept all agreement", and then tap to > Next > Next > Next > Install.
-You will be shown a popup window of installing a (Microsoft Visual C++), if you already have installed this software, then you can tap to "Close" button, if you don't have this software, so you will have to install this as well to work with Ultimate Multi Tool V7.4.
-Once the installation process finishes, just insert "Dongle" to your PC USB Port, and then run UMT Latest Setup.
New Features & Models Added in UMT V7.4:
OPPO Models added such as OPPO Reno 4, OPPO Reno 4 Pro, OPPO Reno 5 4G, OPPO Reno 6
-Realme new models have been added as well, such as Realme 6 Pro, 7 Pro, 8 Pro.
-Update Chip Detection method Will work properly and little more fast
Added Fix WiFi Network:
-Mi 8 Pro (equuleus),
-Mi Mix3 5G (andromeda),
-Redmi 9 Power (lime),
-Redmi K20 Pro (raphael),
-Redmi Note 9 Pro (joyeuse),
How to Fix Update Card Manager Issue:

-You will face this error while opening the latest installed versions UMT V7.4, to run this tool, we have to update card manager, that is very simple method.
-Open "UMT V2 Support Access 2.0".
-Go to > UMT Card Manager.rar > UMT Card Manager.rar > OK > Start.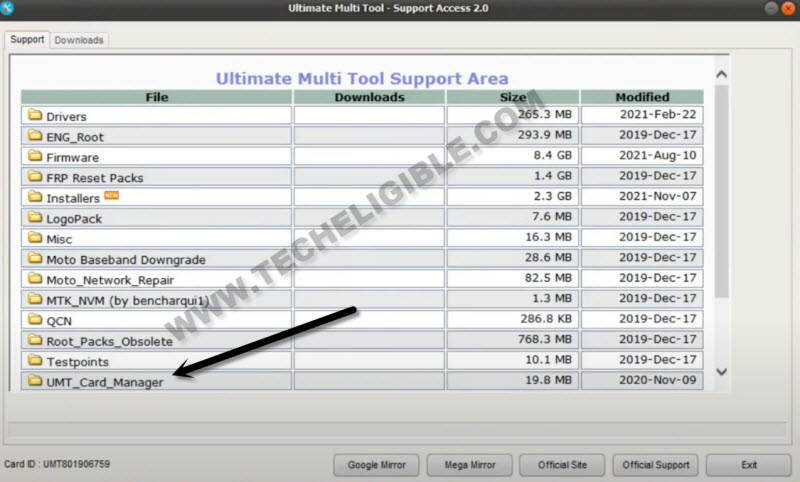 -Now go to "Location" from bottom left corner of the Tool, and extract the downloaded (UMT Card Manager).
-Now click on "Update Card Counter", and this will start updating the card to fix this Update Card Manager issue.
-Run again the "UMT V7.4" setup, and this will work this time.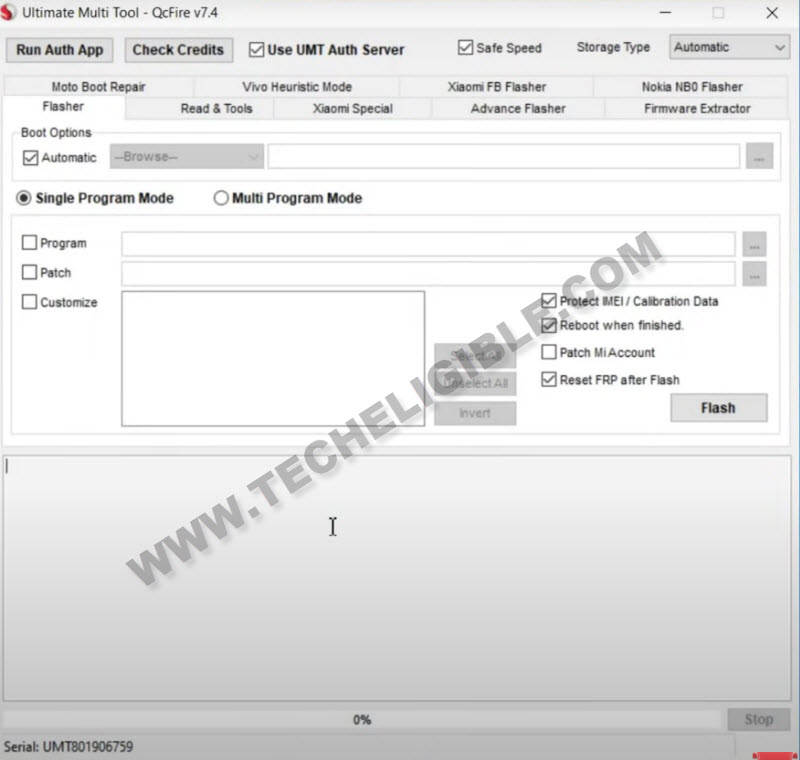 Supported Features and Functions in UMT Tool:
Below is the huge list of supporting features of this great UMT Tool, if you run a mobile repairing shop, then you must be very happy to read all below supported features, and in latest UMT Tool such as V7.4, the extra few features has also been mentioned above.
– You can easily Read / Write Firmware with tis tool.
– Backup / Restore QCN
– IMEI Repair in FTM/Diag + Flash Mode
– Backup / Reset / Restore Security (EFS)
– Reset FRP (Google Factory Reset Protection)
– Format UserData
– Read Pattern Lock (Android < 6.0, Un-Encrypted Devices Only)
– Reset Locks (PIN, Password, Pattern w/o Data Loss, Un-Encrypted Devices Only)
– Enable Diag (Need OEM Unlock, May not work on BL Locked Devices)
– Reboot to EDL from Fastboot
– Reset Mi Account for Xiaomi Devices
– Disable Mi Account for Xiaomi Devices
– Factory Reset (sideload Mode) for Xiaomi Devices
– Disable / Restore Locks for Encrypted Userdata
– Motorola Boot Repair
– Xiaomi EDL Locked Device Service
– Bootloader Unlock in EDL Mode for some Xiaomi Devices
– One Click Root in EDL Mode for Generic Qualcomm Devices
– Forensic Functions (Read Contacts / Messages in EDL Mode)
– One Click Lock Reset for Vivo Phones (Encrypted Userdata)
– Factory Method for Format FS
– EDL Authentication using Xiaomi Auth App (Service Account Required)
– Xiaomi Wipe EFS in Sideload Mode
– Xiaomi IMEI Repair for RSA Protected Phones
– Xiaomi Boot Loader Unlock
– Unique Method for Vivo Reset Locks for Protected Devices
– Xiaomi EDL Auth Using UMT Server
– Xiaomi Flashing in Fastboot Mode
– Nokia Factory Firmware (nb0) Direct Flashing
– Oppo OFP Firmware Exctration Added
– Xiaomi Free Auth Service
– Mi Account Reset without Relock
– Mi Account Patch on Flashing (EDL/Fastboot)
– Samsung MDM Unlock in EDL Mode
Thanks to Download UMT Latest Setup from here, you can comment us below of this post, if you have any question regarding this Latest UMT step.