Remove FRP Account Realme 7, Realme 7 Pro Android 12
We will reset phone and erase all data to remove frp Account Realme 7, Realme 7 Pro (Android 12) with very simple way, just by turning on (Talkback) feature in this device, the settings can easily be reached and from there we will reset phone completely including old signed in Gmail ID, follow steps carefully.
Note: We highly recommend you to apply this method only on your own device, if you are not owner of this device, or you found this from some where, you must return this device to its real owner.
 Let's Start to Remove FRP Account Realme 7, Realme 7 Pro:
-First of all, we have to turn on device & connect WiFi in Realme 7, once you are done this, just go back to first (Hello) startup screen.
-Let start enabling talkback just by Long hold both buttons (Volume UP + Down), and tap to "Turn on" option from popup box.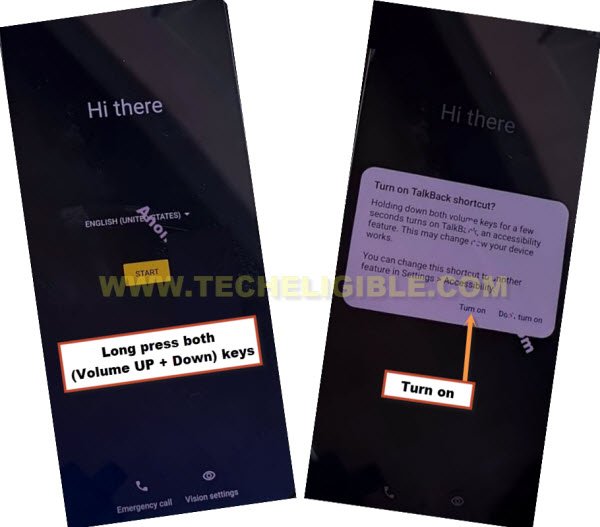 -We are gonna long press again both (Volume UP + Down) keys at once, there you will have a (Welcome to Talkback) screen.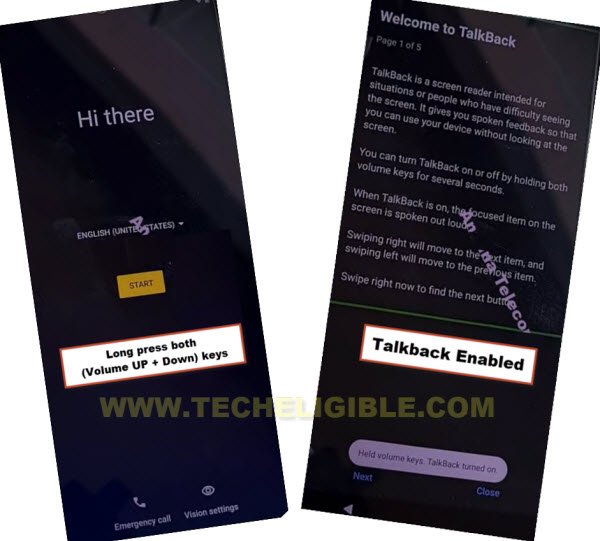 -On a talkback screen, just make a reverse "L" shape by swipe right and then swipe up, now double tap > While using the app > Use Voice Command.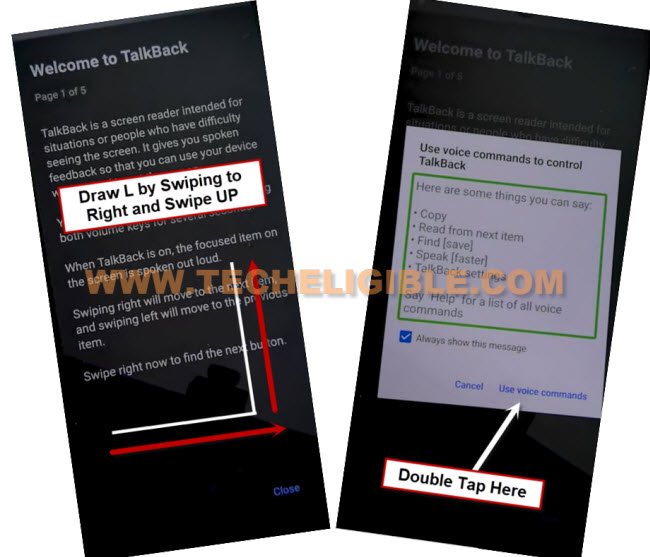 -You must see a green boarder around the screen corner, once you see this, speak loudly "Open Google Assistant", this will show you new (Try Saying) popup window.
-From the popup of (Try saying) screen, Double hit on "Keyboard icon" to search youtube.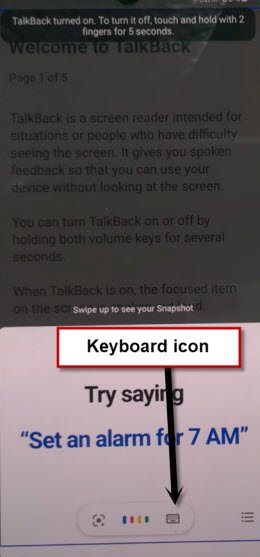 -Turn off talkback by long press both (Volume UP + Down) keys simultaneously.
-Search "Youtube", tap to (Youtube) icon from searched result.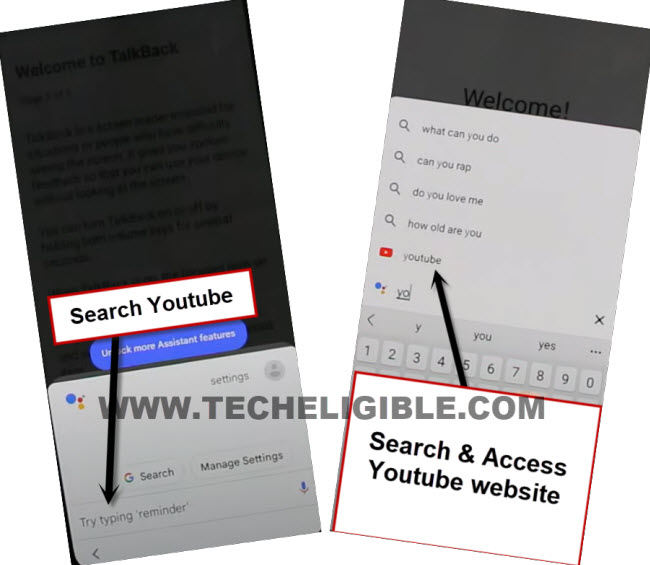 -After reaching inside Youtube official website, just tap "Profile icon" from top corner, and go to "Settings".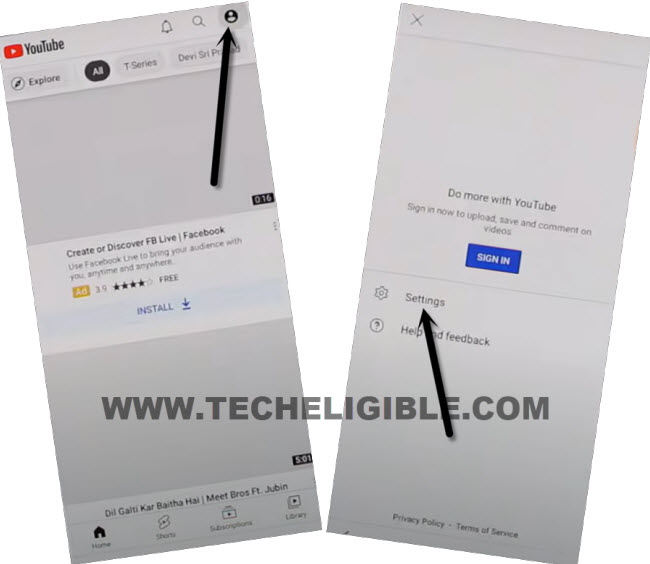 -Go to > About > Youtube terms of service.
-After reaching chrome browser, tap to > Accept & Continue > Next > No Thanks.
Lets Reset Phone from Settings:
-In chrome browser search bar, just type there "Download FFRP Tools", and visit our website searched result.
-Go down and tap to "Access Device Settings" option same as shown in below image.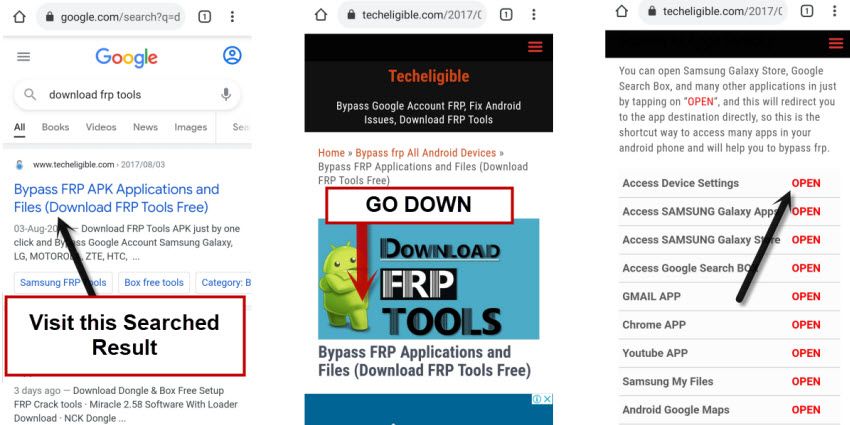 -Scroll down from settings, and go to > System Settings > Backup & Reset > Reset Phone.
Note: This process will erase entire data from your device, if you wanna save your memory card storage, you can eject Memory card and SIM.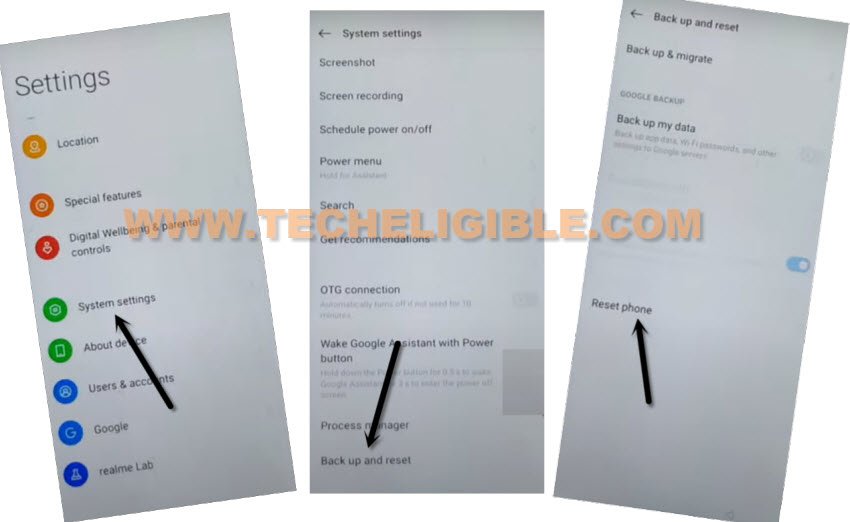 -Now hit on > Erase all data > Erase Data > Erase data.
-After the device restarting process is done, you can now finish setup wizard by yourself, keep in mind, do not connect (WiFi) while finishing up 1st time setup wizard, once you reach inside device settings, and setup new Screen lock and new google account, after that you can use your device safely.
Read More:
⇒ Bypass FRP Acc Realme 6, Realme 6i
⇒ Bypass FRP Acc Realme 9 Pro (5G)