Remove Lock Screen Ads on Amazon Moto 5th Gen and Moto 4th Gen
(Last Updated On: August 4, 2020)
If you are sick of seeing nasty lock screen ads on your Moto 5th Gen and Moto 4th gen android device, here is the easy and clean solution to get rid of these nasty ads from your mobile, this method is only for these two Amazong Moto 5th and 4th gen devices.
For the completion of this process removing lock screen ads, you must need,
→Desktop/Laptop
→Data Cable
→Ad Removal Tool Software (Download From below)
Let's Begin to Remove Lock Screen Ads:
Enable Developer Option:
Step 1: Go to your Moto mobile Setting, Tap on "About Phone", scroll down  and then tap 5-6 times on "Build Number" quickly, means 5 times or 6 times you have to tap with your finger quickly on "Build Number", so that you could enable "Developer Option" in your Moto 4th or 5th Gen android device. During tapping multiple times you will see some popup text, like "You are on a developer!". That means you have enabled this option now.
Tap on back key to go to "Settings", there you will have new option of  "Developer Options', just tap on, and scroll down, from there "Allow USB Debugging".
Now you have to download ad removal tool from below.
⇒Amazon Ad Removal Tool [DOWNLOAD]
Step 2: Once you downloaded this software in your Desktop/Laptop, then extract this software from winrar file.
Step 3: Connect your moto mobile using Data cable with your computer, if you get a popup on your mobile screen regarding like "Allow USB Debugging", tap on "Allays allow from this computer", if this option did not appear, no problem, just make sure your Moto android device has successfully connected to your computer.
Step 4: Extract and open ad removal tool software from your computer, wait for few second, till in software you are asked to "Press any key to continue", then press "Enter Key" from your keyboard to continue, and again wait for few second till it asks you to again "Press any key to continue", so hit enter key once more time,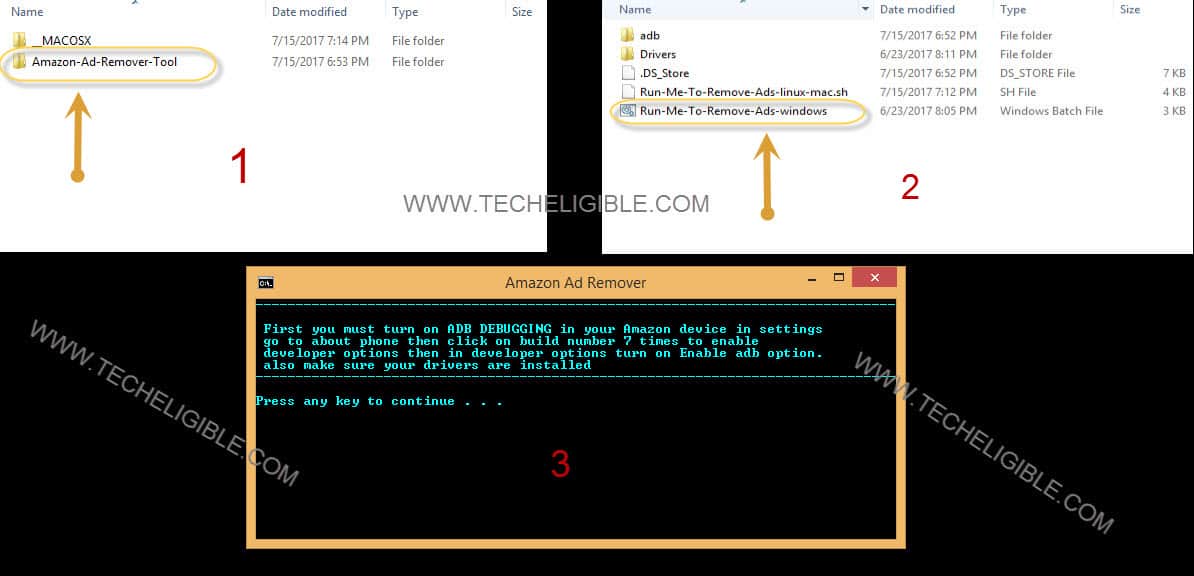 and that's it, it will auto reboot your moto 4th and 5th gen android device, and then check ads are appearing up or not while locking your moto screen.
Note: If ads are appearing up even after using this method, don't worry, try this same method one more time, and 2nd time, i am sure, you will be able to remove Lock Screen Ads successfully.
While using this 2nd time, just make sure your mobile is connected with your computer, and then again open "Ad removal tool" software, and press enter key when it asks you to press any key, and it will again reboot your moto device. and this time you will see no ads while locking and unlocking your Moto 4th and 5th Gen mobile.
Thanks for visiting us, and don't forget to make comment below.