Bypass Google FRP Infinix S5 – Latest Method Without PC
(Last Updated On: November 6, 2020)
Brand New Way to Bypass Google FRP Infinix S5 without PC, we will just download and install (Quick Shortcut Maker), for that first of all we will have to go to Google Chrome Browser, from there we can easily download and install this app to access our infinix settings, and once accessed there, then we can just create our New PIN to bypass frp infinix S5.
Warning: This method is only for Device Owner.
How to Bypass Google FRP Infinix S5:
-Turn on infinix phone.
-Connect WiFi network in your device.
-Go to the screen of (Verify your Account).
-Tap to "Keyboard icon" from bottom right corner, and then tap on "Gboard" from popup window.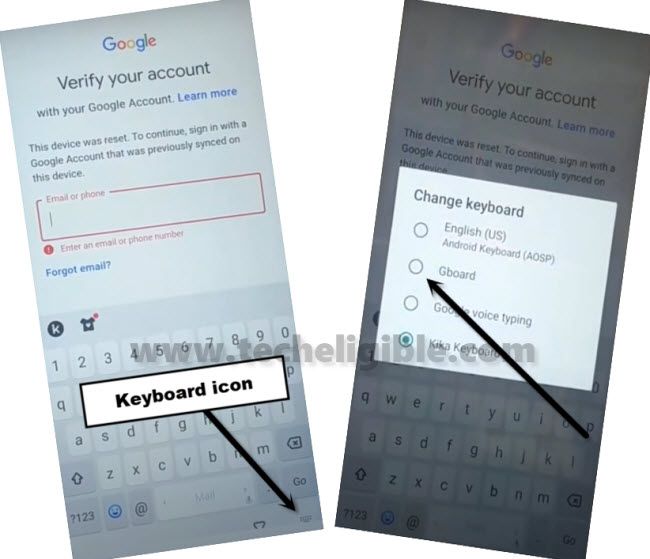 -Afterwards, we are going long tap at "SPACE BAR" from keyboard, and then tap to "Language Settings" from popup window.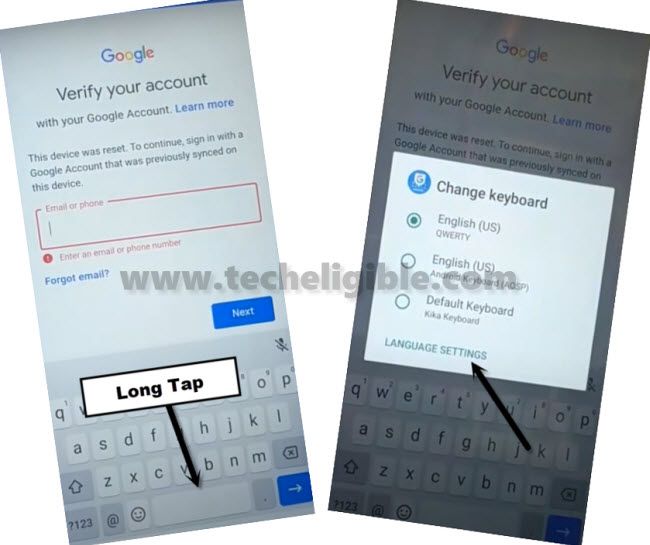 -Now just tap on "Add Keyboard" button from there to Bypass Google FRP Infinix S5.
-Go down, and tap on "Next Arrow icon" which is right after (Albanian), see below image.
-Tap to "3 dots" from right corner of your infinix screen, and then tap "Help & Feedback".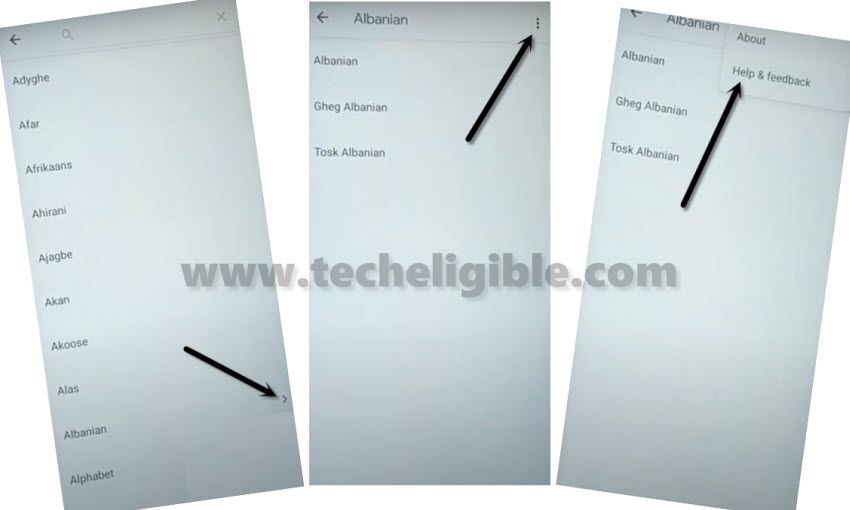 -Now tap to "About Switch Access for android" from there.
-Tap to > Play icon > Youtube title.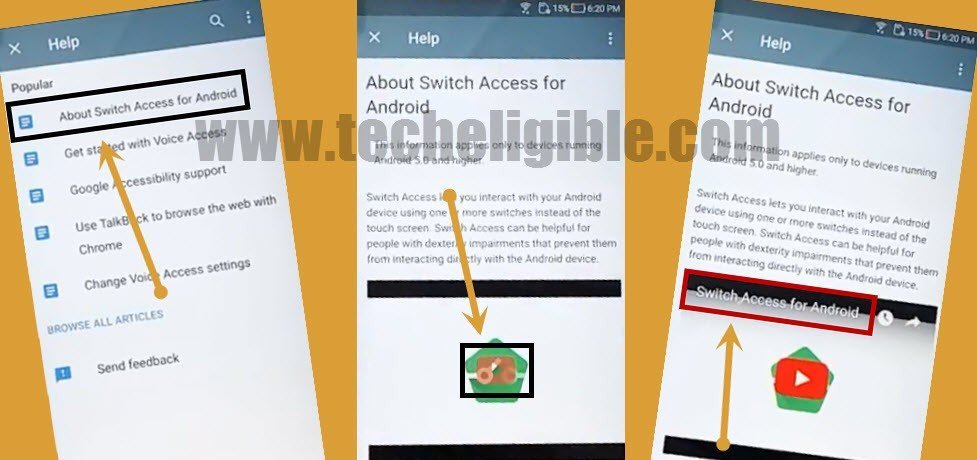 -Once you accessed to YouTube, drag down YouTube video, and then tap to "Profile icon" from top right corner.
-Tap on small text "Terms of services" from there.
-This will launch for us a Google Chrome browser, now access to browser by tapping at > Accept & Continue > Next > No Thanks.
Download Infinix FRP Tool:
-Search in top address bar "Download Quick Shortcut Maker Techeligible.".
-Visit our website searched result same as shown in below image.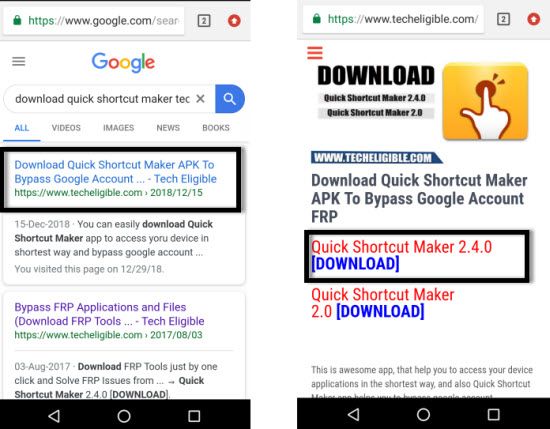 -Download "Quick Shortcut Maker 2.4.0" app.
-Once downloading process finish, you will surely receive a notification popup window bottom of the screen, just tap on "OPEN" from there to install that app.
-From popup window, hit on > Settings > Turn on (Allow from this source) button.
-Tap on "Back Arrow".
-Tap to > Install > Open.
-Tap to "Applications" from the middle of top bar in quick shortcut maker app.
-Tap on "Settings", and then tap to "TRY".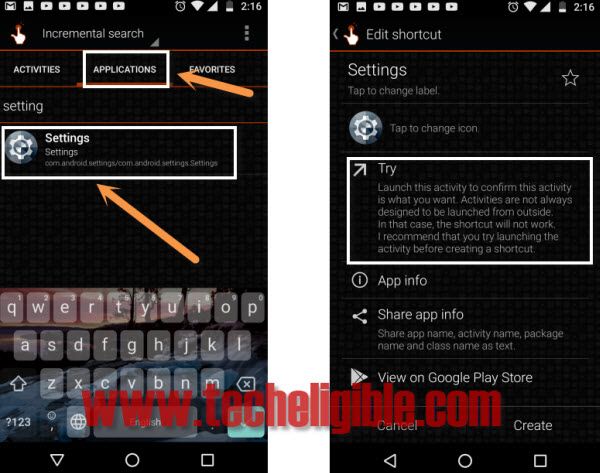 Setup New Screen Lock:
-Go to > Security & Location >Screen Lock > PIN.
-Setup your any easy 4 digits PIN code twice time there to use that PIN later on.
-After that tap to "DONE".
-To verify your that, whether you have successfully added New PIN or not, just press (Power Button) once to lock your device screen, and then again press (Power Button) to wakeup your device, and you will be asked to enter PIN, so type your already setup PIN, if the device recognized your PIN, that means you have added PIN successfully.
-By tapping at (Back Arrow) several time, just go back to very first screen.
-Now complete your initial setup.
-While completing the initial setup, from (Verify your PIN) screen, just give your already setup PIN.
-From (Verify Your Account) screen, just tap to > SKIP > SKIP.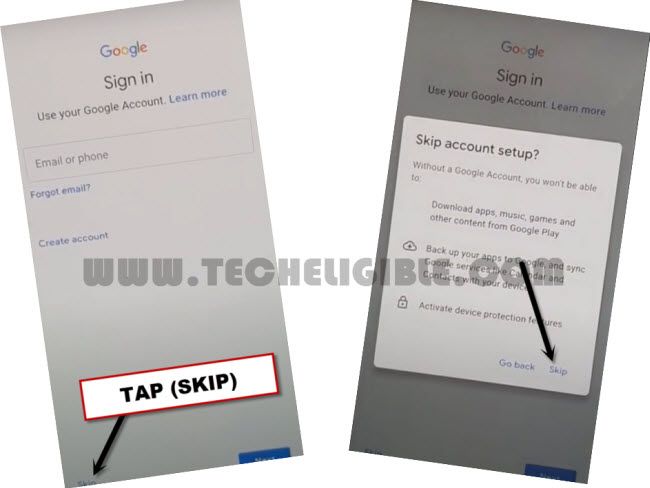 -Now remaining steps you can also do on your own, Congrats on Bypass Google FRP Infinix S5.