Download TFT Unlock 2023 Tool (RUN without Registration)
(Last Updated On: August 28, 2023)
Download TFT Unlock 2023 Tool Latest version in free of cost from here with one click and you can run this tool without any activation license key or without any registration. And also learn, how you can use this tool to successfully remove frp Account on many android brand devices such as Samsung, Huawei, LG, Tecno, Meizu, ASUS, Lenovo, Nokia, Infinix etc.
This is the most easiest and all in one tool (UnlockTool) to resolve multiple issues from android devices, and help you to get back Android device with new google account without spending a single penny.
Note:
This is a paid tool, but you can use this tool in free, you don't need to register your account etc, just TURN OFF your any @ctive Antivirus Software from PC, and use this tool in free of cost without any activation.
Disclaimer: This Content is Only For Educational purposes, This Content is not made for doing any illegal activities, All Content provided by this Website is only and only for Educational purposes, Please do not misuse any content from this Website.
New Added Models in Latest Version Tool:
– Oppo Reno 7 5G PFJM10
– Oppo Reno 9 5G PHM110
– Oppo K9s PERM10
– Realme 9 5G Speed RMX3461
– Realme GT Master Edition RMX3363 | RMX3360 | RMX3361
– Realme Q3T RMX3462
– Realme Q3s RMX346
– Xiaomi Redmi A1 | A1+ | POCO C50 ice
– Nokia C02 4G Cypher_00WW
– Symphony G26
– QSmart Rocket
– Mobicel VX18
– Itel P38
– ZTE Optus X Start 2
How to Download TFT Unlock 2023 Tool Free:
-This is totally free tool, nd can be downloaded easy from below.
-Click below link to Download TFT Unlock 2023 Tool easily.
-Winrar Pass: TFT123
-Installation Pass: TFT
-First of all, turn off your any active (@ntivirus Software), otherwise, you won't be able to use this tool. Because this is a free (Cr@ck Version) tool. Therefore, to use any Cr@ck tool, you are required to disable temporarily your @ntivirus Software.
-Extract tool from winrar archive by using password from above.
-Install setup now by using password from above.

-Once the installation process is done, you will have a shortcut icon of  (TFTUnlock 2023) on desktop, just run this tool.
How to RUN Unlocktool without License Key & User Account:
-Do make sure, you are connected to internet connection, you will see a popup of (No internet connection), just click to "Ok" button.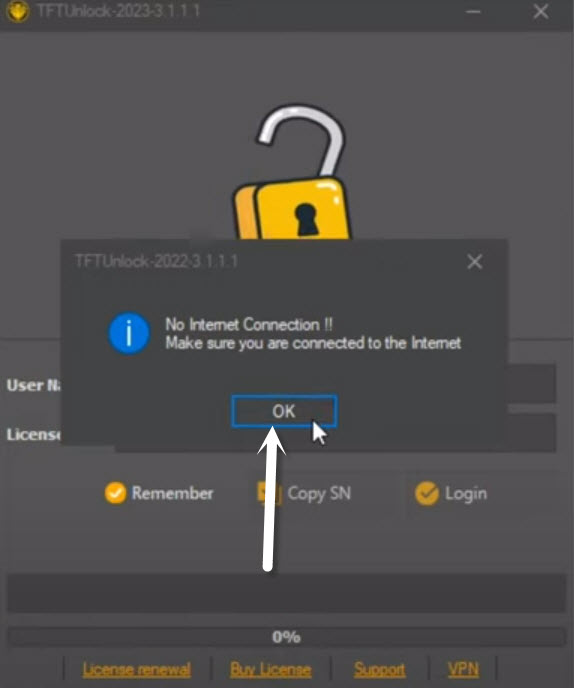 -After that, click on "Yes" option to turn on VPN, this will automatically turn on VPN to run UnlockTool 2023 free.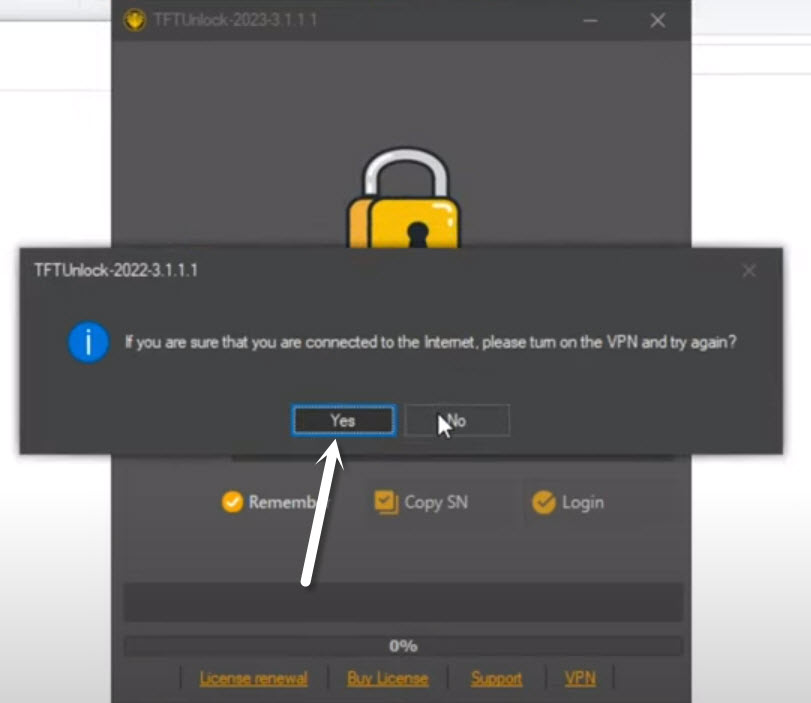 -Your computer will connected to VPN automatically, you don't need to do anything, everything is autonomous here, just wait, once the VPN is connected successfully, just go to login portal of Unlocktool.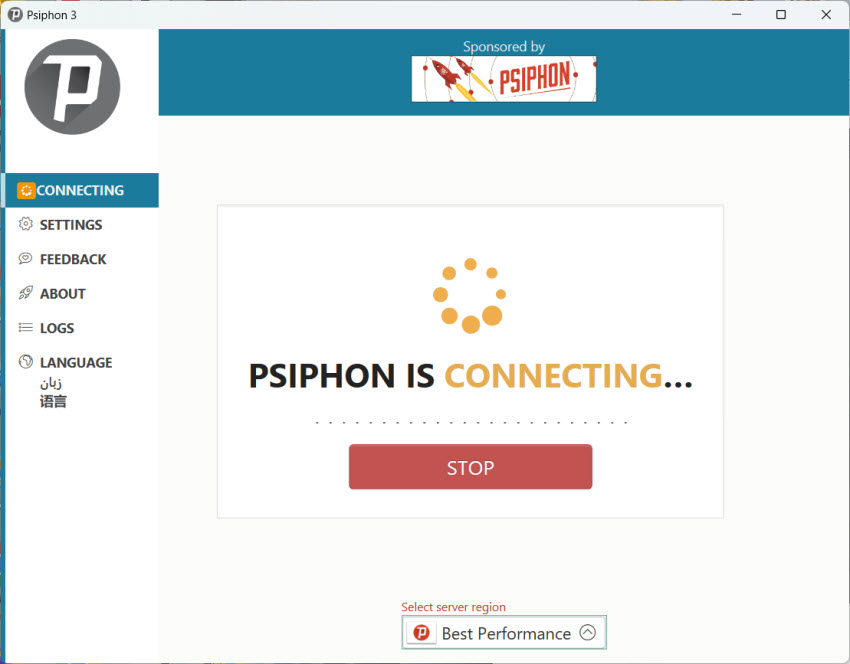 -Afterwards, click to "Login" button from Unlocktool screen.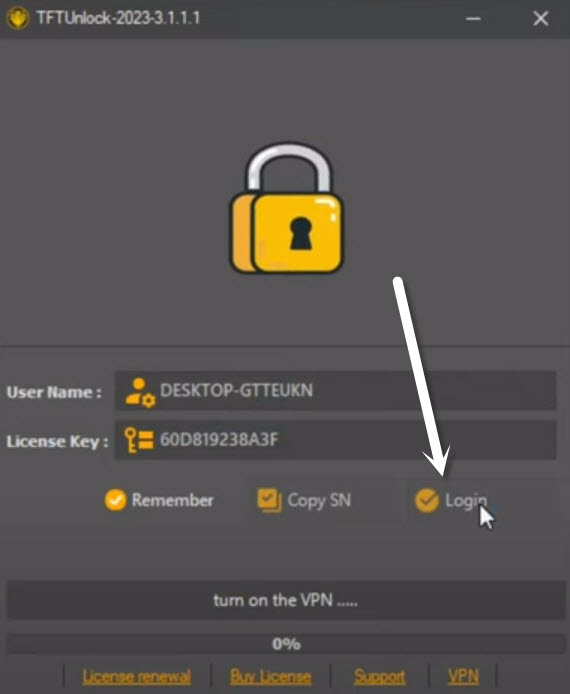 -Within few minutes or seconds, The Unlocktool will be launched without any registration and activating license key.
-Now, you can use this tool to bypass FRP, Factory Reset, and many other task can be done through this tool.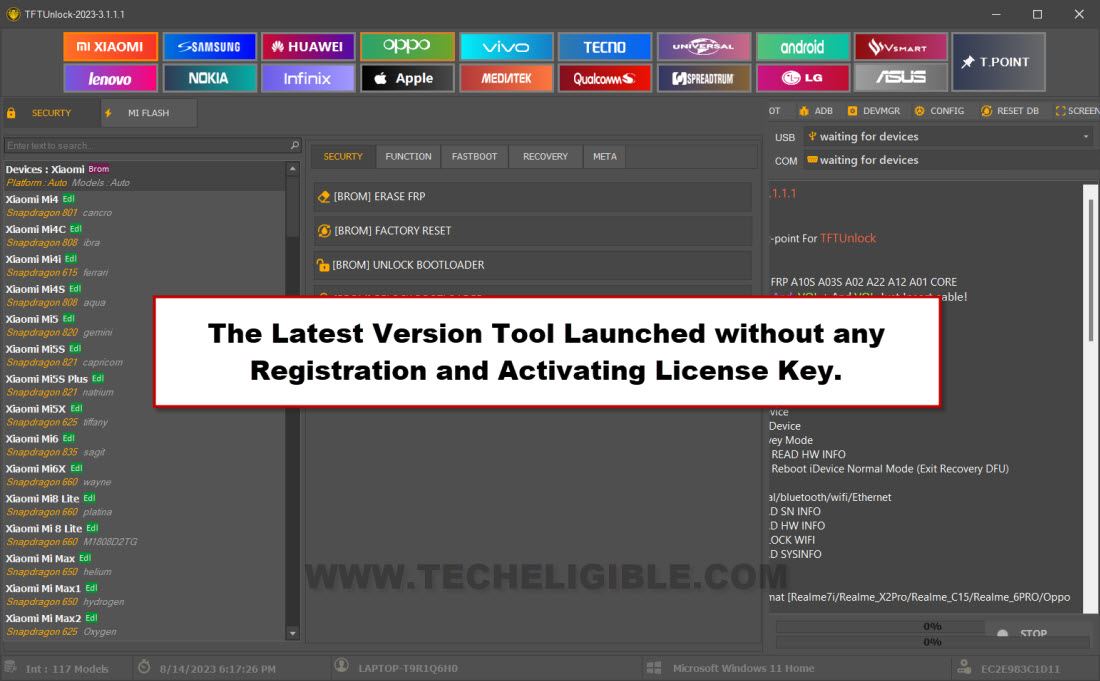 -If you wanna know, how you can easily bypass frp, you can have a look below steps. In below steps, we are showing how to bypass frp on Samsung devices, but you can follow up this same guideline with (Mi, Huawei, OPPO, MEIZU, Tecno, ASUS etc).
How to Bypass FRP Samsung With UnlockTool:
-Turn on Samsung device, and connect with a proper WiFi network.
-Connect Samsung device with your PC, and do make sure, the device is switched on.
-Now click to "Samsung" from unlocktool screen.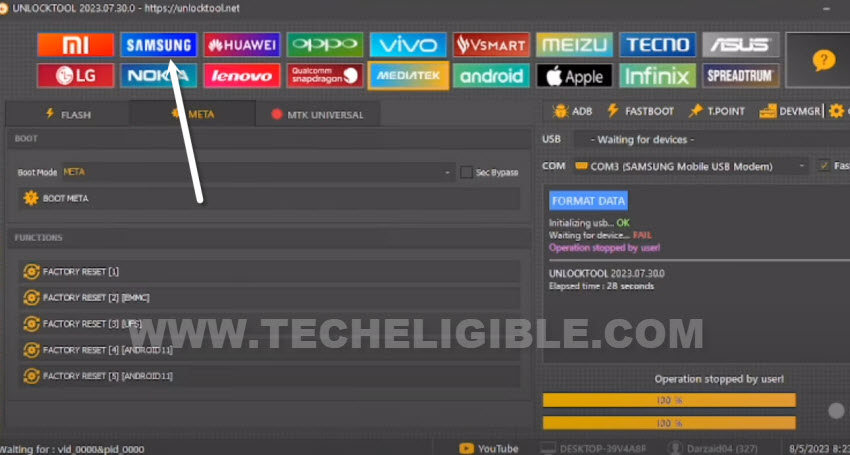 -Go to "Functions", and after that, click over "[COM] Remove FRP [2023]".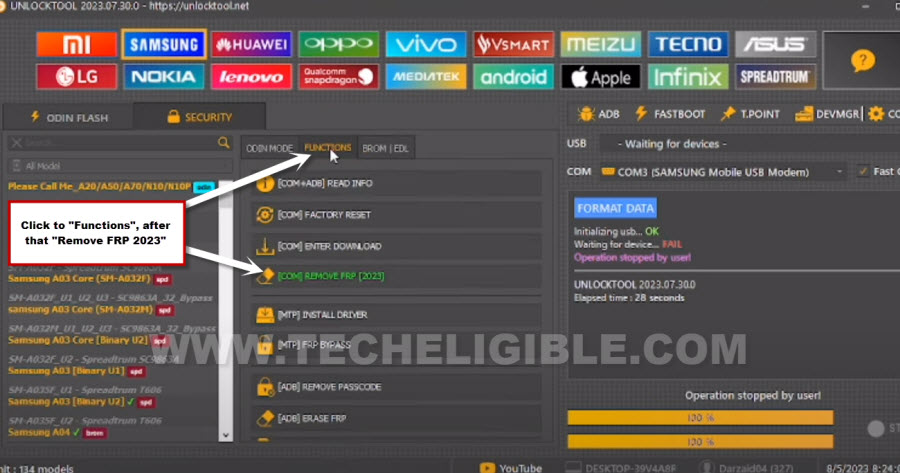 -You will see a (Bypass FRP) popup window with some instructions to follow up from Samsung device end.
-Tap to "Emergency Call" option from Samsung device, and dial this code there *#0*#.
-After that, you will start seeing some (Blank Boxes) screen, that means the dialed code has just worked perfectly, and now our device will also be detected from (UnlockTool).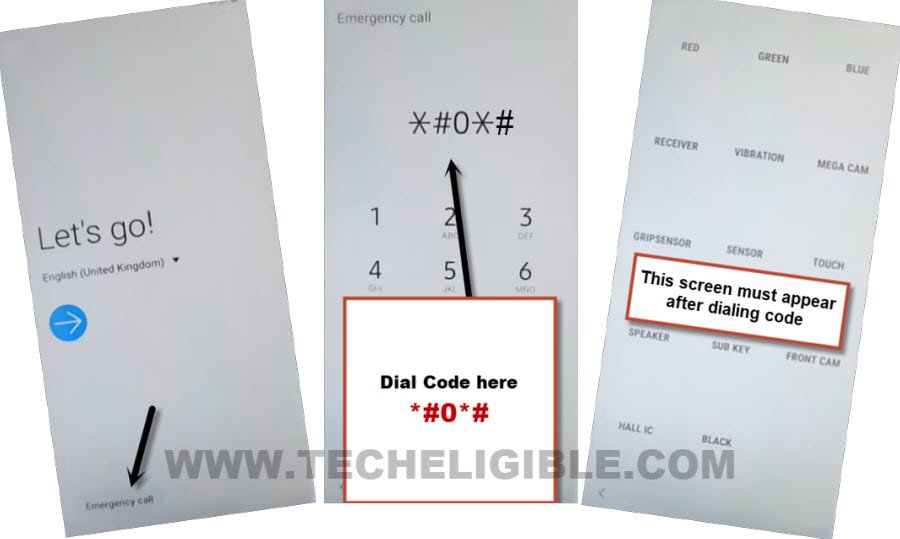 -After dialing code, just click to "Continue" from unlocktool window.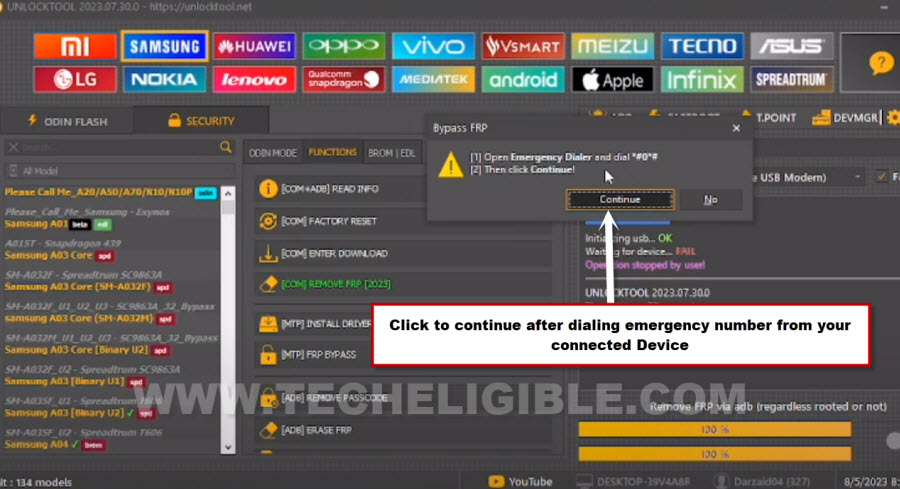 -Click over "Method 2 [New]" button from popup, and this will start bypass frp method shortly.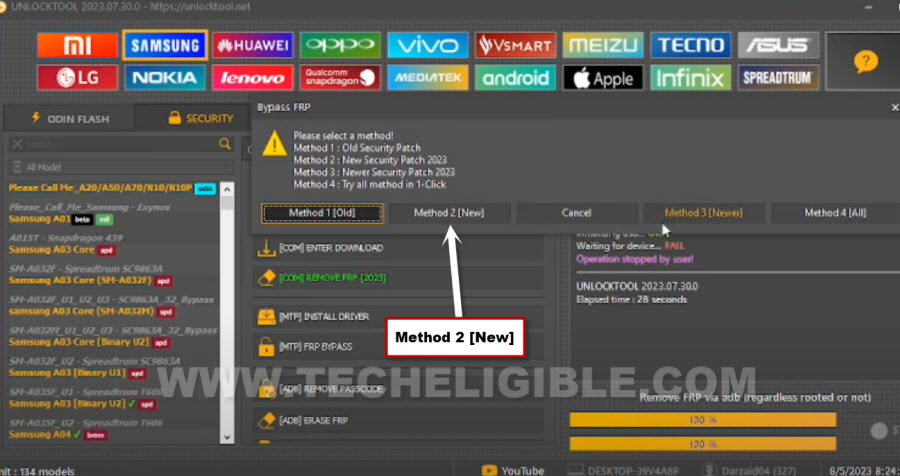 -You will receive (Allow USB debugging) popup in your Samsung device screen, so just hit over "Allow" option shortly, that's it.
Note: if you don't see any (Popup window), and your device neither being detected by PC nor Software, so just install proper USB Driver, and reconnect device.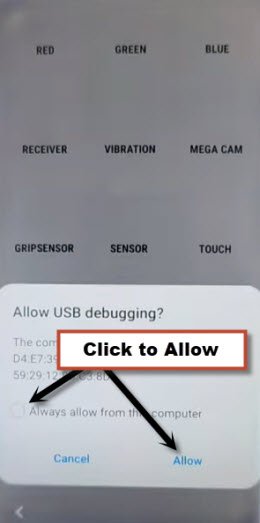 -Now, just wait and watch, the whole bypassing frp process will be started and finished shortly though (Unlocktool) within a minute.
-Once, everything is done, you will see same screen as shown in below image.
How to Bypass FRP Huawei With UnlockTool:
-If you really can remove your device back cover, so that means, you can easily apply all steps from below, because, to bypass frp on Huawei by Unlocktool, you are required to remove back cover and short test point. We showing you some screen shots below about what are test point, and how to short them.
-Open (Unlocktool), click to "Huawei" tab from the tool.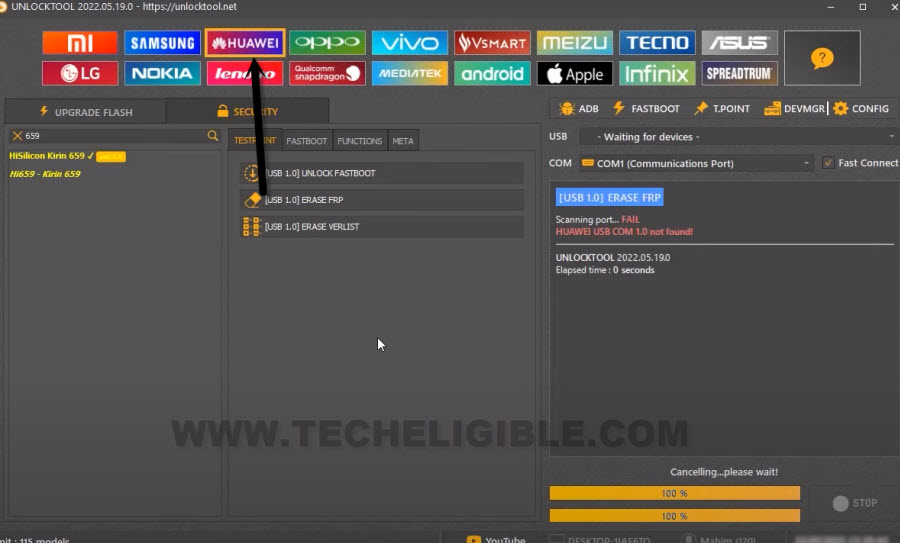 -Turn off your Hauwei device, and remove SIM tray, after that, using any Thin Surface Plastic tool, or you can even use a proper Back cover removing tool to remove back of your Huawei Device.
Note: If you are unable to find out any tool, you can even use your expire old ATM card or solid visiting card to remove back cover.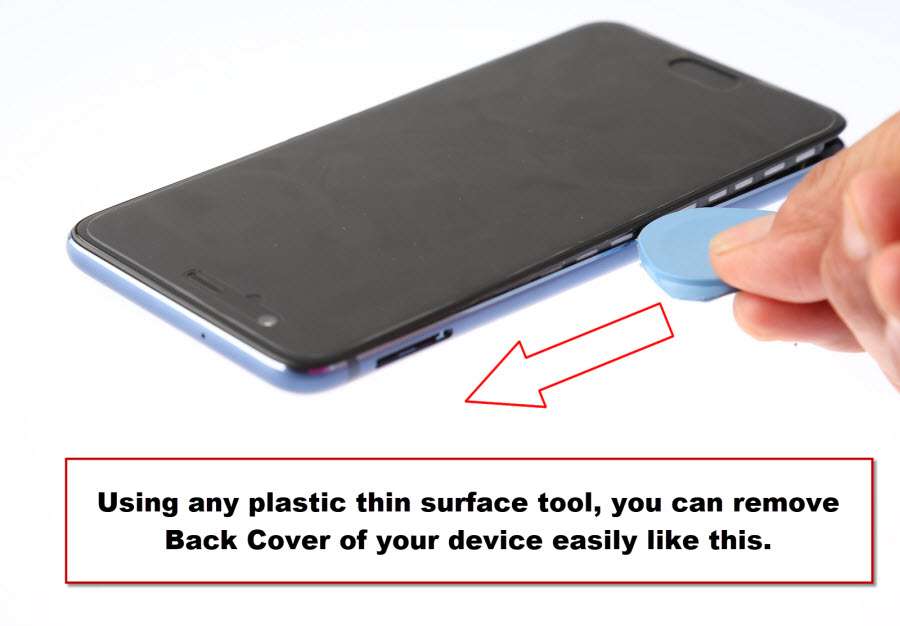 -After removing back cover, your device will have test point to short, if you don't know your device testing point, you can google or youtube it.
-Once you find out your testing point, just short them same as shown in below image, but you must have to short test point while connecting with PC. We mean to say, Keep shorted testing point, and connect cable to PC.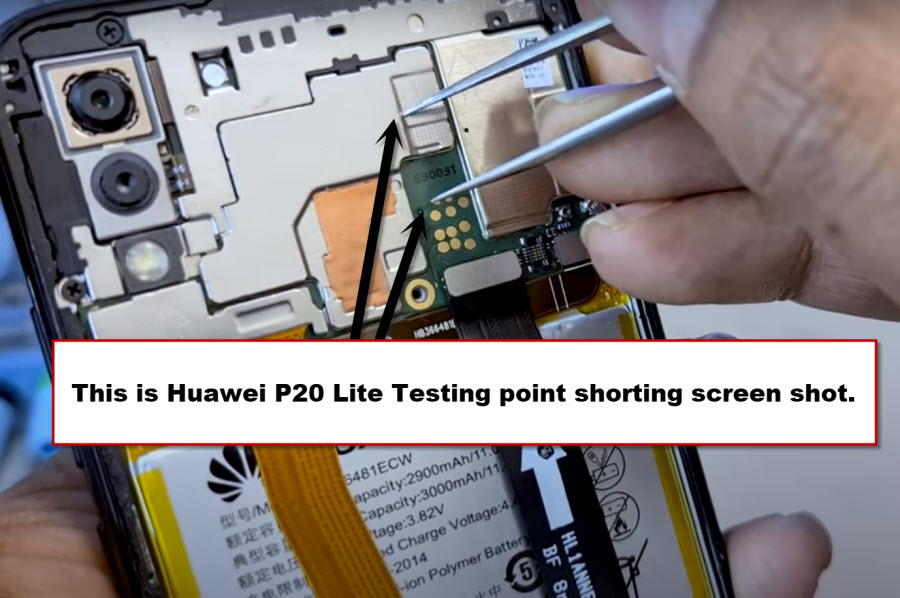 -Check out your device detection in computer device manager, if you see (Exclamation Sign) with driver, just update driver.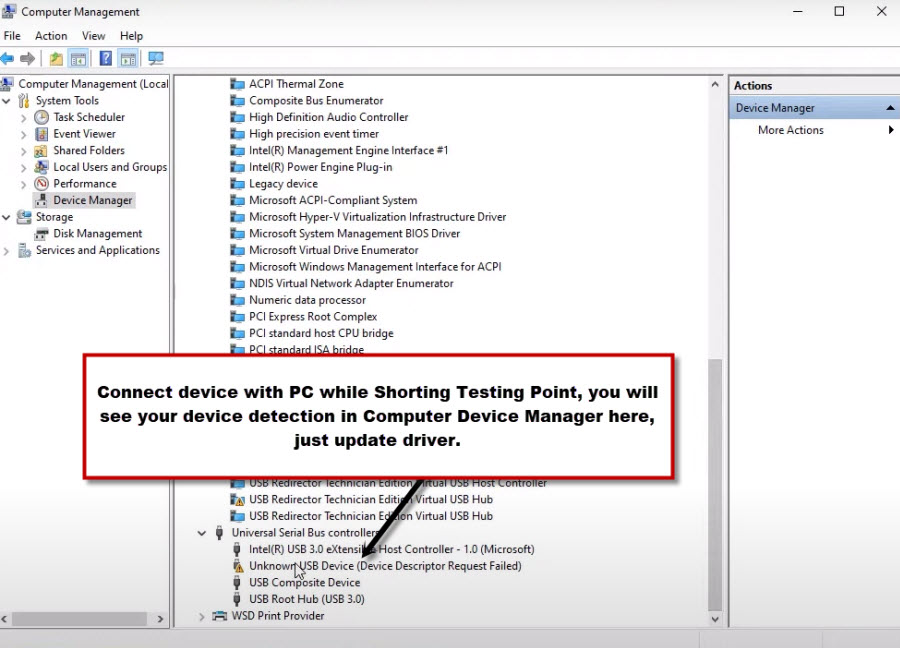 -Now click on "Erase FRP" button (Unlocktool) screen, and this will remove frp within few seconds or minutes.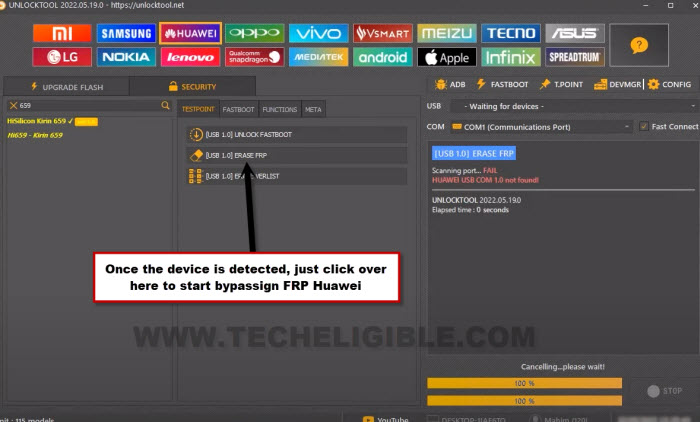 -You are all done from bypass frp Huawei with Unlocktool, this same method can be applied on any Huawei Model to bypass frp via Unlocktool software.