Remove FRP Walton Primo S8 Mini Android 11 Without PC
(Last Updated On: September 12, 2023)
This process is the easiest process to Remove FRP Walton Primo S8 Mini (Android 11) without using any PC and paid software. If you are still unable to remember your currently signed in google account, and, facing google verification screen at the time of completing initial setup. So you just follow below guideline to bypass google verification screen just by setup new Pattern lock.
Disclaimer: We highly recommend you to apply this method only on your own device, if you are not owner of this device, or you found this from some where, you must return to its real owner.
Let' Start to Remove FRP Walton Primo S8 Mini (Android 11)
-We have to turn on talkback first in this device, and through this talkback, we can easily reach to device settings.
-Turn on device, and connect (WiFi), afterwards, tap over > Vision Settings > Talkback > Turn on (Use Talkback) option.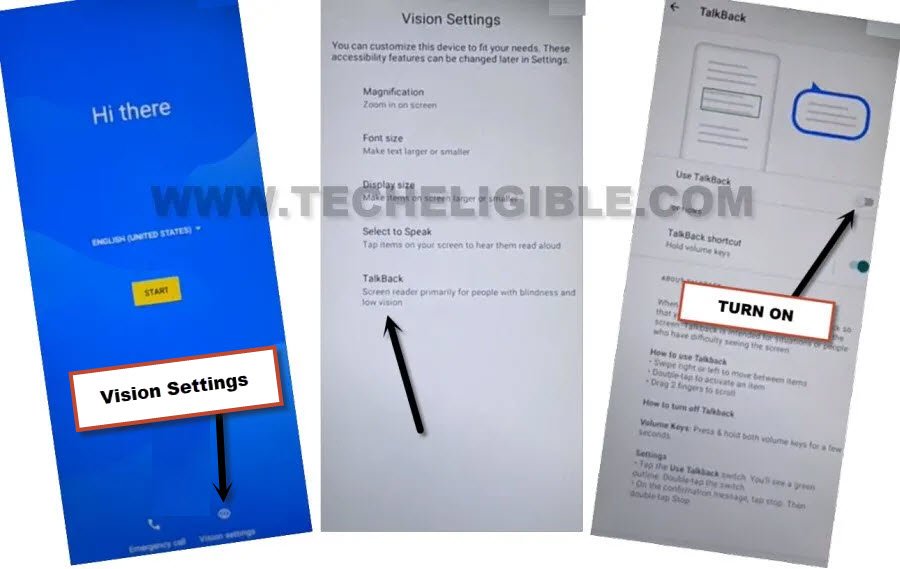 -On this screen, make a reverse "L" shape just by swipe right and swipe up.
-After that, double hit over "Use Voice Commands".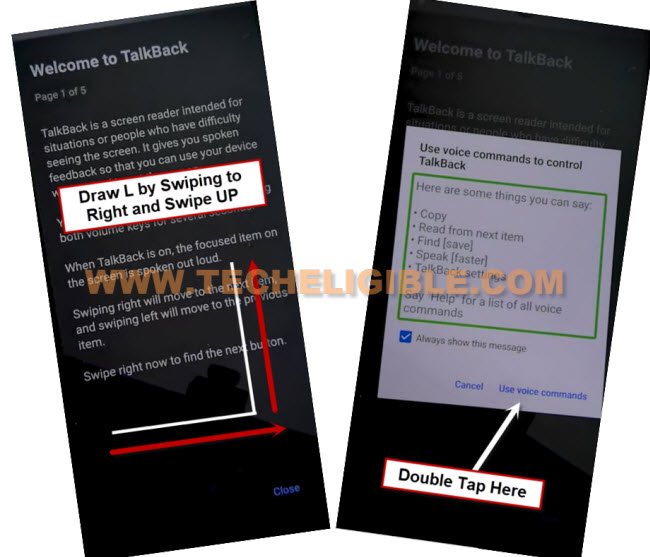 -Wait till there is something green color appeared at the corner of screen, once you see this green boarder, say loudly "Open Google Assistant".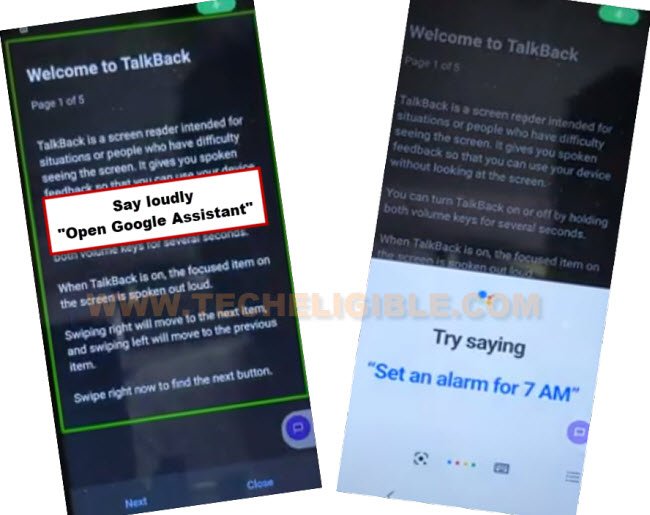 -Lets open keyboard by tapping on "Keyboard" icon.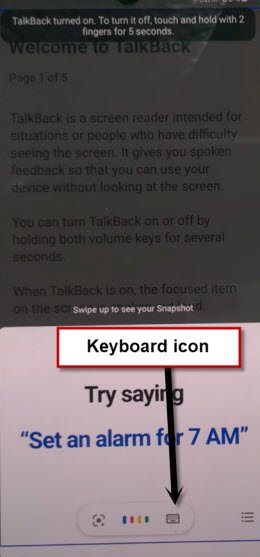 -We've to turn off talkback feature, that we recently enabled, just long press both buttons (Volume UP + Volume Down). Now double hit on "Turn on" from popup.
-Long hold again both (Volume UP + Down) buttons.
-Perfect, we've turned off talkback now, lets move on to youtube website.
-Search and launch "Youtube" website.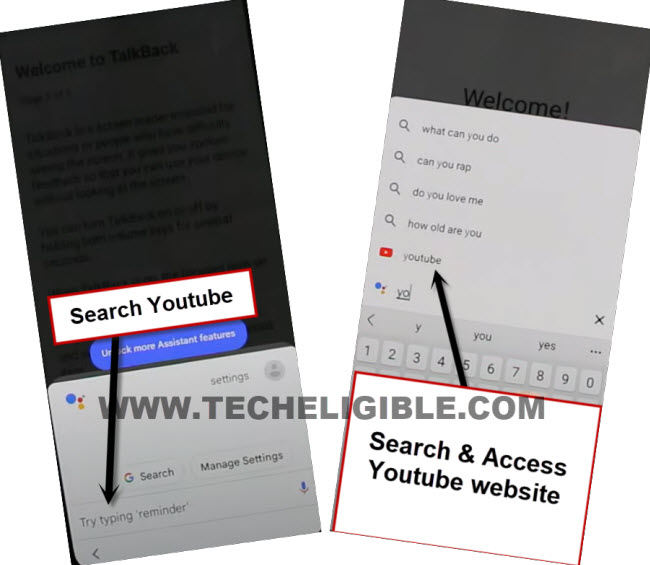 -Lets go to (Support) page just by tapping over "Profile icon" from top right corner, and then, tap to "Help and feedback" option.
-Search in search box "Del", and tap over searched result "Delete, disable and manage unused apps on android".
-Now hit on a hyper link "Tap to go to application settings", after that, you will be redirected inside app list.
Note: Below image is a bit different, just follow steps as mentioned in text.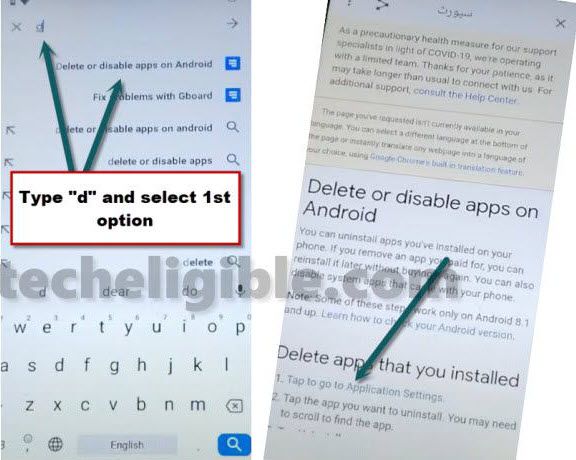 -Now you are inside (App info) page, from this page, just find and tap over "Settings", and hit on "Open".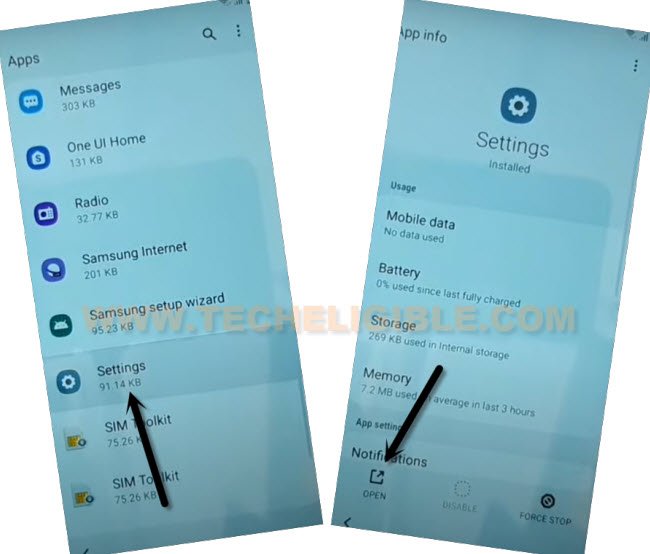 Enable Accessibility Menu Shortcut:
-Get back to > Settings > Accessibility > Accessibility MENU, now turn on "Accessibility Menu Shortcut" to Remove FRP Walton Primo S8 Mini.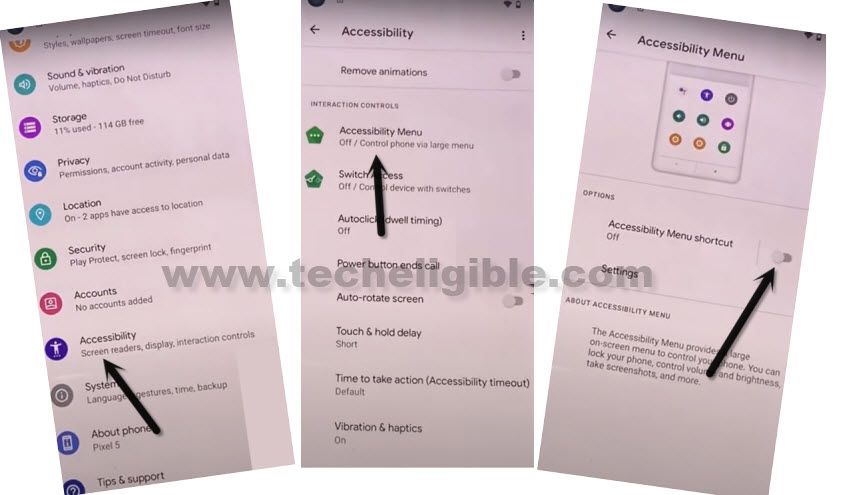 -You can see small (Human icon) at the bottom right corner of the screen, we will use of this icon later on while completing initial setup.
-Hit once on "Human" icon, and you will see some popup options will appear. That's fine, just hit on "Back Arrow" to close this.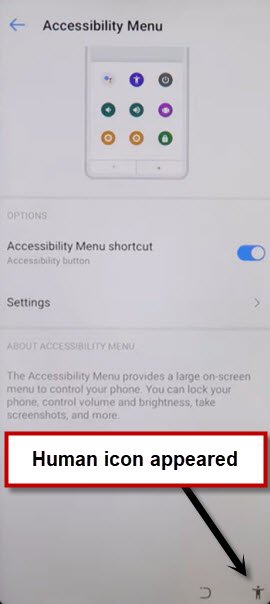 Disable & Force Stop Apps from App info Page:
-We've to disable few applications from (App info) page, firstly, get back on "App info" page by hitting over back arrow few times.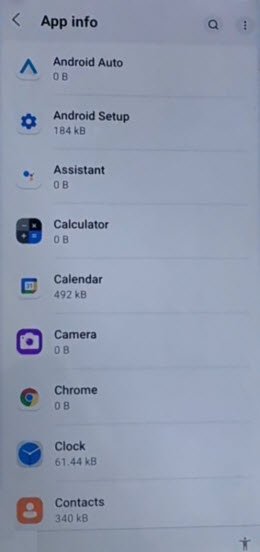 -Let's disable few apps, before going for that, just tap on "3 dots" from top right corner, and hit on "Show system".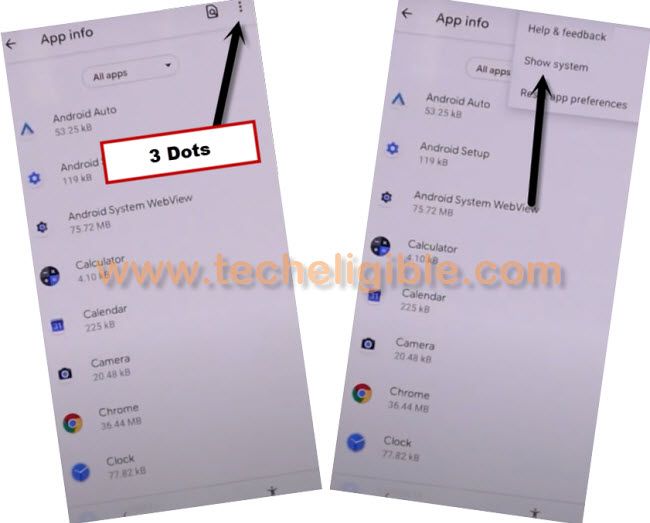 -Tap to > Android Setup > Force Stop > OK. (Same as shown in below image).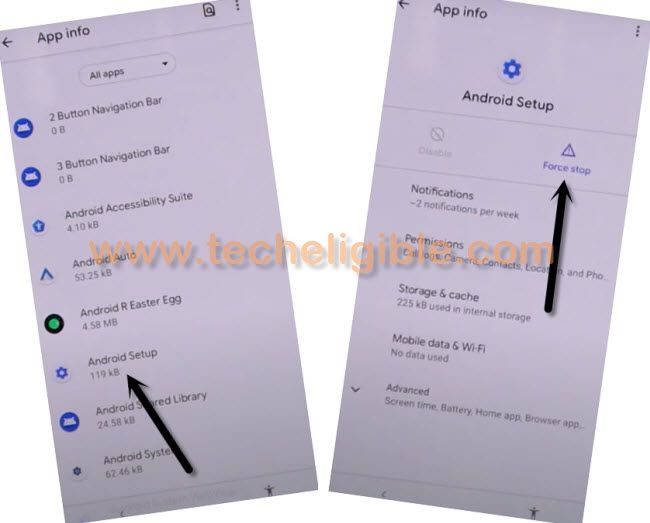 -Select clock icon > Android Setup > Disable > Disable App.
-There is another (Android Setup) with clock icon, so, we have to force stop and disable this app too.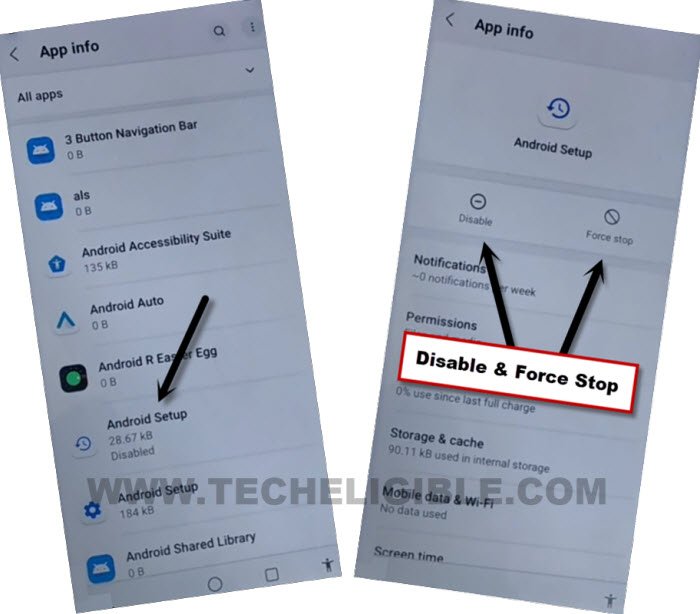 -Disable & Force Stop "Google Play services" app too.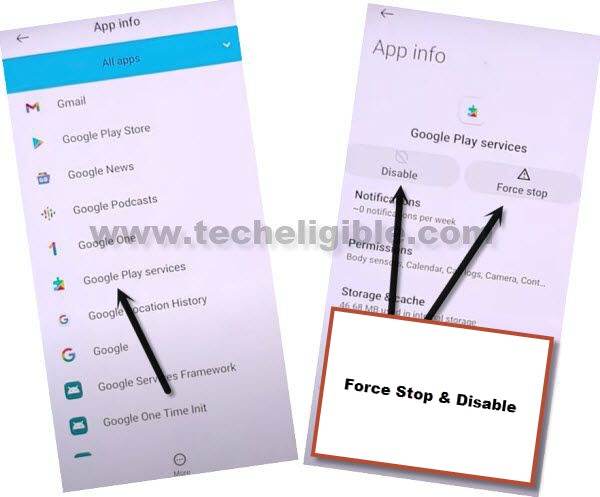 -After disabling apps accordingly, go back to setup wizard screen again by hitting on "Back Arrow" several times.
-From (Hi there) screen, tap to > Start > Skip.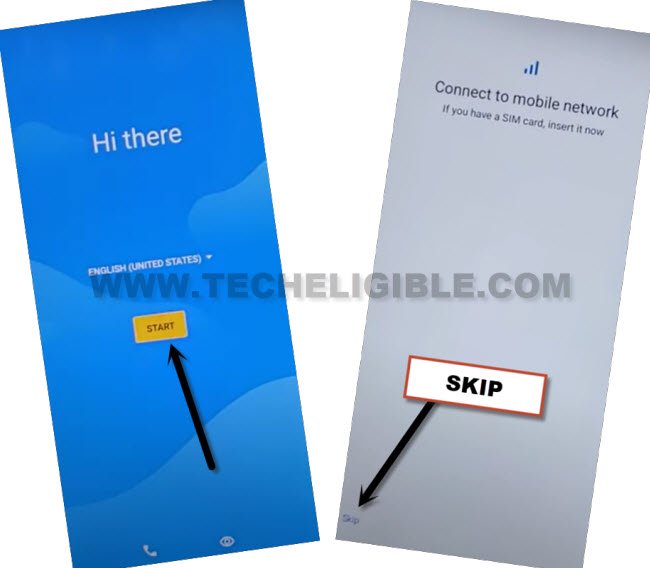 -The device will stuck on a (Checking for update…) screen, this will not complete until we turn on (Google Play Services), and to do this, we will use here a (Talkback small Human icon), that we recently turned on from accessibility menu shortcut.
Turn on Google Play Services App:
-Quickly tap on > Human icon > Google Assistant > Settings.
Note: You will have to do this very fast and quickly, and you will be able to access (Google Play Services) home-screen after several tries, may be 5-10 or 15 attempts, because, this become very difficult sometime to hit on "Settings" option, this option disappear very quickly.
-If you fail hitting on "Settings" at right time, just repeat steps again by tapping on > Human icon > Assistant > Settings.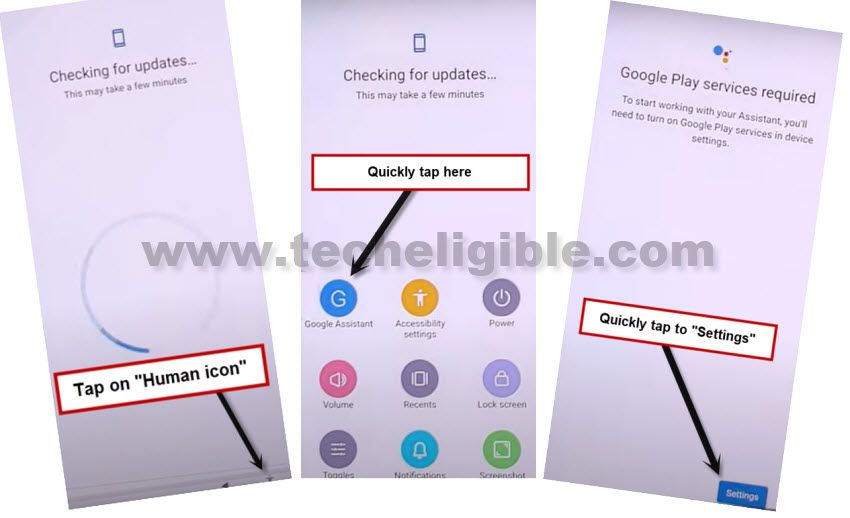 -Quickly tap on "Enable" to enable google play services.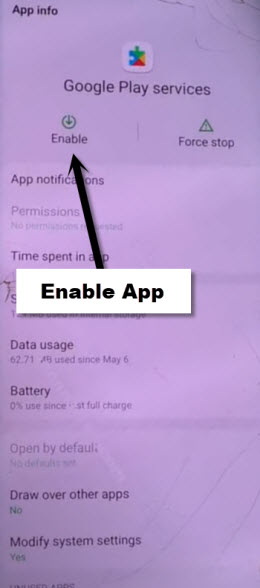 -You are all done now from Remove FRP Walton Primo S8 Mini, all remaining steps can easily be done, so hit on > More > More > Accept.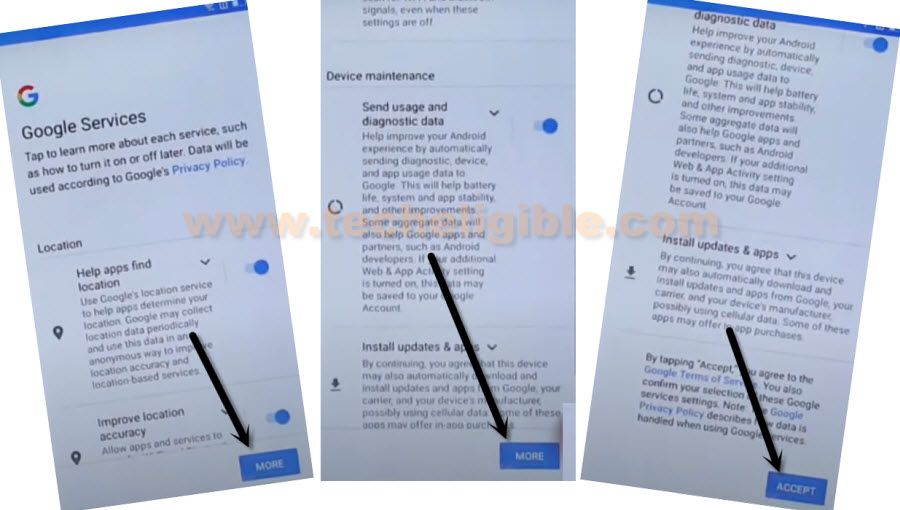 -Now, you can easily access this device home screen just by completing initial setup. And don't forget to sign in with new google account after reaching inside device homescreen. Thanks for visiting us.