ZeroKnox Removal Latest Version 1.5 Download (Bypass FRP)
(Last Updated On: October 1, 2023)
ZeroKnox Removal Latest Version 1.5 Download process is very easy, we have described many things about this tool, from downloading to running. We will show you all steps with screen shot, and you can download this tool with one click only.
This is the best tool, and good thing is that, ZeroKnox Removal Tool is totally free. You can use this tool on Samsung Galaxy devices and on Apple devices just to enable ADB, Bypass FRP, Bypass Apple MDM. Using this tool is too easy, just like a (Plug & Play). These days, many folk facing FRP locking issue on their own Samsung devices. Without enabling ADB on Samsung, its bit difficult to bypass FRP. But after this ZeroKnox tool, it has become too easy to enable ADB and bypass frp is only few clicks away.
You can not upgrade or reflash device with ZeroKnox Removal tool. We have described all steps below, how you can download and use this tool on computer. If you wanna use this tool on Samsung phone, for that, you must require to install proper USB drivers. We also have included USB driver link to download from here, so that, you may not face any connectivity issue on PC.
You can use Zeroknox Removal V1.5 tool with any windows version 12,11,10,8,7, and this is compatible with (32bit + 64bit). Using process of this tool is quite easy. Download and extract tool, and after that, run this tool as administrator in PC. Once the tool is opened, just connect your phone with PC, and select your desire operation from the tool. After that, within a minute, you will get your issue resolved by this awesome and free Zeroknox tool.
ZeroKnox Removal Latest Version 1.5 Download:
⇒ ZeroKnox Removal Tool V1.5 [DOWNLOAD]

PASS: techeligible.com
-Once downloading process is done.
-Turn off your any active @ntivirus tool before running Zeroknox.
-Extract Zeroknox by giving password.
-Run this tool as administrator, at 1st attempt, this tool may not run, in 2nd attempt, you will be able to run this tool properly.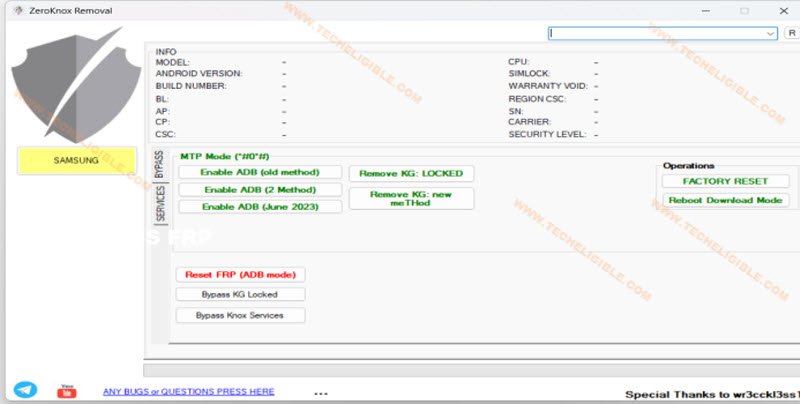 How to Use ZeroKnox Removal V1.5 Tool to Enable ADB:
-Connect your Samsung phone with PC.
-Do make sure, you have proper Samsung USB drivers installed already, if not, you can download & install from here.
-You can check your connected phone detail in (Device Manager) of your computer, just to make sure, that your device has been detected by PC successfully.
-Hit on "Emergency Call" option, and dial this code on screen *#0*#, after that, you will see blank boxes screen will appear up.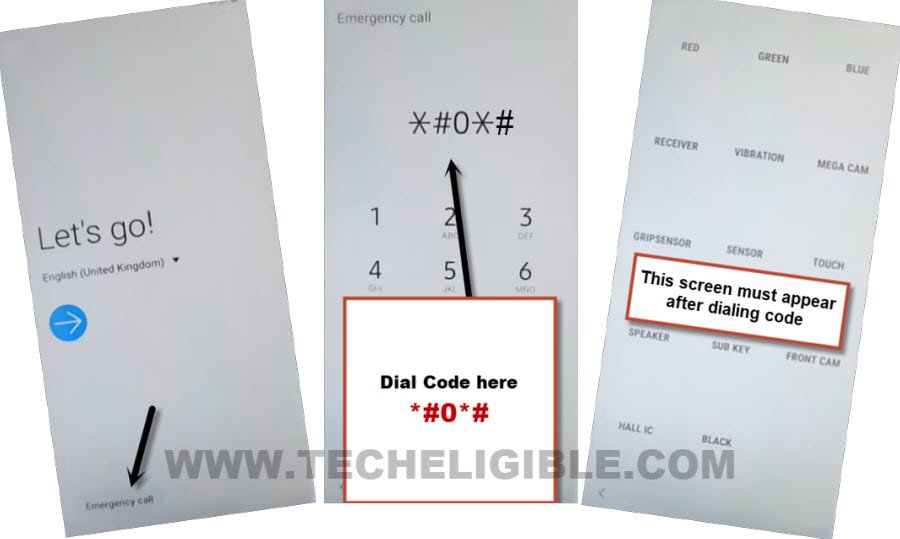 -Click over "Enable ADB (june 2023) button from Zeroknox tool, within a minute, the ADB will be enabled.
Note: If this option is not working, you can try with other 2 more options from Zeroknox tool to enable adb mode.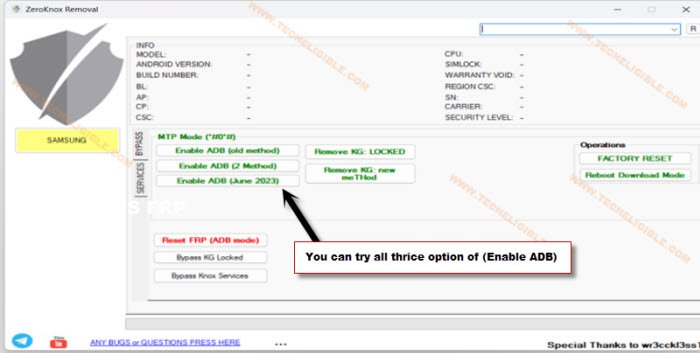 How to Bypass FRP By Zeroknox Removal V1.5:
-After connecting device successfully, and after enabling adb mode successfully, now you can easily bypass FRP with just one click.
-Click over "Bypass FRP (ADB Mode)" button.
-Within few seconds, the frp bypass process will be continued, and your device will auto restart once the FRP bypassing process is done.
-Allow USB debugging option as well from your device. This message will popup right after you hit on (Bypass FRP) button from Zeroknox tool.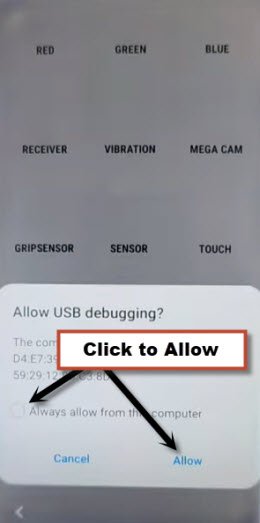 -Within a minute, you will be redirected to your Samsung main homescreen without complelting the initial setup.
Most Helpful Features of ZeroKnox 1.5:
⇒ Bypass FRP:
If you've forgotten your google account, and put your device on a (FRP) lock state, you can bypass this easily via ADB & MTP through this tool.
⇒ Android Debug Bridge (ADB):
This is the most important function for any advanced device control and debugging in ZeroKnox.
⇒ Factory Reset: If you've forgotten your login details such as (PIN, PATTERN, PASSWORD), you can use this tool to perform Factory reset task to delete forgotten login credential.
⇒ Download Mode: With the help of Zeroknox tool, you can put your device into Download Mode with few clicks, and you can update firmware by ZeroKnox too.
Screen Resizing: Users can adjust the screen size to optimize the device's display.
Activation and restoration of devices: Users can activate their devices and restore them to a previous state, streamlining the device setup process.
Remove KG Lock & Bypass Knox: This awesome free tool facilitates their user to simply remove (KG Lock), and also bypass Knox.