Bypass FRP VIVO Y12 Without PC Reset VIVO Google Account
(Last Updated On: August 13, 2021)
How to Bypass frp VIVO Y12, How To Remove FRP VIVO Y12, Unlock FRP VIVO Y12 Android 9, You can reset Gmail account just following below steps.
The Steps are very simple, and you are not required any PC or SIM for this process, we will only reach to google chrome browser, and from there we will download and install a (Sidebar) apk app, that will help us to access to this phone Settings, and once we got into our phone settings, from there we will setup new pattern lock to Bypass FRP VIVO Y12 Without PC.
Warning: Do not try this frp method on a stolen phone, this is serious crime, if you are trying to bypass frp on a stolen phone, you may also be jailed.
Let's Start to Bypass FRP vivo Y12:
Step 1: Turn on Vivo Y12 phone & Connect WiFi first, after that, get back to very 1st (Funtouch OS welcome) screen.
Step 2: Go to > Setup Your Phone > Next > Next, and hit on (Next Arrow) icon, which is right after WiFi SSID.

Step 3: Turn on "USE Static IP", and tap on "IP Address", type there any ip such as (555555), and then long tap on your typed ip address, hit on "Web Search" option.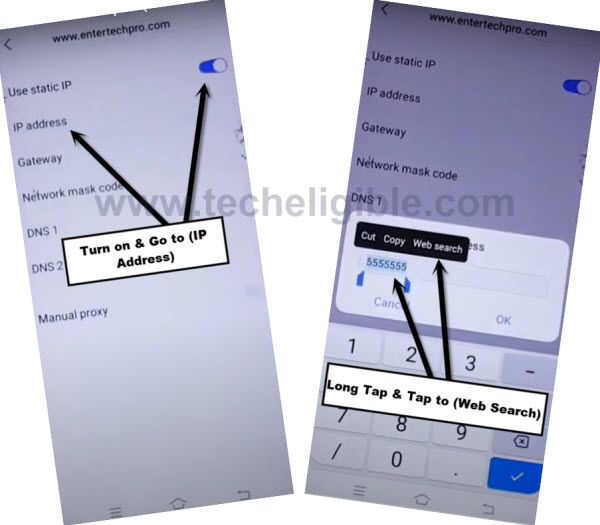 Download & Install Sidebar APP:
Step 4: Type in search box "Download FRP Tools", 1st searched result will be of our website, just go to there same as shown in below image.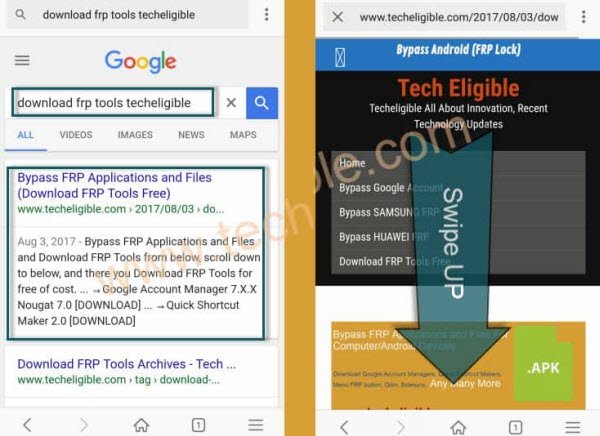 Step 5: Download "Sidebar 4.4.0" apk app, once downloading finish, tap to "MENU" icon from bottom of your device, and then hit on "Downloads".
Step 6: Tap to install "Sidebar" app, once installation finish, just tap on "OPEN".
Step 7: Swipe From Left to Right to bring (Sidebar MENU), and tap on "+" sign, and select "Settings", now tap on "Settings" option from sidebar.
Add New Pattern Lock in VIVO Y12:
Step 8: Swipe down on Setting homepage, and go to > Fingerprint, face, and password > Screen Lock > Pattern.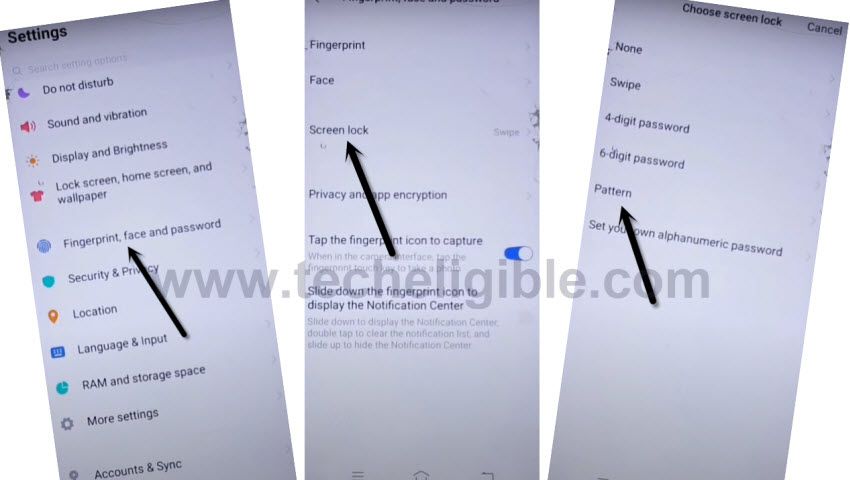 Step 9: Draw your any new pattern lock there, that will help you to Bypass FRP vivo Y12, Setup your 2 security questions, and do not forget these security question, later on these will help you to recover your pattern lock.
Final Step: Restart VIVO Y12 device, and finish your initial setup, give your already setup Pattern lock.
Read More:
Remove FRP All VIVO Android 11