Bypass FRP LG Android 10 Without PC [Final Solution 2021]
(Last Updated On: February 8, 2021)
Hey, do you have LG device, that has latest android version 10 ?, so you can bypass frp LG Android 10 from here easily without using any PC, to bypass frp in android 10 is not very big deal, you own this device, and you have forgotten your own Gmail Account, then we will show you frp bypass final solution of 2021 to add new Gmail Account in your LG Phone.
Note: This method is only for Device Owner.
Summary: In below step, you are required a WiFi connection only, and then we will open up a LG Keyboard, there you will have app lists, from there, just select "Chrome" app to access the chrome browser, and then we will download and install Quick Shortcut Maker applications, this is free app, and through this app, we will open "Setup Wizard" option, and you are all done from bypass frp LG Android 10 without PC, so follow all steps from below carefully to this practically.
Bypass FRP LG Android 10:
STEP 1: Connect LG Android 10 phone with a WiFi.
STEP 2: Go to the screen (Set Internet Connection), scroll all the way down and hit on > ADD WiFi Network > Keyboard icon > Settings.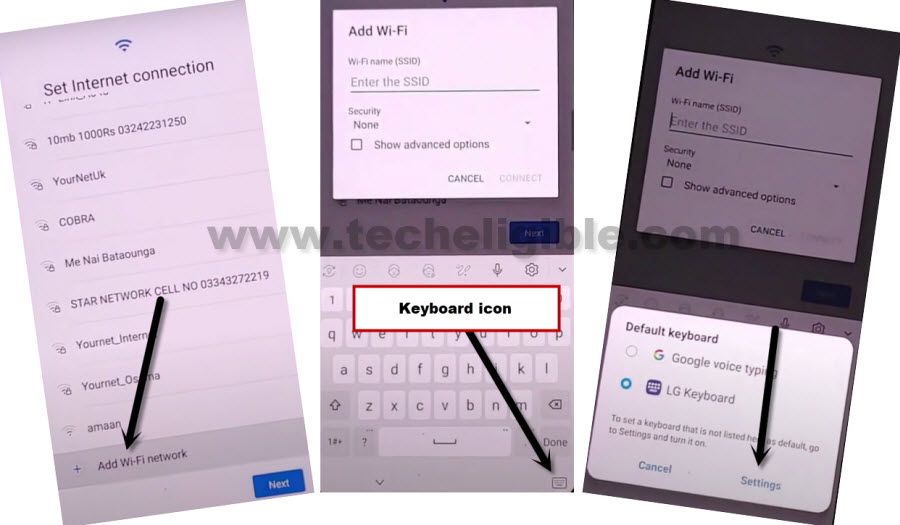 STEP 3: Tap on > Gboard > 3 Dots > Help & Feedback.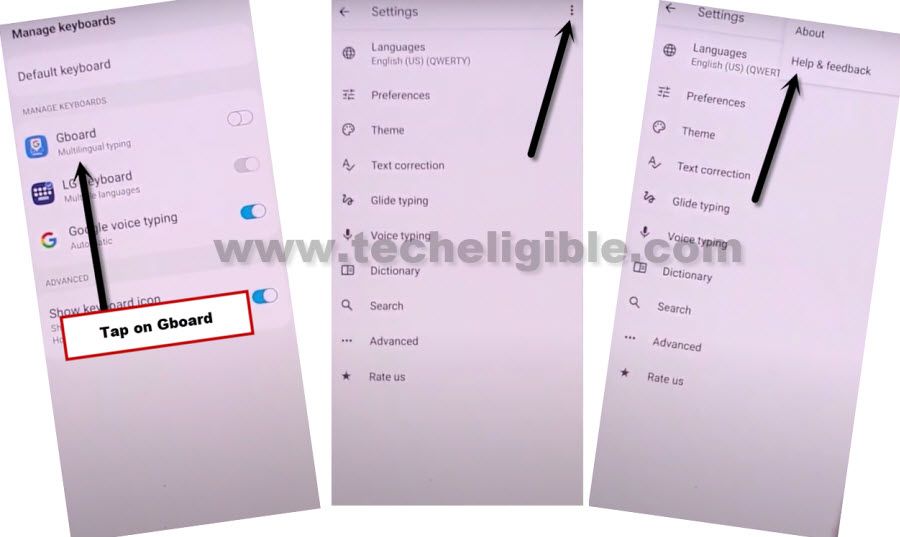 STEP 4: Delete or Disable Apps on Android > Go to Applications Settings.

STEP 5: Chrome > OPEN > Accept & Continue > Next > No Thanks.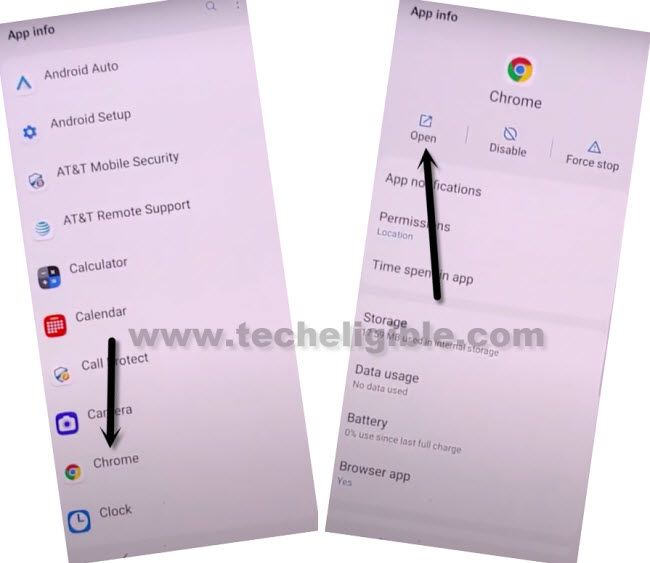 Download Quick Shortcut Maker:
STEP 6: You will have search box at the top of your browser, type & Search "Download Quick Shortcut Maker Techeligible", visit searched result of our website (techeligible.com).
STEP 7: Download from there "Quick Shortcut Maker 2.4.0" to bypass frp LG Android 10.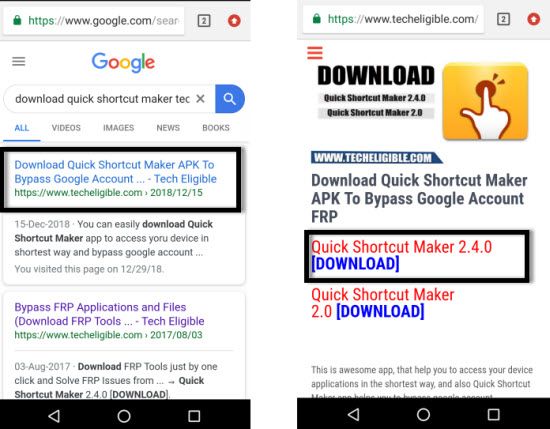 STEP 8: Wait until downloading process complete, and go to top of the page, and tap on "3 dots" from top right corner, after that hit on "Downloads" from there.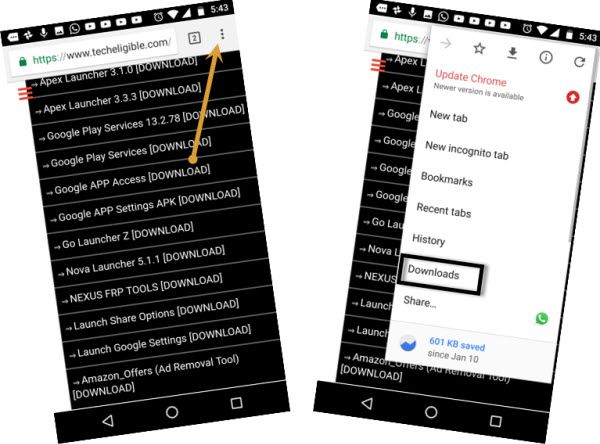 STEP 9: Tap on "Quick Shortcut Maker" app to install it, but this may show you a popup window of installation blocked etc, so just hit on "Settings", and then enable option "Allow from this source".
STEP 10: Go back, and tap on > Install > Open.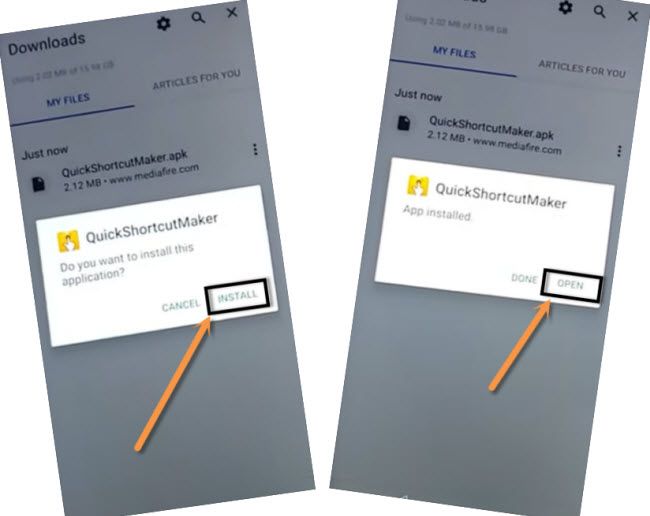 STEP 11: Go down and tap on "Setup Wizard", and then tap again on 3rd number "Setup Wizard" from the list, after that hit on "TRY".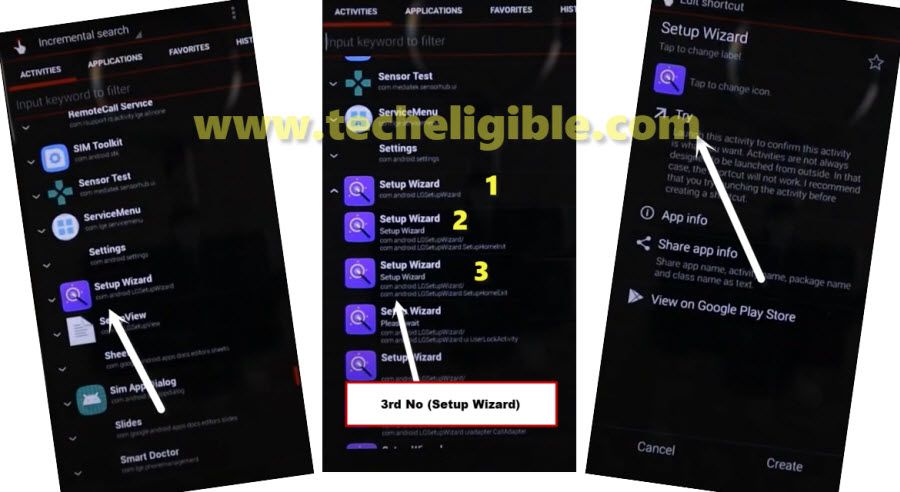 Final STEP: The LG Android 10 phone will restart, without connecting to (WiFi) just complete initial setup.
Remember: Do not connect WiFi in your LG Android 10 phone while completing initial setup wizard, otherwise you won't be able to access your device.