Bypass Google FRP Samsung M01s, M01 Android 10 – Reset Google ID
(Last Updated On: December 18, 2021)
Through this latest process of Bypass Google FRP Samsung M01s and M01 (Android Version 10), you can unlock your own device without paying anything to anyone, just do it on your own, you are not required any skills and expertise for this process, that is very simple and easy and safe process.
There is no doubt, that this factory reset protection (FRP) is for our Galaxy M01s, M01 device security, and this feature prevent our device Samsung Galaxy M01s from data leaking and from accessing to our phone personal data, but in some cases we forget our own Gmail account, so in this case we are required to go for Bypass Google Frp Account.
Disclaimer: This method is for educational purpose only, try this method only on your own phone, do not try this method only stolen phone, this is a serious crime, if you are trying to unlock stolen phone, you may also be jailed.
How to Bypass Google FRP Samsung M01s/M01:
-First of all, Connect to WiFi, and after that, Go to screen of "Verify your account".
-Hit on "Email or Phone" field to have keyboard bottom of screen.
-Tap at "Settings gear icon" >  Swipe, Touch and Feedback > Touch Feedback.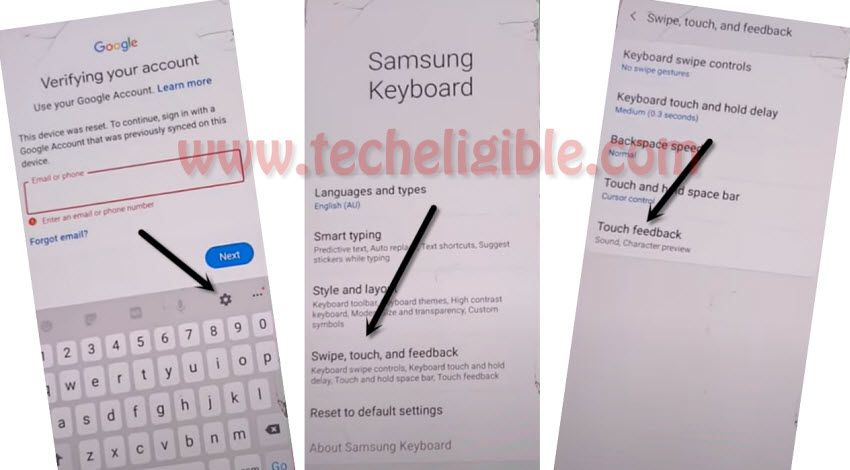 -Now Go to > Sound & Vibration > Ringtone > SIM 1.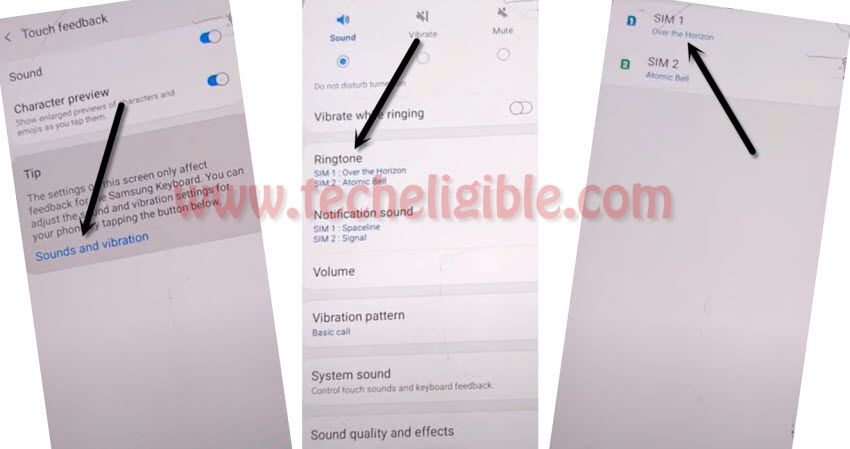 -Afterwards, Hit on "+" sign from top right corner, and then Hit on "Search".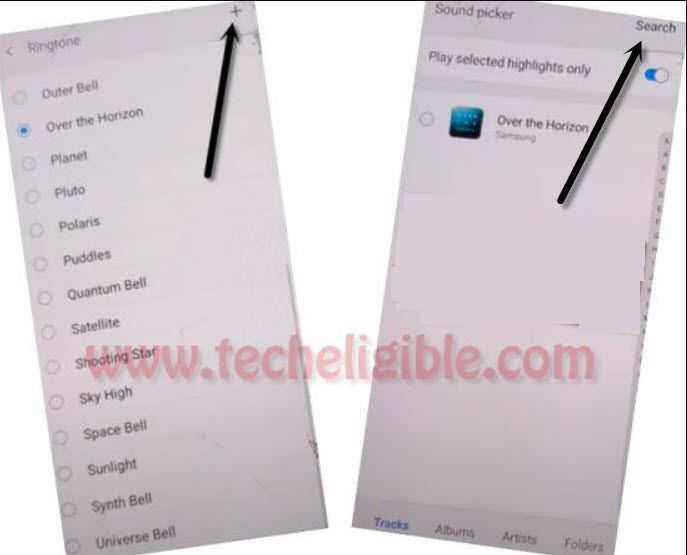 -Its time to insert (PIN Locked SIM) in your Galaxy M01s, M01
-Once you inserted, wait 2-3 seconds, and then start Hitting on "Mic icon" from top right corner, keep Hitting on mic icon until you see a window of "Enter SIM Card PIN".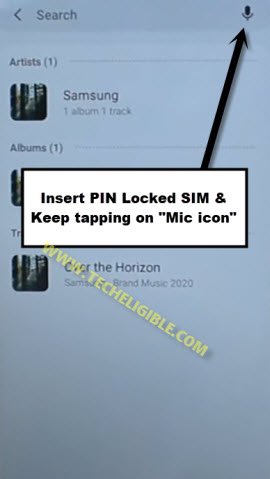 -Remove your SIM tray, and after that you will have a popup message of "No SIM Card inserted", just hit on "OK".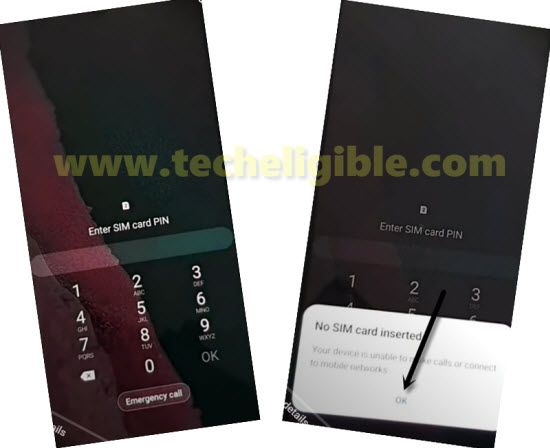 Follow Below 4 Steps Very Fast:
1st:   Quickly Swipe date & time to right side, keep tapping on that (Date & Time).
2nd: Using other finger, Hit on "Lock icon".
3rd: Swipe Down (Not Signed in) pop message.
4th: Tap on "Settings gear icon" from top right corner of the notification bar.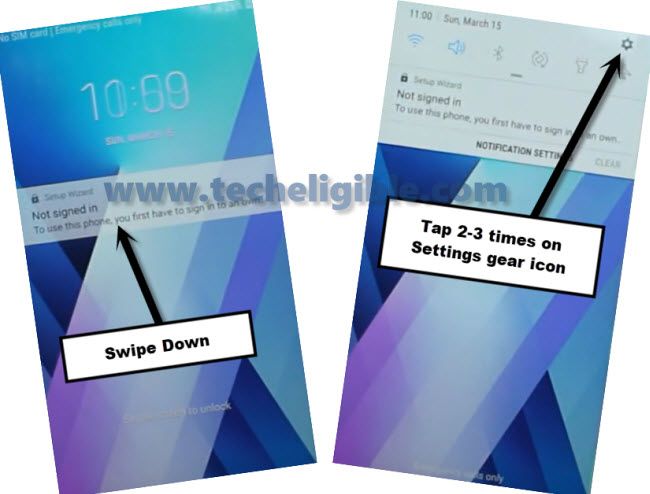 Note: If you have (Previous Screen), where from we hit on "Mic icon" in the background of "No SIM Card inserted" popup window, so try again, if this screen appears each time, then you will have to restart your phone and try again. (See below image).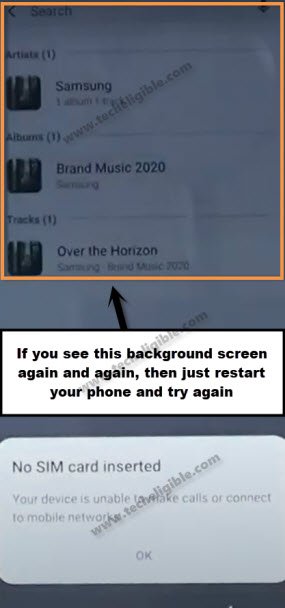 Connect Bluetooth Pods or any Headphone for Pairing:
-Wait the error screen in the background, and then tap on "Bluetooth icon" to turn it on.
Note: You may have to tap on "Bluetooth icon" from top bar 2-3 times to enable it.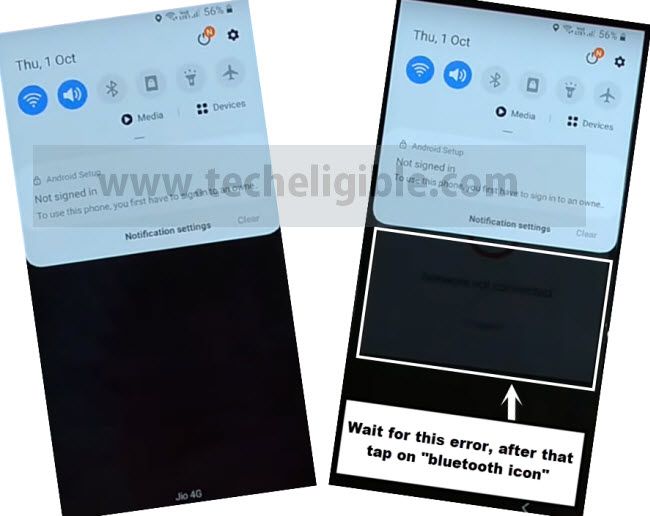 -Its time to pair with your (Bluetooth Pods / Headphone / Bluetooth Airpods) for Bypass Google FRP Samsung M01s, M01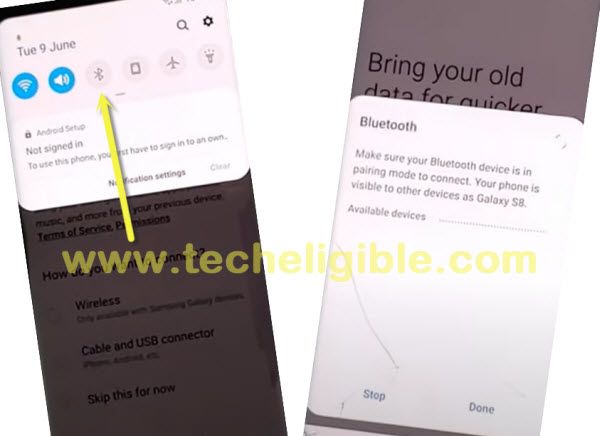 -After making pair successfully, press or touch power button 3 times from your connected Bluetooth pods or headphone, this will open a dialog box (Try saying).
-Now wait for a minute on that screen, Hit on "keyboard" icon from there.
-Type "Settings", and then Hit on "Settings App" from searched result to Bypass Google FRP Samsung M01s.
-This will redirect you to your device (Settings).
Enter New PIN in Galaxy M01s/M01:
-Type in search box "Settings", and then Hit on "Settings gear icon" from the result below.
-Scroll down, and Hit on > Biometrics & Security > Other Security Settings.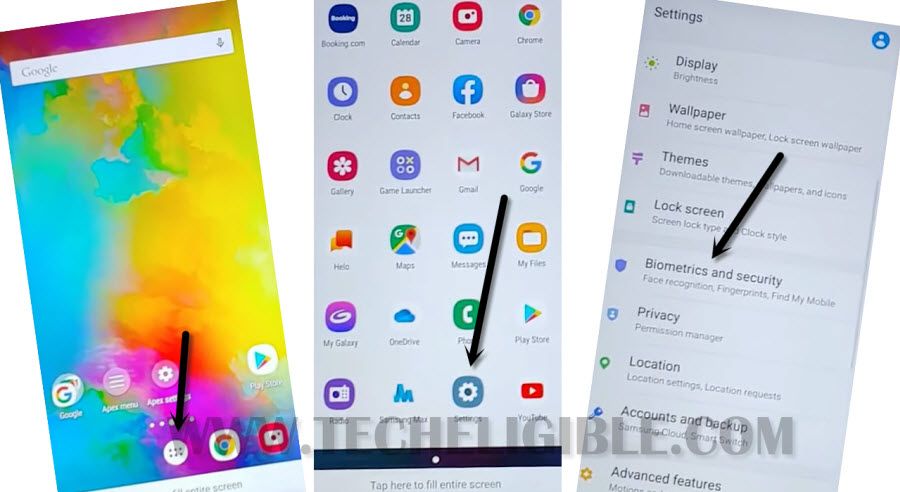 -Enable "Pin Windows", and After that, Hit on "PIN WINDOWS".
-Hit on "Use screen lock type to unpin", and then select "Pattern".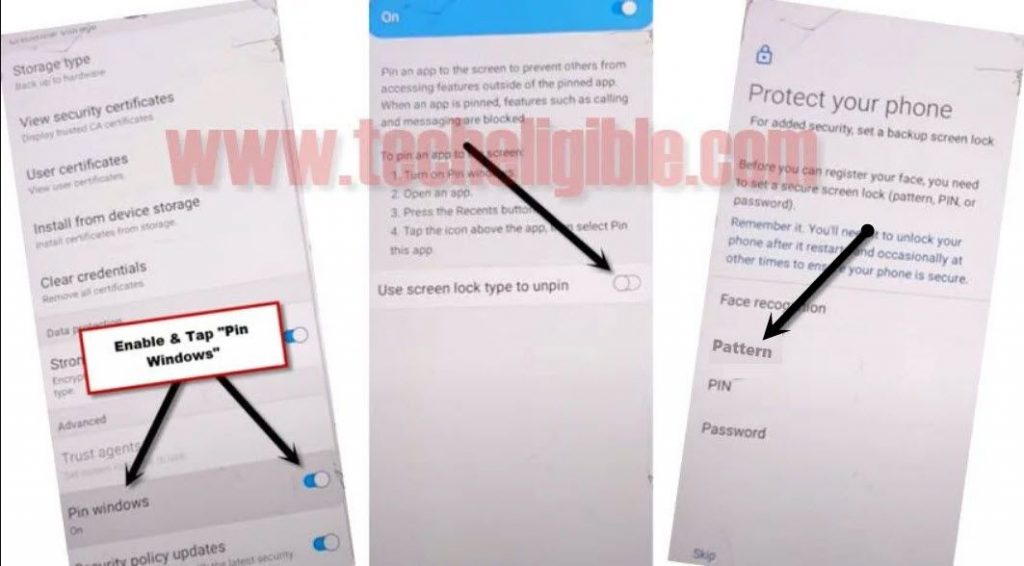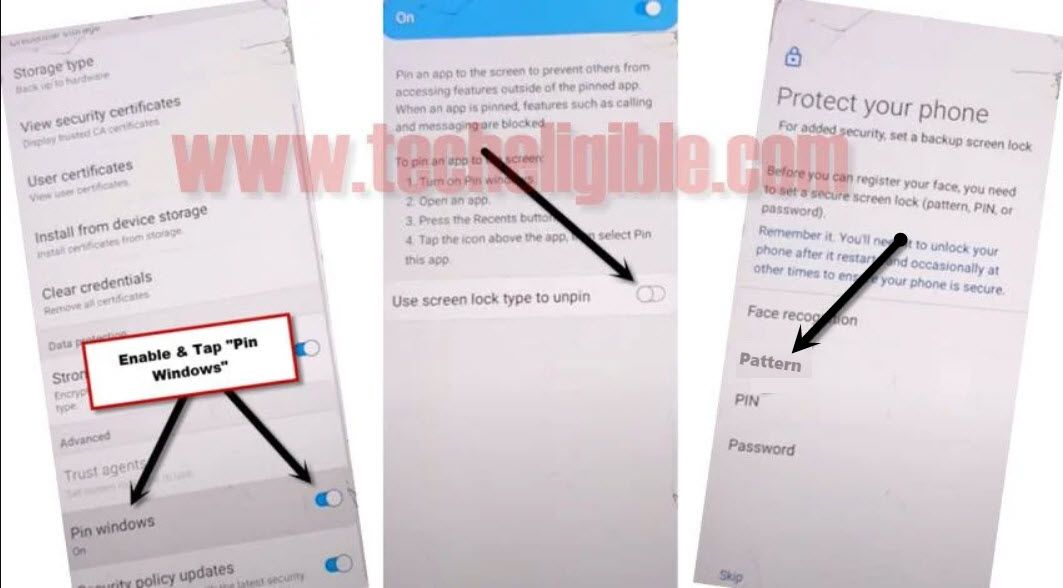 -After that,  Draw your any remembered pattern twice time, and then Hit on "Confirm".
-Go back to very first "Welcome Screen" by tapping on "Back Arrow" several times.
-Just Complete your Samsung Galaxy M01s setup wizard after connecting to Wifi Network.
Remember: If you are shown a "Google Sign in" screen, there must be a "SKIP" option, hit on that (See Below image).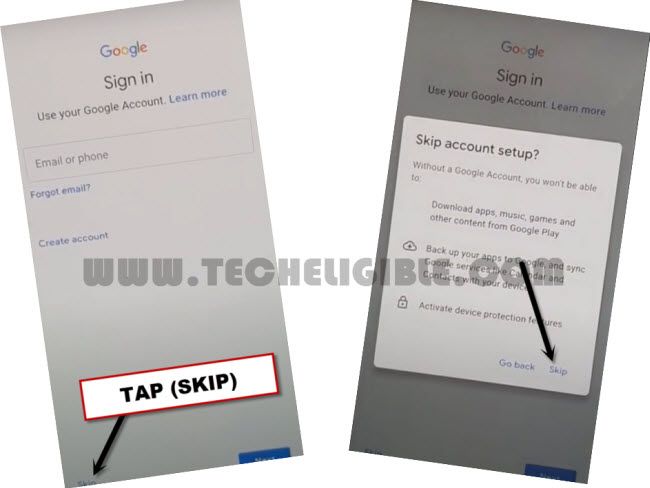 Thanks for visiting us, you are all done from here regarding Bypass Google FRP Samsung M01s, you can also read further below some helpful tips to add and remove frp protection before selling and after purchasing device.
Note: If you wanna sale your device to someone, in this case, you should remove your Gmail account, otherwise later on your device will be frp locked, and new owner of that device Galaxy M01s won't be able to have access in that phone, so put someone in trouble, better to remove Gmail account.
-For removing Gmail account, just go to > Settings > Accounts & Backup > Account > Select your Gmail Account > Remove Account.
Read More:
How to Bypass Google FRP Galaxy M01 Core