Solve Galaxy S7 Overheating Issue Permanently
Overheating Samsung Galaxy S7 issue could  permanently be solved, today i will show you  some easy step by following those you can easily resolve this irritating issue from your device forever, overheating is basically occurs and when you are charging your phone and lots of apps are running in your mobile background, and you really don't want them to stop, so i am gonna show you some quick 3 easy tips here on how to stop overheating issue from Galaxy S7.
Solve Overheating issue with 3 features:
-Go to mobile "Setting"
-Scroll down to "Battery"
-Scroll down and TURN OFF "Fast Cable Charging"
"Fast cable charging" is good only when you need your mobile charging in short time, it charges your mobile in short time, because of this "Fast Cable Charging" your mobile gets hotter, so if you don't want your mobile getting hot or overheat while charging, so just "Turn off" Fast cable charging from your mobile, it's great deal to keep your mobile temperature normal while on charging.
Others 2 features are actually right on the same place on "Battery" option,
Go to mobile "Setting"
Scroll down to "Battery"
Tap on "Battery Usage"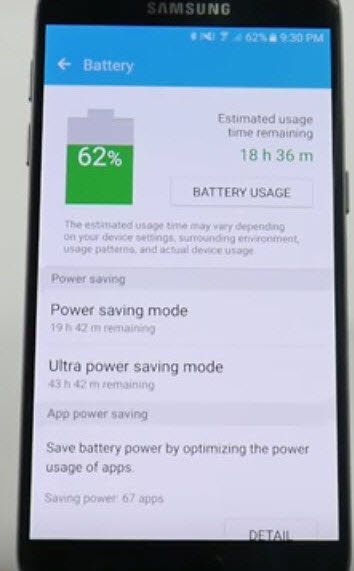 Tap on up right corner "MORE"
Tap on "Apps not optimized" and select "All Apps"
After that you will see lists of apps, so disable all heavy apps, those you don't use all the time, on disabling unwanted apps from there, it would save your battery life and as well as would resolve mobile overheating issue from its back side, middle of Samsung logo and camera.
3rd feature is "App power saving" which is in Galaxy S7, and but i am not sure this app power saving feature is in all other brand mobiles or only for Samsung.
Go to "Details" from App power saving
Tap on "4 Player Reactor"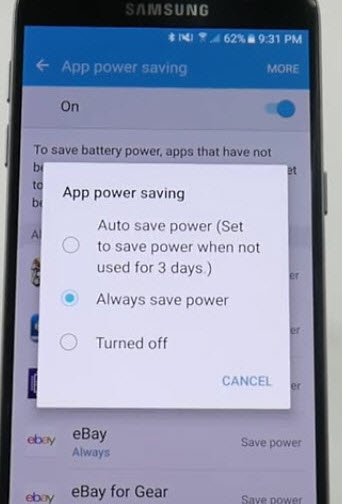 In pop up message choose one option which is "Always save power", this would automatically remove all your background apps, when you will leave apps on your mobile background, and if you will turn this option off, so it wont close your background apps, and i would recommend you to keep this feature "TURN ON" always to make good life or your mobile battery and get rid of overheating issue.
So these 3 features i have told, hopefully this method works.